Is your company ready for the shift to a hybrid workplace, and have you adjusted your employee engagement strategy? On April 22 at 5 PM CEST/10 AM CDT/8 AM PDT, we'll gather to discuss the latest trends and the future of employee engagement at the Kahoot! WorkMeetup. Register today, and join us for nine inspiring, bite-size talks from industry experts – this virtual event is free for everyone to attend!
With the workplace evolving quicker than ever before, companies around the world have been forced to re-examine how their teams operate. The likes of PwC, Spotify, and Shopify have all announced hybrid workplace policies in a clear sign that a mix of office-based and remote work is the future, not just a trend. COVID-19 has accelerated the shift toward flexible working locations and totally changed our perception of the workplace, with nearly half of employees surveyed in Envoy's Return to the Workplace Report likely to leave their jobs if their employers don't offer a hybrid work model.
But what exactly is a successful hybrid workplace, and how can companies effectively connect with dispersed employees? To answer all this and more, we've gathered some of the most influential names within the employee engagement industry to share insight into what the future holds at the Kahoot! WorkMeetup!
Get ready for the future of work at the Kahoot! WorkMeetup
Our 3-hour event kicks off with an essential session for anyone interested in the future of workplace engagement. The session will discuss what employee engagement looks like in a hybrid workplace and why it is so important moving forward.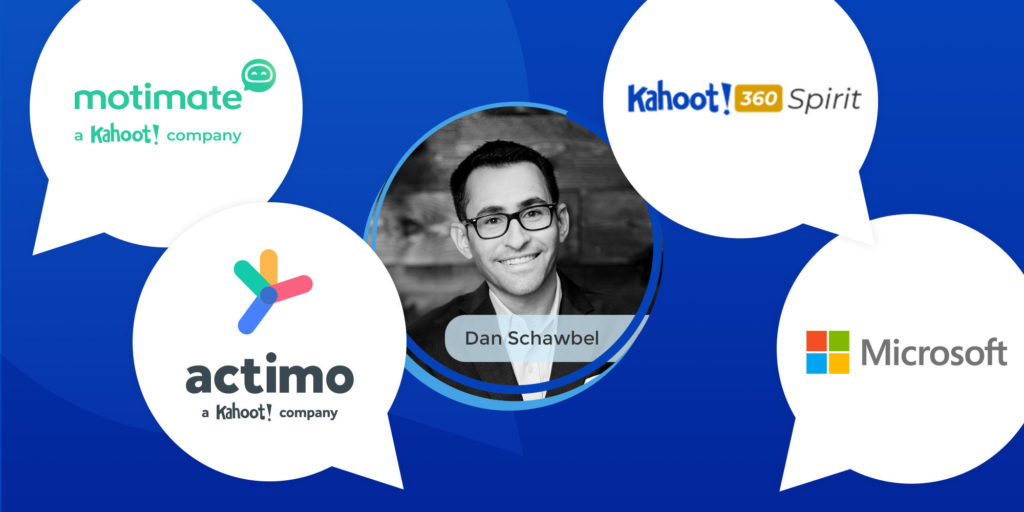 Attendees will then hear from industry experts on the key trends and strategies that will dominate the workplace in the near future. Here's a taster of what to expect at the Kahoot! WorkMeetup:
Get insight from Dan Schawbel, New York Times best-selling author and Managing Partner at Workplace Intelligence, on the importance of transitioning to a hybrid workplace.
Hear from Microsoft, and learn all about the future of employee engagement in the everyday flow of work.
How can you boost employee engagement among non-desk workers? Actimo will show you! This company is changing the way brands communicate with their employees.
Get inspired by how Compass Group successfully engages their dispersed workforce with Actimo.
Discover how Teleflex (a leading medical technology company) boosts employee engagement in a digital-first workplace with Kahoot! 360.
Find out how to connect with everyone in your organization – no matter their location – with Kahoot! 360 Spirit, our new product for hybrid workforces.
Check out the full agenda on the event page.
Hear from industry experts during a fireside chat
The Kahoot! WorkMeetup will conclude with an unmissable fireside chat! A panel of industry experts will discuss key topics raised by attendees in a pre-event survey and provide detailed insight into how employee engagement will help you gain a competitive edge.
Attend the fireside chat and tune into a discussion with Dan Schawbel, Jimmie Villadsen (Actimo), Steven Abrahams (Microsoft), Marisa Doria (Teleflex), and Rickard Antblad (Compass Group) as they talk about the future of employee engagement, with host James Micklethwait, VP of Kahoot! at work.
Watch live and on-demand
Can't make the live event? No problem! Register for the Kahoot! WorkMeetup, and you'll be able to watch every session on-demand after April 22.
We're looking forward to seeing you all at the Kahoot! WorkMeetup. Register and save your seat for free!