Kahoot! EDU Summit is just a little over a week away, and we can't wait to see you all there! If you haven't registered yet – hurry and reserve your spot today! In this virtual professional development event, we'll host two days of sessions focused on preparing a future-proof toolkit for coming back to the classroom. The Summit will be relevant for teachers at all levels of education, school administrators, technology specialists, and parents of students. Click the image below to download the detailed schedule: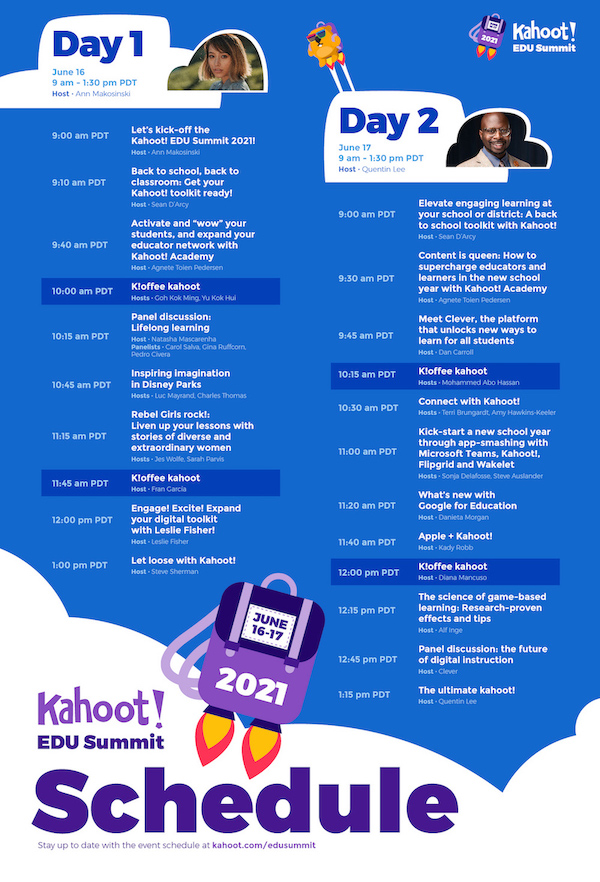 Today, we're excited to announce some of our fantastic speakers – teachers, school leaders, technology specialists, thought leaders and partners – and give you a preview of the agenda. Don't miss these sessions on June 16 and 17!
Day 1: June 16
The event will be hosted by the fantastic Ann Makosinski, inventor, writer and public speaker;
Expand your innovative classroom toolkit together with EdTech hero Leslie Fisher;
How to foster and scale lifelong learning? TechCrunch's Natasha Mascarenhas will host a thought-provoking panel discussion with several educators;
Unleash the power of imagination to develop students' creative skills – together with Disney! Luc Mayrand, Portfolio Creative Executive at Walt Disney Imagineering, and Charles Thomas, Director, Disney Imagination Campus, will show you how in their session.
Get inspired with ideas to foster diversity and inclusion in class together with Rebel Girls;
Discover the most exciting Kahoot! updates and innovative learning apps to prepare for back-to-school together with Sean D'Arcy, VP Kahoot! at school;
Hear first-hand from Agnete Pedersen on how to make the most of Kahoot! Academy's library of ready-to-use kahoots and lessons;
Play fun kahoots with Kahoot! ambassadors Goh Kok Ming, Yu Kok Hui, Fran García, and Steve Sherman throughout the day – keep your phones ready!
Day 2: June 17
Sessions on day 2 will be particularly relevant for technology specialists, school and district leaders.
Dr. Quentin J. Lee, school principal and education leader whose parody video "Can't touch this" went viral, will join us at the host of day 2;
Terri Brungardt, a District Media Specialist, together with her colleague Amy Hawkins-Keeler, will share their success story of connecting hundreds of teachers and boosting collaboration in their district with Kahoot! EDU;
Hear about the pedagogy of game-based learning and its research-proven effects with Alf Inge Wang, Professor in Game Technology at the Norwegian University of Science and Technology and Kahoot! Co-founder;
The team at Clever will bring to you an insightful panel discussion on the future of digital instruction;
Our partners Apple, Google and Microsoft will host sessions to share the latest updates of their products for education;
Sean D'Arcy, VP Kahoot! at school, will help admins and school leaders prepare a classroom toolkit that would elevate learning at their entire school;
Take a deep dive into Kahoot! Academy with Agnete Pedersen and learn how to make the most of its library of learning content in the new school year;
Meet Kahoot!'s new partner Clever and learn how they simplify access to digital learning in a session with co-founder Dan Carroll;
Join kahoots hosted by Kahoot! ambassadors Mohammed Abo Hassan and Diana Mancuso, along with our host Quentin Lee!
In the best Kahoot! traditions, we'll of course play some live games and you'll get a chance to win prizes!
The event is free, and will be live streamed and recorded so that anyone from around the world can attend. All participants will receive a certificate that can later be used to claim PD credits.
Spread the word by sharing this tweet so other educators, school leaders and technology specialists in your network can register too!
See you all soon!