We've all sat through long, poorly facilitated video meetings that left us feeling bored and frustrated. So, how do we make video meetings more engaging, interactive, and productive? Step forward the Kahoot! app for Zoom, which is among the first type of in-meeting apps to be included in the Zoom App Marketplace. From today, anyone can add the Kahoot! app to their Zoom account to supercharge engagement and deliver content in a variety of awesome ways in every video meeting!
Get the Kahoot! app for Zoom today, and host and join kahoot sessions directly within Zoom! With the Kahoot! app, it's now easier than ever to:
Host kahoot sessions in Zoom meetings to bring a friendly layer of competition that gets everyone talking. It takes engagement to the next level!
Make every participant feel part of the conversation by giving them a voice with polls, open-ended questions, and word clouds.
Keep everyone in video meetings energized with engagement-boosting features, such as puzzles, and multiple-choice questions.
Use Kahoot!'s question types to build trust, boost team spirit, and create a virtual environment where innovation can flourish.
Here's how it works!

Video meetings designed for the future of work
Video meetings will only grow in importance as the workplace continues to evolve and shift away from a centralized location. Hosting kahoot sessions during Zoom meetings is a great way to boost innovation, strengthen remote team spirit, and bring colleagues together in a virtual space.
Until now, hosts launched a kahoot in a web browser and shared their screen on Zoom while participants joined kahoot sessions via a separate mobile device or desktop browser. However, the all-new Kahoot! app streamlines this process with the entire experience now happening directly within the Zoom Meeting experience – making video meetings far more productive and engaging.
Hosts can find kahoots to host without leaving a Zoom Meeting, and participants can join kahoot sessions, answer questions, and share opinions directly within the Kahoot! controller in the side panel of the Zoom Meeting user interface. By streamlining the experience, it's now even quicker and easier to kick-start conversations that encourage ideas and allow knowledge to flow freely!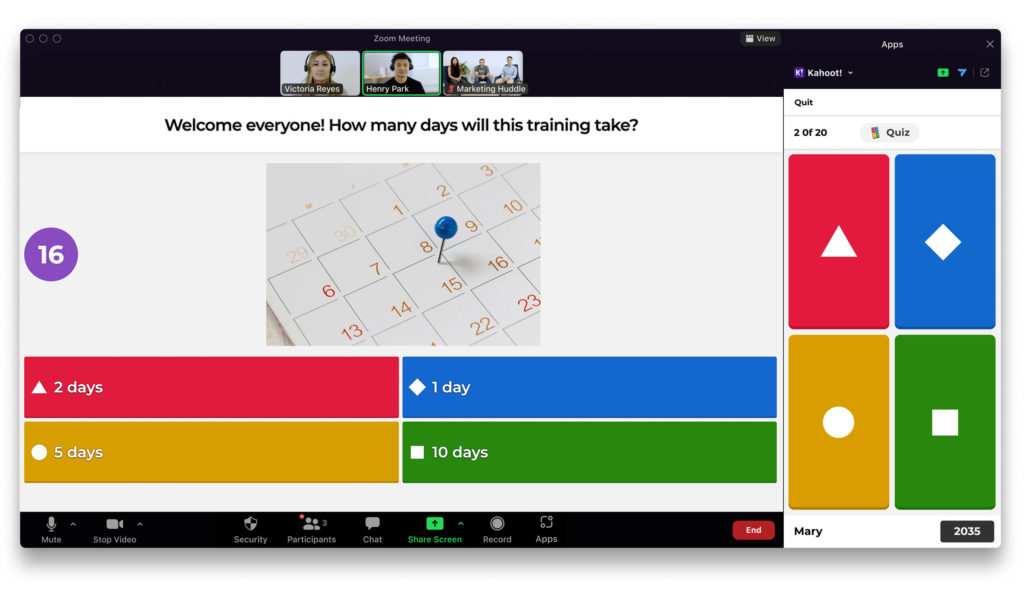 How to host a kahoot session within a Zoom meeting
Log in to your Zoom account and click Apps in the lower toolbar.
Search for Kahoot! in the Zoom App Marketplace and click Add. The app is now available in your selection of apps.
Open the Kahoot! app and click Host during your virtual meeting. You'll be asked to log into your Kahoot! account. NB: Hosts require a Kahoot! account.
Find a kahoot to host, either one you've created or one from our public collection.
When you're ready, click Start and your screen will automatically be shared with participants.
How to participate in kahoot sessions within a Zoom meeting
Hosts can invite participants to use the Kahoot! app by clicking the blue arrow icon. This shares the link to the Zoom App Marketplace with all participants in the virtual meeting.
Add the Kahoot! app to your selection of apps and click Join in the right-hand side panel.
After the host shares their screen, you can type the game PIN and hit Enter to join the kahoot session. You don't need a Kahoot! account to join a kahoot session!
The questions appear on the shared screen, and you submit answers in the Kahoot! controller within the Zoom meeting. There's no need for a second screen or another device!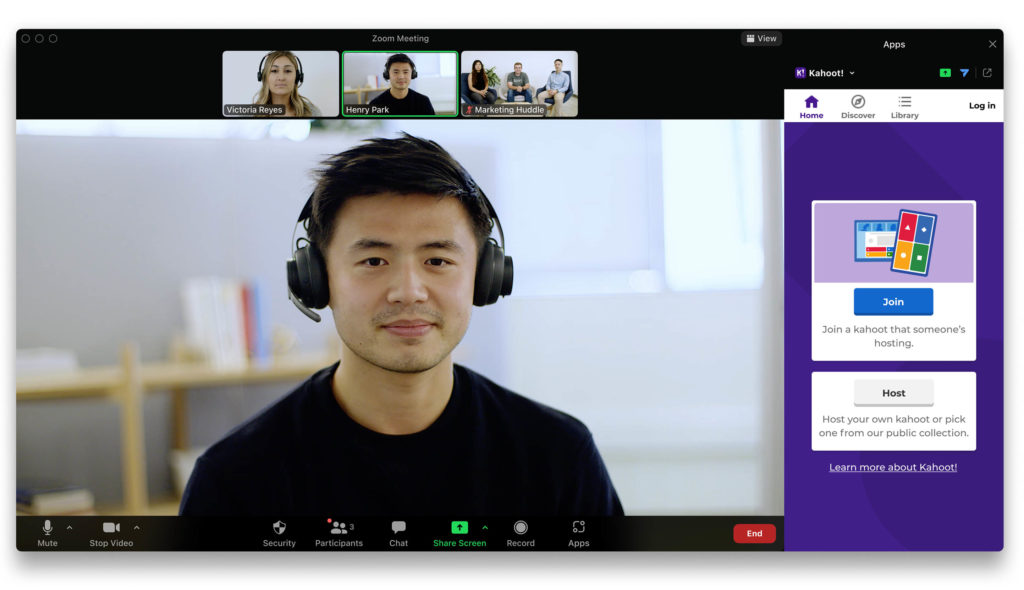 Create engaging, interactive kahoots to host during Zoom meetings
Before your Zoom meeting, create a kahoot that sparks discussions by including audience participation features. Give everyone a voice with brainstorms, collect instant feedback with open-ended questions, and gather opinions with polls and word clouds. Be sure to include some of our brand-new presentation slides to give participants more context!
You can also check if you landed key points in real time during the Zoom meeting with our quiz, true/false, type answer, and puzzle question types. Check the report afterward for a detailed look at the results. This will help you identify knowledge gaps.
We're really excited to see how the Kahoot! and Zoom communities use the app to make video meetings awesome, strengthen team spirit, and take virtual collaboration to the next level. Add the app to your Zoom account for free today!