We're delighted to announce the launch of a brand-new range of advanced slide layouts. They provide flexible, dynamic ways to display content within interactive kahoots while making presentations  even more engaging!
Capture audiences' attention with Kahoot! 360's engaging mix of slides 
Kahoot! already offers one classic slide layout, which has been a popular way for presenters to provide participants with more context. But we wanted to go further and improve the experience for both the host and the participants. 
The first enhancement was enabling hosts to import PowerPoint, Keynote, and PDF slides into a kahoot before adding audience participation features. The next phase sees the release of a range of intuitive slides.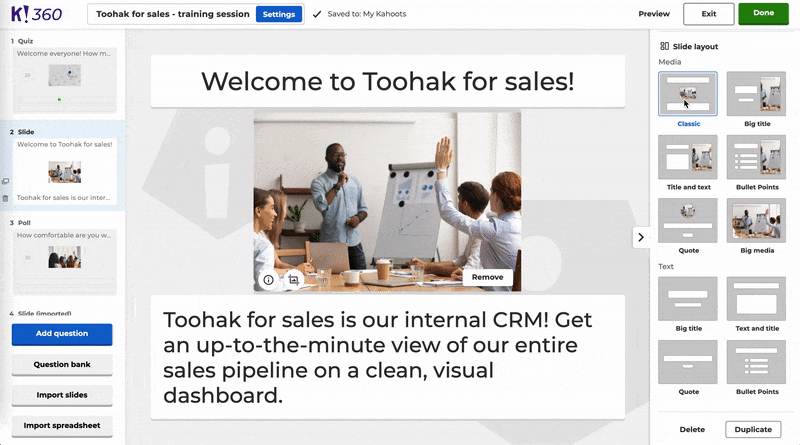 Kahoot! 360's new slide layouts provide presenters with more engaging ways to display their content. What's more, presenters can now save time by creating presentations without leaving the Kahoot! platform. With Kahoot! 360, users can: 
Kick-start a presentation with a title slide layout, which includes space for a header, subheader, and optional image.

Condense key points into bullet points, and add an image or video to boost focus or provide more context.

Present more details and ensure key information is relayed with free-form text layouts.

Choose to display attention-grabbing quotes with or without an image.
Make your slides even more visually appealing
We've also recently added functionality to further improve the visual impact of all slides. Kahoot! 360 users can alter the background color of their slides to align with brand colors or to simply improve participants' focus. What's more, hosts can access a premium image library that's home to millions of pictures. 
Creating interactive presentations with Kahoot! 360
Of course, what makes Kahoot! such an awesome presentation tool is the ability to involve everyone and test knowledge retention in real time. So, after adding text, images, and videos to one of 10 slide layouts, use our best-in-class audience participation features to give everyone a voice. Polls, for example, help hosts gauge opinions, word clouds and brainstorms spark discussions, and open-ended questions are a great way to collect feedback at the end of the presentation. You can also test if you landed your key points with quiz, true/false, type answer, and puzzles! Learn more about creating interactive presentations with Kahoot!.
We're excited to see what our community creates with this new range of slide layouts and existing audience participation features. With the workplace evolving quicker than ever before, Kahoot! 360 provides companies with an agile platform for delivering training sessions, presentations, meetings, and events. Try out these great new slide layouts today, available with Kahoot! 360 Plus and Kahoot! 360 Pro.