In our recent teacher survey, over 60% of respondents said they've been using Kahoot!'s team mode to help their students develop collaboration skills. Team mode was designed to boost collaboration in the classroom using a shared device and is a great way to nurture teamwork, leadership skills and good communication.
However, as the learning environment has shifted over the last year and many students are learning from home or social distancing, huddling over a shared device isn't always the optimal setup for collaboration. Our new team mode allows students to collaborate when they're learning from home and increase participation using their own device in any learning environment. Every contribution from the team members count, as the score is now based on average team performance.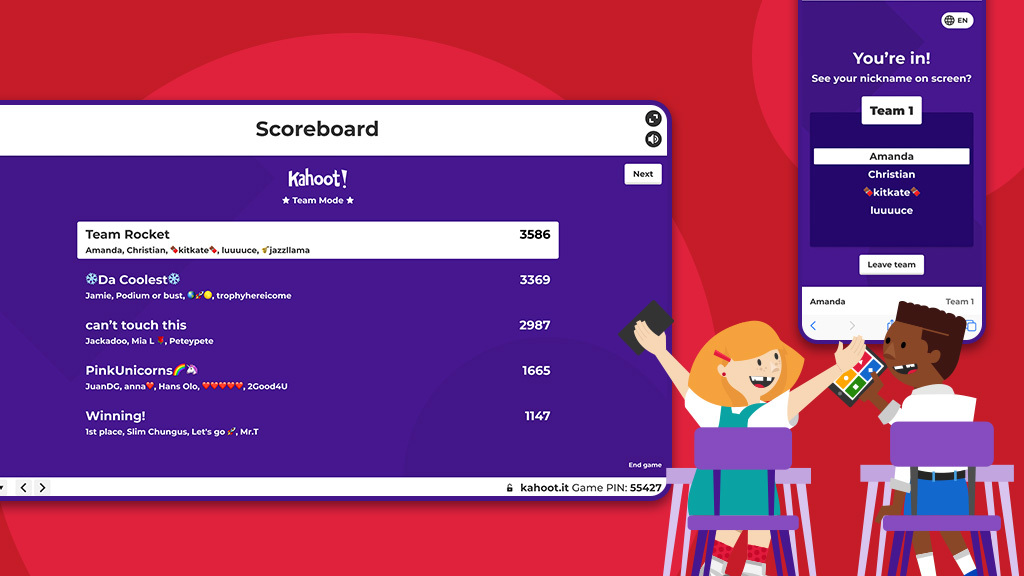 3 ways the new team mode can enhance collaboration skills
Works in any learning environment
With our new team mode, every student joins the game from their device and then they're grouped into virtual teams. This means that this mode can be used in any learning environment, with students being able to participate both in class and remotely, or even in a hybrid setting. Everyone will be included!
Fosters discussion skills
By enabling team talk, you encourage students to discuss their answers. This is particularly relevant for questions where an answer needs to be devised, for example, math problems.
Ensures a feeling of ownership and contribution
When playing in the new team mode, students answer from individual devices but every answer counts for the team score which enhances the feeling of contribution and ownership.
Our new team mode option is already available if you're on a Kahoot! EDU subscription and will soon be available for all users.
Are you ready to unleash team spirit in your class with the new team mode option? Join our discussion on Twitter to let us know what you and your students think.