The secret to being a great host? Sugar, spice, and everything nice…and that counts for being a Kahoot! host, too. 
In your race to Host the Most this holiday season, we have some tips and tricks to make Kahoot! the most awesome part of your festivities – whether you're celebrating a holiday, just a hug, or anything in between!
Share Play – Compete with Friends & Family, Near & Far
Home for the holidays? Taking on some travel? Kahoot! corrals friends and family, both near and far with our latest SharePlay integration. Host and play a kahoot while FaceTiming with friends and family members: our new video and audio conferencing add-ons make it easy to compare holiday outfits in a Ugly Sweater Competition, practice singing along to Christmas Carols, and even brainstorm charades poses and theatrics, all while competing for the Kahoot! Podium.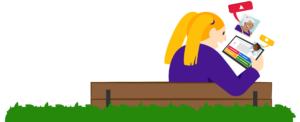 Plan ahead and bring Kahoot! to your holiday calendar of events
The Holiday Season is filled with themed parties, gatherings, games, and events. Whether your calendar is family-focused, or a reprieve from day-to-day responsibilities, add kahoot games to your hustle & bustle. The Discover Page is a  perfect one-stop-shop for the last minute planner and is available for all Kahoot! hosts and players, young and old! Crack the code to solve Holiday Emoji Puzzles, race to remember famous Holiday Movie one-liners, and fine tune your singing voice with Christmas Carols. 
Add to your Host the Most point ranking with these timely games:
Enjoying

latkes

on the first night of

Hanukkah

? Remember the message that brings the

Festival of Lights

to our winter traditions each year and celebrate on November 28.

Dewey Decimal Day

is December 10. Review

library organization

and cataloging before you check-out new books to read over a winter recess. 

Did you know that Kahoot! is available in 14 different languages? Sharpen your

linguistic levels

on

Arabic Language Day

this December 18.

Brrrr. Is it cold in here, or has Winter finally begun? Celebrate the

Winter Solstice

on December 21 with an

animal-themed

charades game. Compete with different animal moves, noises, and riddles – all while learning about animal populations!

Remember to save room for dessert on

Christmas Day

!

Gingerbread

is more than just a sweet treat. Learn the history of this festive feast on December 25.

Which color doesn't belong in

Kwanzaa celebrations

: red, green, black, or yellow? Fact check the history of the holiday on the first night of

Kwanzaa

on December 26.

Before the clock strikes midnight in your time zone, celebrate the

New Year

with

cultures and traditions from around the world

on December 31.
Awkward Ice Breakers No More – Holiday Selfie Kahoots
Hosting new in-laws, significant others, or friends-of-friends this year? Ditch the awkward introductions and get to know each other via competition and gaming, instead! Invite new friends to share their inside-scoop with a selfie kahoot. Our ready-made template is an easy, fill-in-the-blank style and is a perfect conversation starter to share favorite photos, silly nicknames, and embarrassing memories. 
Our annual competition is back, celebrating teachers and educators who host the most games this holiday season. It's not too late to earn your spot on the leaderboard! Join the fun and we'll see you on the Podium.