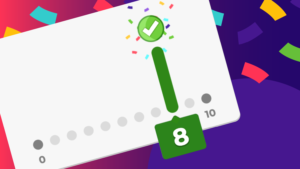 As a county-wide Curriculum Support Specialist, Zenaida Ulloa of Miami, Florida, has always prioritized 21st century learning especially with her students. Interactive learning and collaborative curriculum tools embedded within Kahoot! help to ensure Mrs. Ulloa's students are engaged and instruction is effective! Mrs. Ulloa uses Kahoot! for both summative and formative assessment, and accurate data remains a priority in her planning and design.
The new Slider question, available on Kahoot! Creator, helps Mrs. Ulloa to eliminate any guesswork with curriculum and grading decisions. Zenaida shares some strategies, approaches, and suggestions to incorporating Kahoot! Slider in your classroom, too!
Build community and comfortability
Like with any new tool, students need time to experiment, understand, and experience the ins-and-outs of Kahoot! Slider questions. To boost comfort levels, and provide exposure to the new format, Zenaida found it to practice the question format whole-group. Via a live-demo on Zoom, students connected with one-another to brainstorm ways to reflect and respond! With scaffolded introductions, students are excited to answer the question and engage with the new tool, without any pressure or hesitation weighted on accuracy! Hosting hack: Toggle the question scoring to "No points" for the first introductory questions to minimize stress, too! Also, set the question timer to at least 30 seconds or more, to give students ample time to carefully select their response. This is extremely important if students are joining remotely as WiFi speed may delay some of their responses.

Try, try, and try again!
Consistent question format and repeated exposure helped Zenaida's students to answer questions while feeling confident in their independence, too! Zenaida used the same question and text format across the first several exposures to Kahoot! Slider to decrease students' cognitive load. This way, her students focused on question content, rather than question format or delivery! Students explored place-value math problems for their first Kahoot! Slider questions. Then, moved into reviewing 2D and 3D shapes' faces, sides, and vertices.
Hosting hack: Increase the duration of each question with the countdown timer. More question time = more practice time!
Goodbye guesswork
As the question timer ticks down, students are frantic to select an answer…and fast! Without a prompt to write their own answers, guess-and-check habits are quite popular in elementary classrooms! Kahoot! Slider prompts students to reflect and review many options and select from a greater range. Difficult? No way! Insightful? Oh yes.
Celebrate success
High-fives are great and 'good job!' feels awesome, but the confetti on Kahoot! Slider – that's a top-notch celebration! Zenaida's class celebrated as they accumulated correct answers on Kahoot! Slider questions, excited to see the animated confetti displayed after a correct answer! Correctness isn't always crucial, though! Zenaida appreciates the sequential number range in each Slider question. Once the time was up, students loved how the slider pivoted back and forth until it reached the correct answer, increasing their focus and interest on the correct response. The option to select several correct answers provided multiple opportunities for student success and self-confidence. In questions that may elicit several accurate answers (i.e. "What temperature is it outside?"), delineating several correct answers allows for greater possibility for students to achieve academic success. At the end of every game (extended learning opportunities) Mrs. Ulloa makes it a point to let all students who took part in the live Kahoot! know that they are all winners for trying their best.
Thanks to Zenaida for the insight and expertise with Kahoot! Slider. Special thanks, also, to Mrs. Barbie Lopez's first grade students of Miami Dade Virtual School for helping Mrs. Ulloa to experience Kahoot! Slider! Want to follow the awesome learning that happens in Zenaida's classroom everyday? Check her out on Twitter for more inspiration on making learning awesome.
If you're interested in scaffolding student autonomy and engagement in your own classroom, slider questions are available in Kahoot! Creator now! Login to the Kahoot! via the Kahoot! app or desktop website to build your own question, or search for ready-made content with the Question Bank. Try it out today!