2022 has been a year of milestones and exciting developments at Kahoot!, from reaching 8 billion participants (non-unique) worldwide since launch to launching an array of new features, content and experiences. Through it all, we've grown even stronger in one area I'm most proud of: our connection with you, our users. 
Today, I'm pleased to announce that Kahoot! has been named to Fast Company's latest Brands That Matter list, honoring the companies and organizations that show how they're more than just the products and services they offer. Fast Company is one of the world's leading business media brands. Their content inspires millions of readers to think expansively, lead with purpose, embrace change, and shape the future of business. 
For Kahoot!, it's an honor to be included on the second annual Brands That Matter list. This recognition highlights our company as one that's breaking through the noise impacting culture and business in a meaningful way. We do this by following our mission of making learning awesome! We engage with our users worldwide and inspire learners of all ages to unleash their learning potential everywhere. Whether in a classroom, a boardroom, or a living room, we believe everyone can create magical learning experiences by harnessing the power of friendly competition, interactivity and play.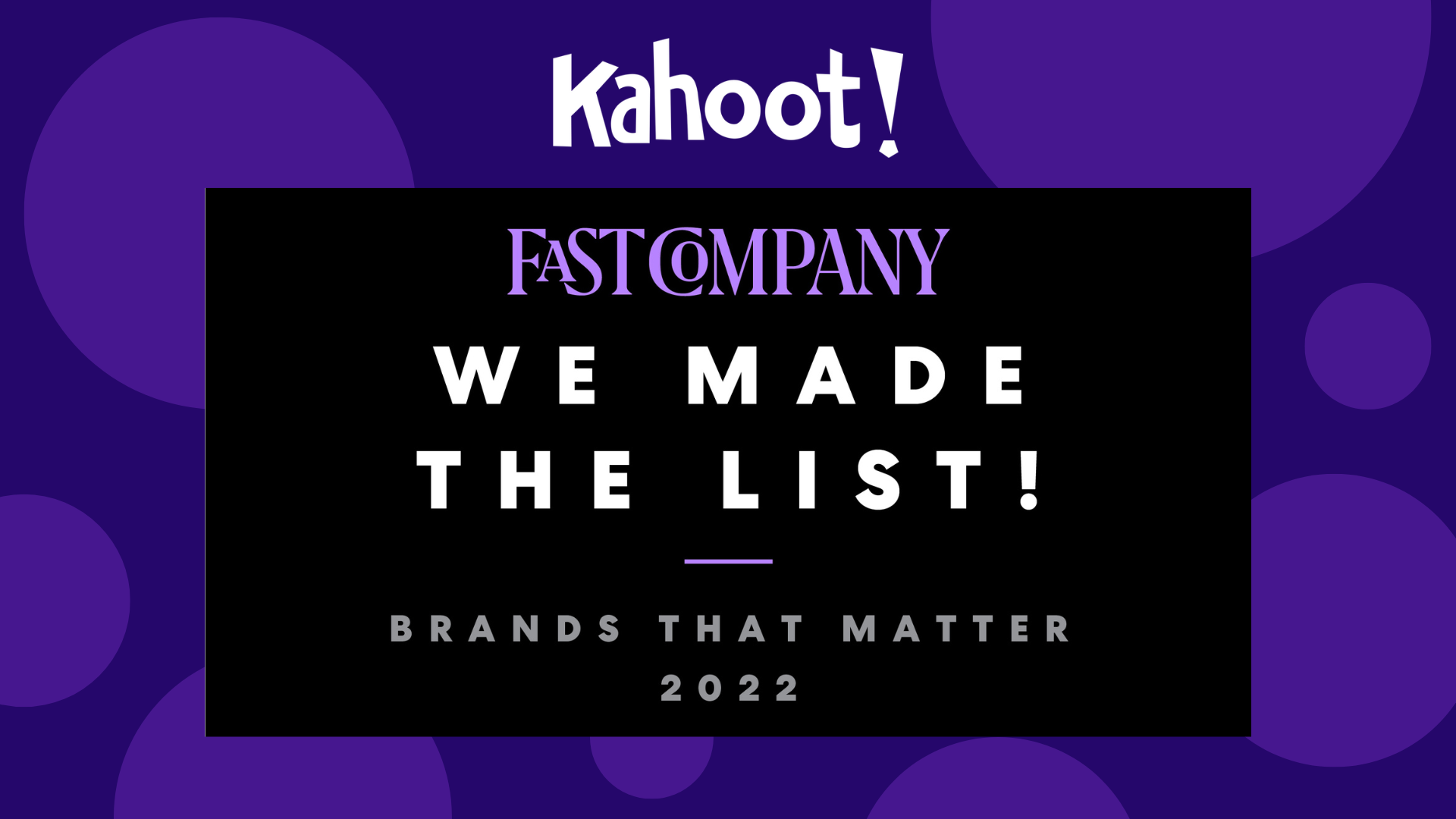 All of the brands chosen for this list were judged on the criteria of relevance, ingenuity, timeliness, clarity and cultural and business impact, featuring, "honorees that are making their mark on culture, and through social impact," according to Brendan Vaughan, Fast Company's editor-in-chief. We're proud to be included as one of the few EdTech companies on this year's list, sitting alongside some of the most impactful global brands. 
This recognition also echoes the findings of Interbrand's brand valuation report on Kahoot!, which found that Kahoot! is "a platform and experience that users feel passionate about" and that "there is a deeper sense of connection that users feel with Kahoot!" beyond the learning benefits. In the report, Kahoot!'s Global Brand Strength was put on par with long-established global brands including YouTube, Nintendo and Sony, and Kahoot! was identified as "a company that users say they love more than competitors across different segments."
We are so proud to support learners across all ages, learning contexts and geographies to bring learning to life every day. From all of us at the Kahoot! team, thank you for connecting with us, sharing your success stories, your ideas and creativity. We can't wait to bring you even more exciting ways to spark engagement and make learning awesome!