Have you ever hosted a virtual meeting and felt people tuning out in real time? Cameras switch off, participants get distracted or just get that certain glazed look, and it hits you: you've lost your audience's attention. 
At Kahoot!, we don't believe any part of work needs to be uninspiring, which is why we teamed up with Zoom Video Communications, Inc. to make Kahoot! part of Zoom curated Essential Apps. With this integration, it's easier than ever to make your next virtual meeting even more interactive, productive, and engaging!
A more seamless way to Kahoot! on Zoom
Launched today, Kahoot! is featured as part of Zoom curated Essential Apps to help grow and manage your business with apps that take meeting notes, engage your team with interactive activities, and deliver insights to improve customer conversations.  
Kahoot!'s 360 Essential premium app is part of Zoom curated Essential Apps, meaning that all Zoom One Pro, Business, or Business Plus online subscribers can:
Instantly add engagement to meetings by launching one of our ready made kahoots in a single click from the Zoom app.  For example, get to know your audience with a 5 minute icebreaker kahoot. 

Redeem a free one year Kahoot! license packed with premium features which gives them everything they need to make virtual meetings, training, presentations more engaging with Kahoot!
With the Kahoot! 360 Essential premium app that is part of Zoom curated Essential Apps, Zoom users can:   
Use Kahoot! to share knowledge in team meetings in an engaging way by combining slides with interactive questions

Give every participant a voice with our range of poll questions, feedback, and knowledge sharing 

Build team spirit with some friendly competition and engagement
Learn more today. Terms apply.
Tackling "quiet constraint" with next-level engagement 
While virtual meetings have become a vital part of the employee experience in workplaces globally, Kahoot!'s recent Workplace Culture Report showed that many companies have not yet optimized them to keep participants truly engaged. 
Employees surveyed named online training, meetings, and presentations as the top work activities where they mentally check out, with 45% saying they read or respond to email during virtual meetings, 30% privately messaging other meeting participants, and 20-23% playing with their pet, doodling, or taking a nap. 
However, there's more to it than simply holding people's attention. Our research also uncovered a new trend, called "quiet constraint," where 58% of employees overall, and 77% of Gen Z employees, reported that they hold in valuable knowledge at work, rather than sharing it with their team members. Why? Largely, workers said they lack opportunities and resources, their knowledge isn't recognized, and their talent and self-expression is stifled.
The good news: 77% of workers said they would highly value an engaging way to share knowledge with their co-workers. But how do you bring this to life in virtual meetings? 
Kahoot! and Zoom have long been a powerful duo for learning and connecting, and with Kahoot! a part of Zoom's curated Essential Apps, supercharged engagement and collaborative learning is just a click away.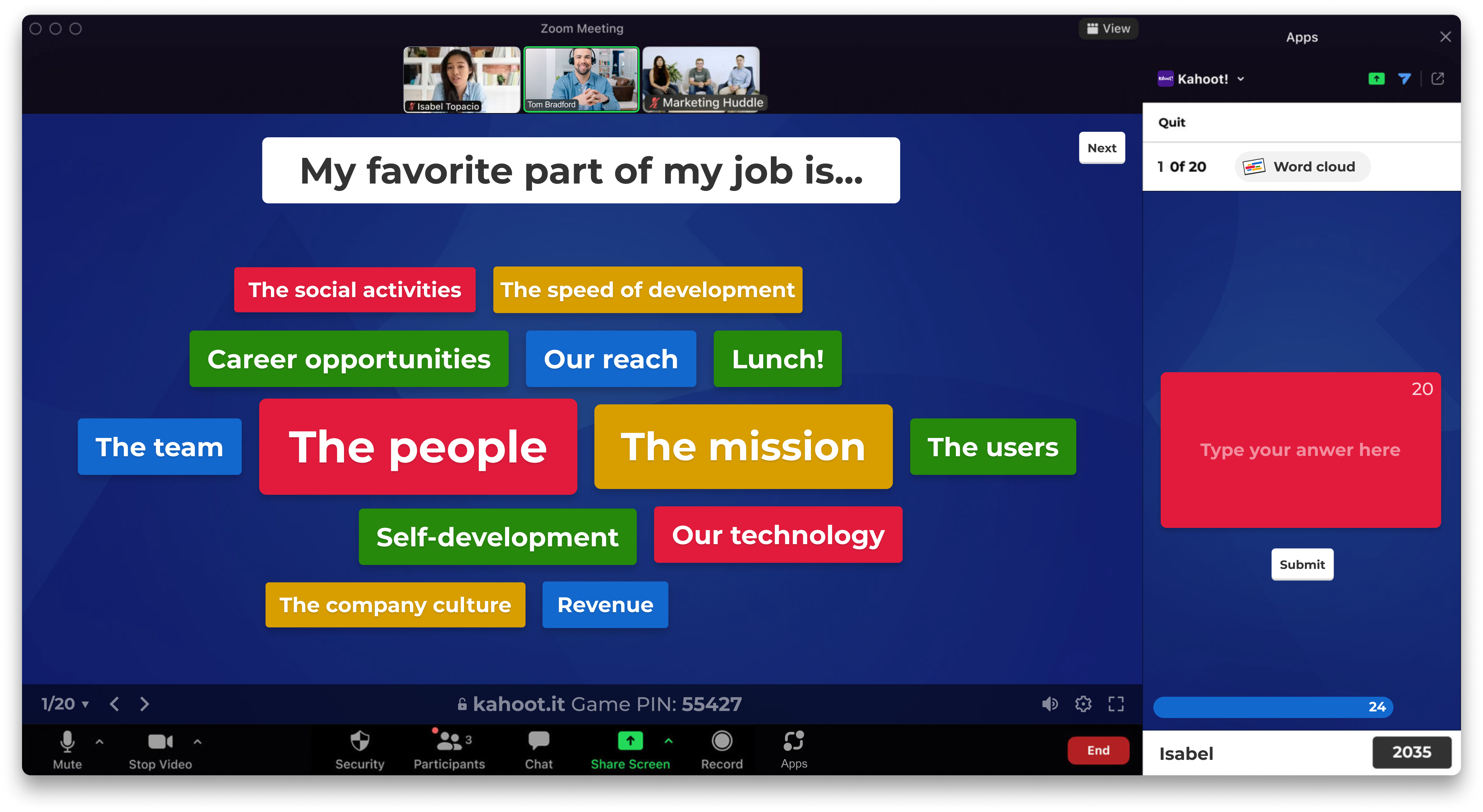 So, how does it work?
Users with a Zoom One Pro, Business, or Business Plus online subscription will now see the Kahoot! app icon, along with other Essential Apps, on a Dock within the Zoom Meeting. This keeps helpful apps like Kahoot! handy during all your team meetings, workshops, training sessions, presentations, events, and beyond. 
Need a quick icebreaker or team building activity? Host and play a kahoot from our public Kahoot! Essentials collection with one click, no account needed!
When you're ready to create your own kahoots and access premium features, log into your existing Kahoot! 360 account, or redeem a free year of Kahoot! 360 Essential.
With Kahoot! 360 Essential, you get all the features you need to make meetings and presentations awesome:
Maximum engagement with our competitive Quiz, Puzzle, and Slider question types
Give participants a voice with our Poll, Wordcloud, Drop pin, and Brainstorm questions
Share information by creating slides in Kahoot! or importing existing slides  from any presentation software

Customize the look of the Kahoot! experience by choosing from our pre-made themes

Great for small meetings: maximum 10 participants per session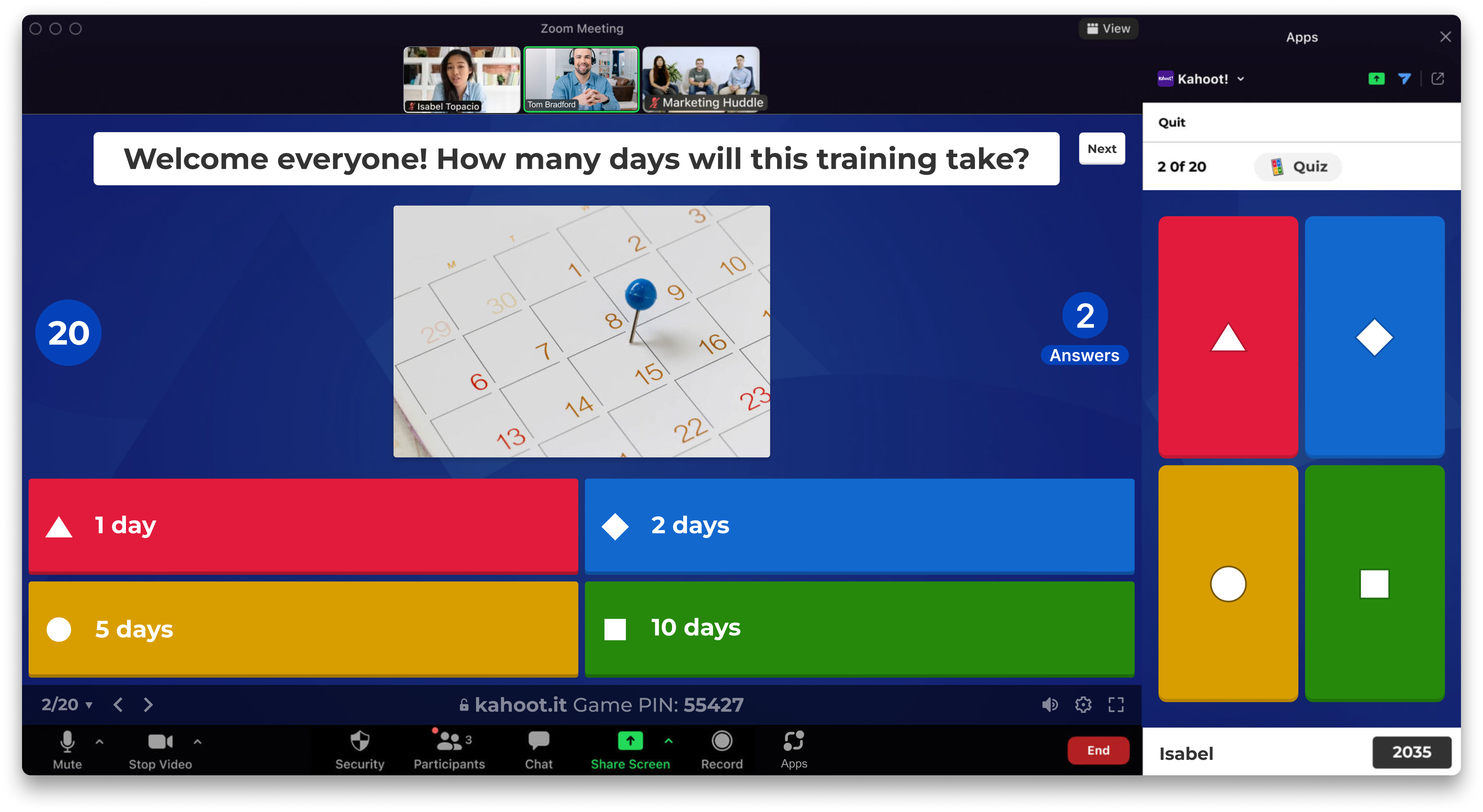 How to host a kahoot session within a Zoom meeting
Log in to your Zoom One Pro, Business, or Business Plus account. 

Select the

Kahoot!

icon in the Essential Apps Dock on the right side of the screen, and click

Add

to install the app.

Begin one of the featured kahoots from our Kahoot! Essential Collection by selecting the kahoot, or… 

Click the

Host

button to host your own kahoot (login required) or browse our public collection. 

When you're ready, click

Start

and your screen will automatically be shared with participants.
You can also learn more about joining a kahoot session on Zoom as a participant.

How to redeem your one year free trial of Kahoot! 360 Essential 
Log in to your Zoom One Pro, Business, or Business Plus account. 

Select the

Kahoot! icon

on the Zoom Essential Apps Dock

Click

Redeem

at the top of the sidebar. 

On the Kahoot! website, click

Redeem now

to sign up, or log in and upgrade your current account.
Ready to make your next virtual meeting even more awesome? Get started with the Kahoot! 360 Essential premium app, part of Zoom curated Essential Apps today!