Create engaging review sessions in time for exam season!
From lecture halls to classroom review sessions, student feedback, and participation are crucial to gauging understanding and knowledge retention. That's why we are so excited to announce our first Kahoot! EDU Meetup, tailored specifically to higher education. We'll be exploring how you can give every student a voice with Kahoot! to make even the largest classrooms feel small.  You'll learn all about what's new at Kahoot! with demos of our latest features to help you prepare your students for exam season!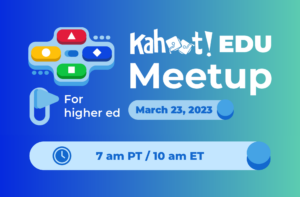 Join us on March 23 from 7am to 9:30am PT to discover new ways to get instant feedback from your students and boost participation with Kahoot!
Don't miss out on this amazing line-up of speakers and sessions:
What's new at Kahoot!, presented by Sean D'arcy, VP of Kahoot! at School
Join our team on a tour of all things Kahoot! to learn more about all of our latest features, including student passes, new question types like drop pin, and slider, and use cases for polling and player id!. This session is for new and experienced Kahoot!'ers alike to find out how you can get more from Kahoot! in your courses!
From student to teacher – using Kahoot! in all academic arenas, presented by Kurt Naicker, Senior Lecturer, School of Accounting at North West University
From student to teacher, and now to Kahoot! host, Kurt Naicker has both the player and host perspective in mind as he creates semester-long Kahoot! units for his Tax and Accounting students in university. Recognizing the importance of creating engaging and purposeful learning experiences, Kurt shares how to inspire student interest with instructional tools that both captivate and educate his learners.
Play and learn: Deepen pedagogical learning with Kahoot!'s interactive tools, presented by Dr. Julie Tronsing-Meyer, Professor of Education at Mckendree University
Campus lectures have leveled up with interactive presentation tools from Kahoot!. Join Dr. Julie Tronsing-Meyer for a Kahoot!-inspired workshop and learn how to incorporate polls, summative assessments, and exit tickets all within one presentation platform. Julie connects with both campus students, and teacher candidates across the Midwest USA, and shares how to embed Kahoot! as an end-to-end learning and presentation tool.
Make the most of Kahoot! tools for interactive learning and assessment, presented by Joshua Scoggin, Account Executive at Kahoot!
Join K!rew member, Joshua Scoggin, for a hands-on workshop for creating and hosting kahoots with a post-secondary audience! Josh will share top tips that make Kahoot!'s both appropriate and engaging for a higher education audience, from planning to playing!
Individualize student-centered learning across your entire campus with Kahoot!, presented by Dr. Jennifer Robinette, Senior Professional Lecturer of Communication and Public Relations at Marist College
Position your students as autonomous in their learning, and curriculum content becomes both impactful and long-lasting. Join educator Jennifer for a session all about student-centered learning tools! Jennifer will outline how Kahoot! has helped her to curate a more inclusive and effective classroom experience across Marist College.

Register now for a chance to win awesome swag and stay tuned on our event page for more updates on all the speakers and sessions that we have planned to help you level up your Kahoot! game!