Kahoot! co-founder incorporates Kahoot! game modes into exam review
As the summer break approaches in the northern hemisphere of the world, thousands of university students are preparing to deliver their final assignments and studying for their final exams. During this time of year, college students often experience heightened emotions due to tight deadlines and exam preparations. This stress and anxiety can impact their performance and goals.
However the question is how can faculty better support their students? Dr. Alf Inge Wang, Professor in the Department of Computer Science at the Norwegian University of Science and Technology (NTNU), is using Kahoot! to trigger positive emotions and engagement among his Software Architecture students, supporting their understanding of complex topics through play, and interactive gamified learning solutions. 
NTNU is a prestigious public research university located in western Norway that is leveraging Kahoot! EDU to scale up engaging learning. Kahoot! EDU provides universities and colleges with advanced features and tools for creating impactful learning experiences both inside and outside the classroom. On our recent visit, we saw  about 100 college students who were feverishly clicking their phones, tablets and laptops as they worked through a question set played in one of Kahoot!'s new game modes like Tallest Tower, where players work together to answer questions correctly, earning blocks to build the tallest virtual tower. Students answered questions like "what is deployability" and "what is true about virtualization?" As the game ended and the winning team was displayed on screen, smiles emerged across the lecture hall as students turned to their neighbors and exchanged good-natured laughs and jibes.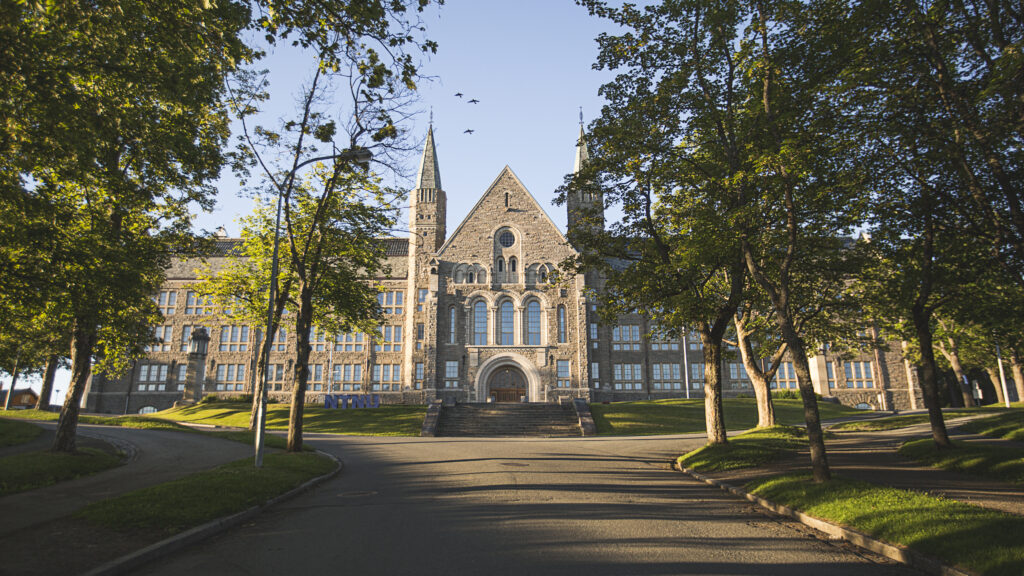 Kahoot!, born from higher education
According to professor Dr. Wang, the students had played numerous kahoots throughout the semester, and if all were not aware when the course started that their professor was a driving force in the creation of Kahoot!, they were now at the end of the semester. Kahoot! celebrates its 10th anniversary this year after emerging from a graduate thesis project overseen by Dr. Wang at NTNU, who at the time was teaching a lot of large classes where he struggled to get meaningful interaction from the students, so he set out to try to find ways to make it easier to interact and engage with the students. In his words "my idea was to basically transform the classroom into a game show where all students could participate."
Dr. Wang, standing in front of his class, had created multiple kahoots for the hour and a half exam review session. Students started their review session in game mode, which supports content reinforcement through accuracy-based points systems,  and community-focused team dynamics, first playing Color Kingdom, and then moving to Treasure Trove, followed by Tallest Tower, before finishing up the session with a classic kahoot. Winners from the games were rewarded with prizes and with the satisfaction of knowing they are on the right track towards a good exam result.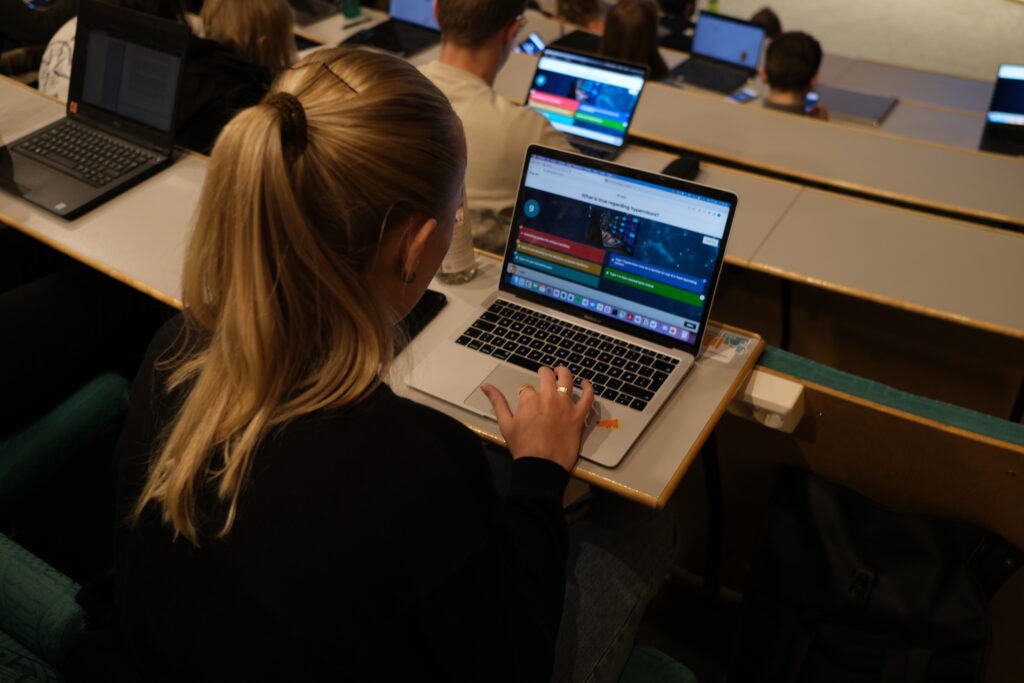 An atmosphere change
Computer Science students Lea and Anna enjoy using Kahoot! in Dr. Wang's course to prepare for final exams. Lea explained that Kahoot! is interactive and allows you to actively participate in class rather than just listening to a professor. "I tend not to have great focus if the professor just talks" adds Lea. Anna agreed, adding that " it can get very boring, it is easier to lose focus when we don't have anything interactive." The Kahoot! game modes are great to repeat topics and questions they have answered incorrectly during class to help them learn material better.  They both recommend Kahoot! to any professors wanting to better engage with students.
For his part, Dr. Wang can observe the change in atmosphere when he launches a kahoot in his lectures. "Since there is audio music they start to chit-chat and there is just more energy in the classroom." This was visible during the course as students swayed in their seats in time to the kahoot music. In course evaluations students share that they enjoyed Kahoot! and found it educational. Despite the positive reviews from students, Dr. Wang feels that there is a misconception that Kahoot! is just a tool for K12, but as his story demonstrates, Kahoot! is a solution born in higher education that helps solve the ongoing challenge of keeping students engaged in their learning. As the last kahoot game pin was displayed and students started joining the game there were numerous "Alf Inge Fan" nicknames popping up on screen, all the way from Alf Inge Fan #1 to Alf Inge Fan #15. Clearly, Dr. Wang is admired by his students, and given his dedication and focus on improving student engagement is that really a surprise? 
By incorporating interactive gamified learning, Dr. Wang has created a classroom environment that fosters understanding of complex topics and reduces exam anxiety through play. Kahoot!'s effectiveness in enhancing student learning has been validated by the students themselves, who clearly appreciated the opportunity to actively participate and review the course content ahead of their exam. 
Does your school or school district have a Kahoot! success story that you want to share! We love hearing how schools and teachers are using Kahoot! In their classrooms to elevate the learning experience for their students. Contact us on Twitter, Facebook, Instagram, LinkedIn, and TikTok, or email us at press@kahoot.com to share your story!
Does your institution want to scale up student engagement, learn more with Kahoot! EDU.