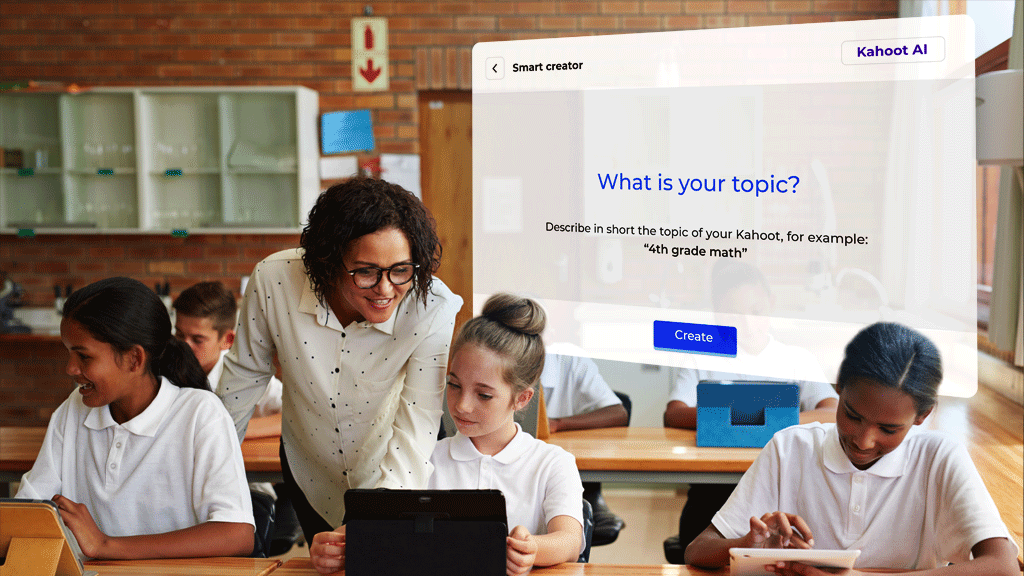 Today I am happy to announce that Kahoot! is launching an array of new features, weaving in generative artificial intelligence (AI) technology into our product suite. This is an extension of our long-lasting commitment to innovation and leveraging the latest technologies to make learning more efficient, accessible, and engaging—yes, more awesome, for everyone! 
Powering the future of learning with the latest tech 
The rapid development of large language models, AI algorithms using deep learning techniques and massively large data sets to understand, summarize, generate and predict new content in a user-friendly way, provides software platforms like Kahoot! with new and powerful capabilities. 
This is however not the start of Kahoot!'s journey with AI. Our text-to-speech feature that makes Kahoot! more accessible to young learners and those with reading impairments, recommendations of kahoots based on your previous usage, and auto-clustering of ideas in our brainstorming capability are some examples of already existing and popular AI-powered features on the platform. We are now ready for the next phase. 
Create awesome learning content in seconds 
Through our partnership with Microsoft, we are leveraging Azure Open AI services to further enhance the Kahoot! experience, with several tangible value-adds for our users at work, school, and home.  
Firstly, creating impactful, tailored, and engaging learning material is about to become even easier for educators and presenters with a new AI-powered feature. Imagine having to step in as a substitute teacher for a sick colleague on short notice, with a few minutes to prepare. Kahoot! has your back! With over 100 million public kahoots and over 1 billion user generated questions already available on our platform, we will utilize large language models to make it extremely quick and easy to auto-create quizzes and presentations on any topic in seconds.
Better than ever brainstorming 
Secondly, we are now using AI to turbocharge our popular brainstorming feature. With embeddings and Microsoft Azure OpenAI, we will automatically group ideas based on similarity-matching. For example, let's assume that you are hosting a brainstorming session on how to improve your corporate website: one colleague might suggest making "videos to explain how to use our products" while another one simply suggests "video tutorials." Basically the same idea, right? So let AI group them for you automatically, increasing the efficiency of your session!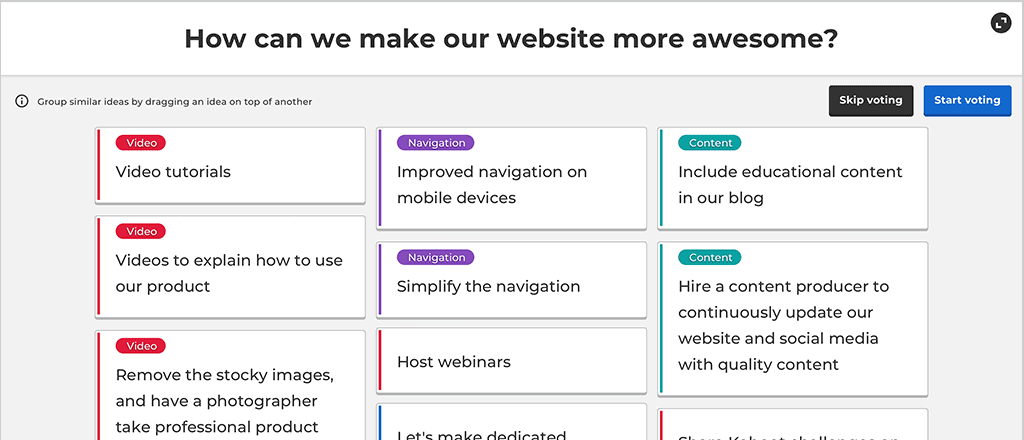 Discover more kahoots you'll love 
Thirdly, we are also making it easier than ever to find and consume relevant content for learners. By introducing semantic search, we are significantly improving search results and content recommendations based on the vast list of existing questions and kahoots. Through the use of embeddings and large language models, we are making it quicker and easier for educators and students to find the relevant kahoots for their needs. 
All these features will be rolled out in the near future, and will make Kahoot! more inclusive, improve the accessibility of learning, and further support our product-led growth. And this is just the beginning. 
What's next?
Dedicating more than half of our talented employee base to R&D, we have a very promising pipeline of more features leveraging AI in the development and prototype phase. With the help of AI, we will soon be able to help learners understand why an answer is the right one, to automatically create Kahoot! Stories, and to automatically generate quizzes and presentations from other types of contents and formats, just to mention some of what is coming. Many of these new features will be available and free for all our users, while some will be included in our paid plans. Everyone gets an even better and more valuable solution from Kahoot!. 
So what about privacy? In Kahoot!, we hold our users' privacy and data protection in high regard. We are not using personal data as part of the AI algorithms.
Kahoot! is on a mission to make learning awesome. Our main focus has and will always be on developing and offering a software platform where educators and learners can create, share, and most importantly; consume content in an engaging way. We are constantly exploring new ways to improve learning outcomes through fun and engaging experiences, while eliminating possible shortcuts in the learning journey. The recent development of generative AI and AI-powered features on our platform takes us yet another step forward to even more awesome learning for all our users by reducing the time spent on preparing content and learning sessions, boosting the engagement level, and making learning more accessible.