Do you struggle with seeing a real effect of all the time and money put into L&D in your organization? You're definitely not alone. According to Harvard Business Review, as many as 75% of senior managers are dissatisfied with their L&D initiatives. Employers invest countless dollars and hours in employee training courses and programs each year. Yet, many training initiatives fall short of achieving intended outcomes, often due to a lack of learner engagement. Without it, it's challenging to drive behavioral changes and, subsequently, achieve desired business results.

Jump on a different bandwagon. Kahoot! is already being used in 97% of the Fortune 500 to boost engagement in training, presentations, meetings, and events. This motivates us to continue improving Kahoot! 360, our tailored offering for business professionals and enterprises. In the learning and development realm, Kahoot! 360 is continuously updated to help trainers save time on content creation, now with AI innovations, and make knowledge stick by driving unparalleled engagement anytime, anywhere. Indeed, it is helping boost training completion beyond live settings; trainers can also use Kahoot! 360 to deliver engaging learning content asynchronously.
With Kahoot! courses particularly, trainers and presenters can build engaging learning journeys using different content formats such as video, kahoots, documents, and now story, our new content format, all within the Kahoot! platform. These employee training courses can be instructor-led, or assigned as self-paced, and, when completed, employees can even get training completion certificates to document or share easily.
Corporate learning that tells a story
In case you haven't heard… story, our newest learning content format is built for engaging employees or learners on the go. And more engaging content formats mean more impactful corporate learning!

This 'mobile first' interactive storytelling format is yet another innovation that shows how Kahoot! has evolved from being an assessment module within a wider learning experience to becoming a tool to easily create complete, engaging learning experiences. With the addition of story, the Kahoot! platform can deliver even more engaging self-paced onboarding, product knowledge, compliance, and partner training.
Story allows you to create interactive and visually impactful learning content, and if you don't want to start from scratch, you can easily turn PDFs into a complete story in seconds. The story creator tool has an easy-to-use interface with a built-in premium image library, and video and audio integrations, enabling users to build a powerful, great-looking story with any type of content. And now you can save even more time with Kahoot!'s latest AI-powered content creation and editing innovations.
Story makes it even easier for companies to create their own fun, and engaging training or internal communications content! The addition of story comes at a moment when companies worldwide face increasing urgency to reskill their employees and upgrade their corporate training. The new format, together with Kahoot! courses, is creating truly unique learning experiences that allow enterprises to deliver engaging asynchronous corporate learning at scale. The result? Motivated, learning, and engaged employees.

Use story for morethan just training! Any Kahoot! story can also be delivered, not only as a part of Kahoot! courses, but also as stand-alone. That's right, with premium Kahoot! 360 plans, you can create and share mobile-first, engaging learning content for not just training, but also internal communication purposes such as newsletters, product or policy updates, and more. 
Engaging employee training courses and learning content created in minutes with AI
Change the tone of voice of your text, make it shorter, make it longer and more descriptive—you name it. You can even automatically translate your content, without having to leave the story creator.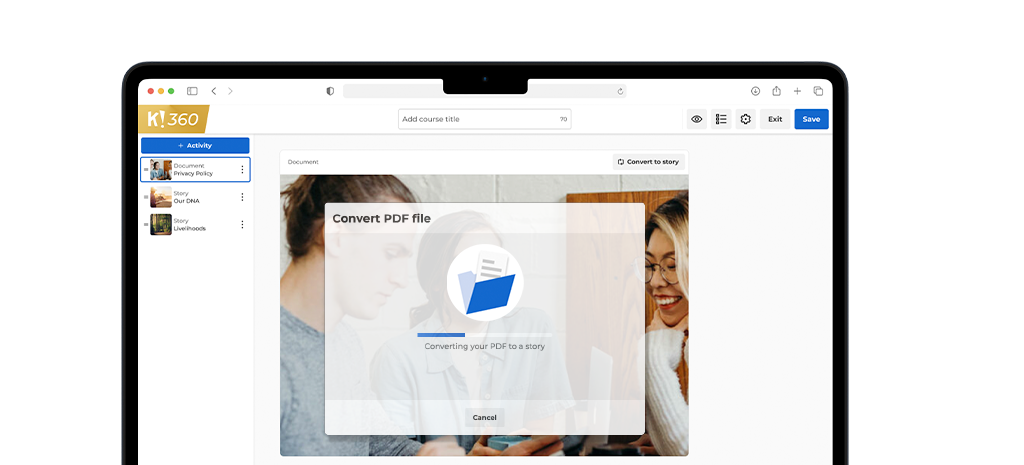 Share any story with employees as a stand-alone, or add to your Kahoot! courses and combine them with another content format. No more sharing text-heavy documents that learners won't finish reading. No more boring training altogether! Say hello to creating, editing, or repurposing any type of learning content faster, and keep employees up-to-date to ensure compliance and the best customer experiences.
Making training stick with immersive microlearning
In our recent 2022 Workplace Culture Report, we found that 87% of workers feel bored at work, mostly due to ineffective online training and virtual presentations. We now address this by making it even easier for companies to create their own fun, engaging, visually impactful training content. The inspiration is drawn from Kahoot!'s Motimate mobile learning app, already popular among European enterprise customers, including DNB and Rema 1000, Norway's leading players within financial services and retail respectively.
With story's microlearning format, content is consumed in less than 7 minutes, avoiding "content dumping" or overwhelming people with too much information too fast. Seventy percent of conventional corporate training is forgotten within 24 hours; Story is designed to help employees retain more information by sharing knowledge in a coherent, digestible way. The new format also makes it easier for employees to share knowledge with peers outside of conventional meeting spaces. 
Get started with story today, now available as part of Kahoot! 360 Spirit, Kahoot!'s flagship plan for corporate learning and employee engagement.