District Administration, a leading publication focused on solutions for school district management, has announced the finalists and winners in their Top Ed Tech Product Awards, and we are pleased to announce that Kahoot! has been selected as a finalist in the Future Learning Technology category, and Clever, a Kahoot! company, has been chosen as a winner in the Information Technology category.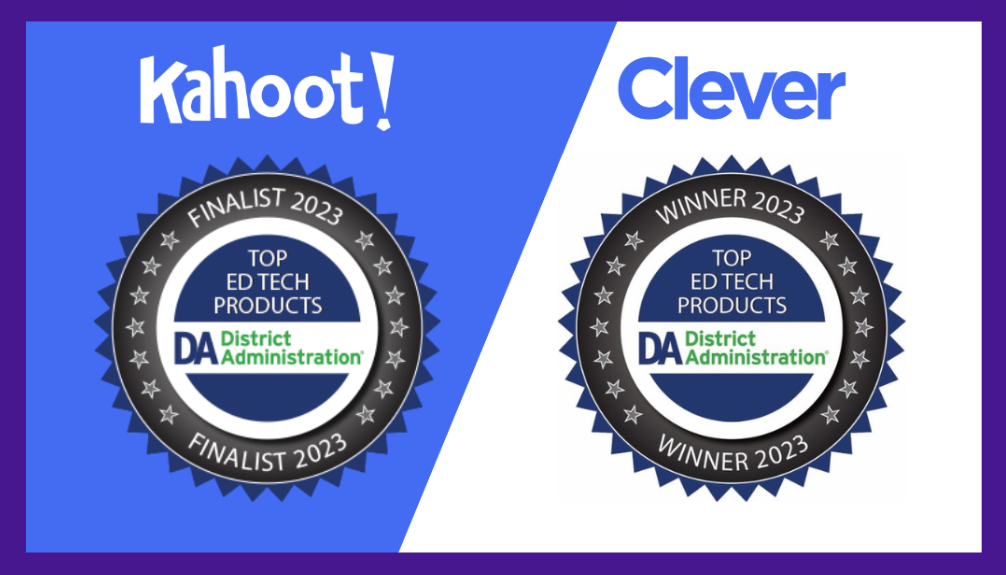 Celebrating innovation in EdTech
Featuring new and updated EdTech products, these awards elevate products delivering innovative and ground-breaking solutions to educators, administrators and students school and districtwide. 
"Our mission in the Kahoot! Group is to make learning awesome, and our development of Kahoot! and Clever solutions is driven by our shared commitment to supporting teachers, educational leaders and learners alike with access to impactful easy-to-use digital learning," said Eilert Hanoa, CEO, Kahoot!. "This recognition underscores the unique value Kahoot! and Clever offer to make digital learning more secure, seamless and engaging for all ages."
Powerful solutions to meet school and districtwide needs
The Kahoot! Group products featured in this year's Top Ed Tech Product Awards are Kahoot! EDU and Clever IDM. Kahoot! EDU is Kahoot!'s most advanced and scalable offering, which enables administrators to bring powerful Kahoot! solutions to the entire school, school district or other educational institution. 
With Kahoot! EDU, schools and school districts can seamlessly onboard new staff members and equip educators with a robust set of tools to supercharge student engagement, identify knowledge gaps and assess students' learning progress over time, as well as collaborate and share knowledge and resources with fellow teachers. 
In the last months, 9 million educators have taken learning to the next level with Kahoot!, with more than 10,000 schools and school districts now using Kahoot! EDU.
Clever IDM, an identity management solution, helps districts automate provisioning and management of their Active Directory and Google Workspace user accounts, saving schools time while helping to improve account security.
As schools and school districts navigate EdTech, many are moving to put digital security front and center. Clever IDM enables school and district IT departments to eliminate the delays and errors that often come with creating accounts on EdTech platforms manually. This helps teachers and students access their favorite digital learning resources more seamlessly, while also protecting their privacy and security.
Clever is one of the most widely-used digital learning platforms in U.S. K-12 schools (now also available in Canada), used by more than 70% of U.S. K-12 schools to simplify and secure access to digital learning applications. Clever officially joined the Kahoot! Group in September 2021.
Earlier this year, Kahoot! and Clever have also been recognized together as top education technology solutions in the 2022 EdTech App Report and LearnPlatform's EdTech Top 40: Fall 2022 Report.  
Read our educator success stories to discover how teachers and administrators are making learning awesome with Kahoot!, and explore how schools are simplifying secure access to engaging digital learning with Clever.
About Kahoot!
Kahoot! is on a mission to make learning awesome! We want to empower everyone, including children, students, and employees to unlock their full learning potential. Our learning platform makes it easy for any individual or corporation to create, share, and host learning sessions that drive compelling engagement. Launched in 2013, Kahoot!'s vision is to build the leading learning platform in the world. Since launch, Kahoot! has hosted hundreds of millions of learning sessions with 8 billion participants (non-unique) in more than 200 countries and regions. The Kahoot! Group includes Clever, the leading US K-12 EdTech learning platform, together with the learning apps DragonBox, Poio, Drops, Actimo, Motimate, and Whiteboard.fi. The Kahoot! Group is headquartered in Oslo, Norway with offices in the US, the UK, France, Finland, Estonia, Denmark, Spain and Poland. Kahoot! is listed on the Oslo Stock Exchange under the ticker KAHOT. To learn more, visit us at kahoot.com. Let's play!