We are excited to share that Kahoot! has been announced as a winner in two notable awards programs, receiving a National Parenting Product Award (NAPPA) and The National Parenting Center's Seal of Approval, showcasing Kahoot! as a top product to enrich children's learning and bring families together.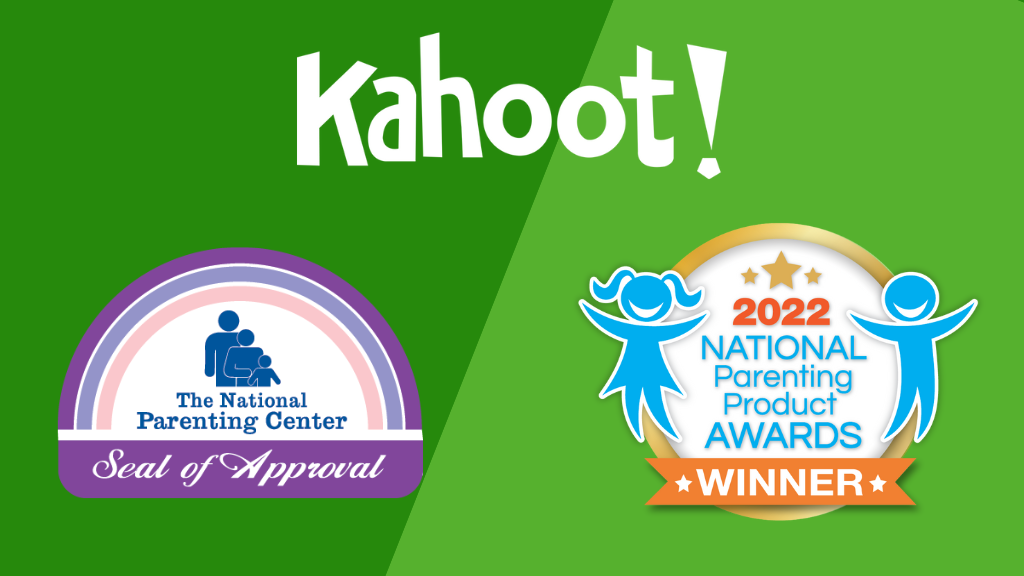 Based on independent evaluators, as well as parent and child testers, these award programs celebrate the best products available to foster children's learning and help families connect and have fun together. Together, these two awards point to Kahoot! as a go-to digital companion for at-home learning and engagement. 
Guiding parents looking for high quality learning solutions for their kids, the NAPPA Awards features comments from evaluators calling Kahoot!, "A great way to mix fun and learning," and a platform where, "Students can be competitive while learning new things and demonstrating their knowledge." The National Parenting Center's review of Kahoot! likewise highlights Kahoot!'s millions of ready-to-play kahoots and easy-to-use tools for parents and kids to create their own, naming Kahoot! both a "must for learning at any age and any level" and a "fantastic way to bond and connect with your child."
Millions of parents, kids and learners of all ages worldwide are using Kahoot!—including Kahoot! Kids, the safe, exploratory and kid-friendly experience within the Kahoot! app—to share quality family time and make learning awesome at home or on-the-go.
To stay up to date on company news and updates, visit and subscribe to Kahoot! News.
About Kahoot!
Kahoot! is on a mission to make learning awesome! We want to empower everyone, including children, students, and employees to unlock their full learning potential. Our learning platform makes it easy for any individual or corporation to create, share, and host learning sessions that drive compelling engagement. Launched in 2013, Kahoot!'s vision is to build the leading learning platform in the world. Since launch, Kahoot! has hosted hundreds of millions of learning sessions with 8 billion participants (non-unique) in more than 200 countries and regions. The Kahoot! Group includes Clever, the leading US K-12 EdTech learning platform, together with the learning apps DragonBox, Poio, Drops, Actimo, Motimate, and Whiteboard.fi. The Kahoot! Group is headquartered in Oslo, Norway with offices in the US, the UK, France, Finland, Estonia, Denmark, Spain and Poland. Kahoot! is listed on the Oslo Stock Exchange under the ticker KAHOT. To learn more, visit us at kahoot.com. Let's play!