OSLO, NORWAY, October 3, 2017 — Kahoot!, the game-based learning platform and one of the fastest-growing learning brands with more than 50 million unique monthly active users, today announced Kahoot! Plus, a premium version of Kahoot! tailored specifically for corporate teams and corporate learning.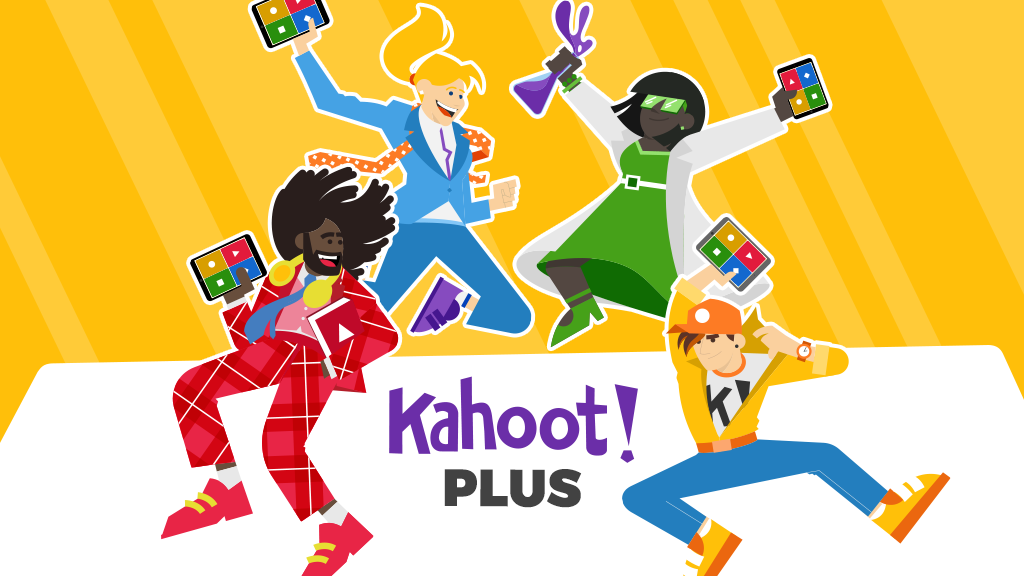 Businesses today are spending more than ever on training: corporate training spend has grown to over $70 billion in 2016 in the United States alone, according to Training Mag. Despite increased investments in corporate learning, employees frequently complain that training sessions are uninspiring, unengaging and unmemorable.
Kahoot! is introducing a premium version of its free game-based learning platform both to respond to the extraordinary reception the platform has received in the corporate training marketplace and satisfy the additional needs of a key segment of our corporate customer base.
Today, more than a million corporate employees use Kahoot! for corporate training every month, including at 25% of the Fortune 500 companies, and usage has been growing at over 150% year-over-year. Kahoot!'s easy-to-use learning platform enables anyone to create and play fun, engaging, and interactive learning games—whether it's to impart training material to employees, or entertain and inspire employees at company events and conferences.
With Kahoot! Plus, corporate trainers, marketers, sales teams and other corporate teams can have a more private, organized, collaborative and company-branded experience compared to Kahoot!'s standard free offering.
"Billions of dollars and millions of hours are wasted on ineffective corporate training every year. All of us have suffered through dull presentation decks and boring training sessions," said Erik Harrell, CEO, Kahoot!
We believe training should not only be useful, but also fun, memorable, inspiring and even magical.
"A half million corporate trainers are already using the Kahoot! platform and have continually asked us to provide premium features. Today, we are excited to introduce Kahoot! Plus, which will give trainers, and their organizations, a customized and secure experience that will help them get an even greater return on their Kahoot! training and development investment. What's more, by signing up for Kahoot! Plus, corporate users can do their part to help keep Kahoot! free for schools globally."
Why not make learning fun at work?
Kahoot! is already a global cultural phenomenon in schools, generating more than 1 billion cumulative players since it was launched in 2013. More than 1.5 million U.S. teachers use it in classrooms to make learning fun and engaging, and more than 40% of U.S. K-12 students use Kahoot! every month.
However, the phenomenon of game-based learning isn't limited to schools. That's why more than 16 million corporate employees have participated in a Kahoot! game and more than 2.5 million games have been hosted by corporate trainers since 2013.

According to the Brandon Hall Group, e-Learning is the most engaging but also the most expensive corporate learning experience to develop. With Kahoot! Plus, learning games can be produced and shared privately across an organization in a just a matter of minutes for pennies.
"Kahoot! has already brought about a world of a difference to training methods and employee performance within our organization with its non-traditional and joyful interface," said Daan Luitse, Learning Lead – EMEA Community Operations at Uber.
Kahoot! Plus will now give us more reasons to use it on a regular basis with the variety of premium features that will increase employee engagement and knowledge, meet corporate compliance standards and provide a great return on investment.
"With Kahoot!, you never have to worry if your training is engaging your audience. Kahoot! has changed the way we approach corporate training and there is no doubt that Kahoot! is helping us generate a greater return on our corporate training investments," said Thomas Midteide, Group EVP of Communications at DNB, one of Scandinavia's largest financial services companies with assets of over $300 billion. "We look forward to the additional benefits that Kahoot! Plus brings, especially the ability to share learning games across our organization from a single private area that all trainers can access."
What's the "plus" in Kahoot! Plus?

Engage your team with learning games
On Kahoot!'s learning game platform, the topic, format and number of questions are entirely up to the user. Create games to engage team members in learning, no matter their function or age, and bring fun to the workplace!
Share games and collaborate on game creation in a private, secure area
Invite trainers and other team members to Kahoot! Plus and share games and collaborate on game creation in your organization's own private, secure area. All content in one spot!
Brand the games
With a Kahoot! Plus account, users can add their organization's logo to all kahoots they create. It's always better with a personal touch!
Drill through game reports
Love data? In Kahoot! Plus, trainers can view advanced reports on game results, down to the employee level. Find out what material employees are mastering and what learning areas trainers need to focus more on. With Kahoot! Plus, learners can attain more mastery of material, in turn, driving improved company performance and employee productivity. Cumulative individual reports by player are coming soon, too.
Get inspired with sample kahoots
With Kahoot! Plus, users have access to business-focused kahoot templates to get up and running – such as a template for sales training and new employee onboarding.
Pricing
Kahoot! Plus is available for an introductory discounted rate of $9.95 per user per month with an unlimited number of participants if signing up for an annual subscription, or $14.95 per user per month with an unlimited number of participants if signing up for a month-to-month subscription. Both offerings come with a free trial.  Kahoot!'s standard offering for K-12 teachers is always available for free.
Existing standard users can upgrade to Kahoot! Plus and new users can sign up for Kahoot! Plus here. For larger teams and organizations, contact the Kahoot! Plus team here.
About Kahoot!
Since its launch in 2013, Kahoot! has turned game-based learning into a pop culture phenomenon. The game platform now hosts over 50 million monthly active unique users and has a public library of over 20 million learning games, created and shared by fans in more than 180 countries. Kahoot! is on a mission to make learning awesome, by unlocking the deepest potential of every learner — regardless of location, age or context. Kahoot! is a global company with offices in Oslo, London, and Austin. Let's play!