Oslo, Norway, August 13, 2019 – Kahoot!, the global learning platform today announced that its popular learning game, played by more than 1 billion people last year, is leveling up game creation and launching its brand new game creator for corporate learning environments.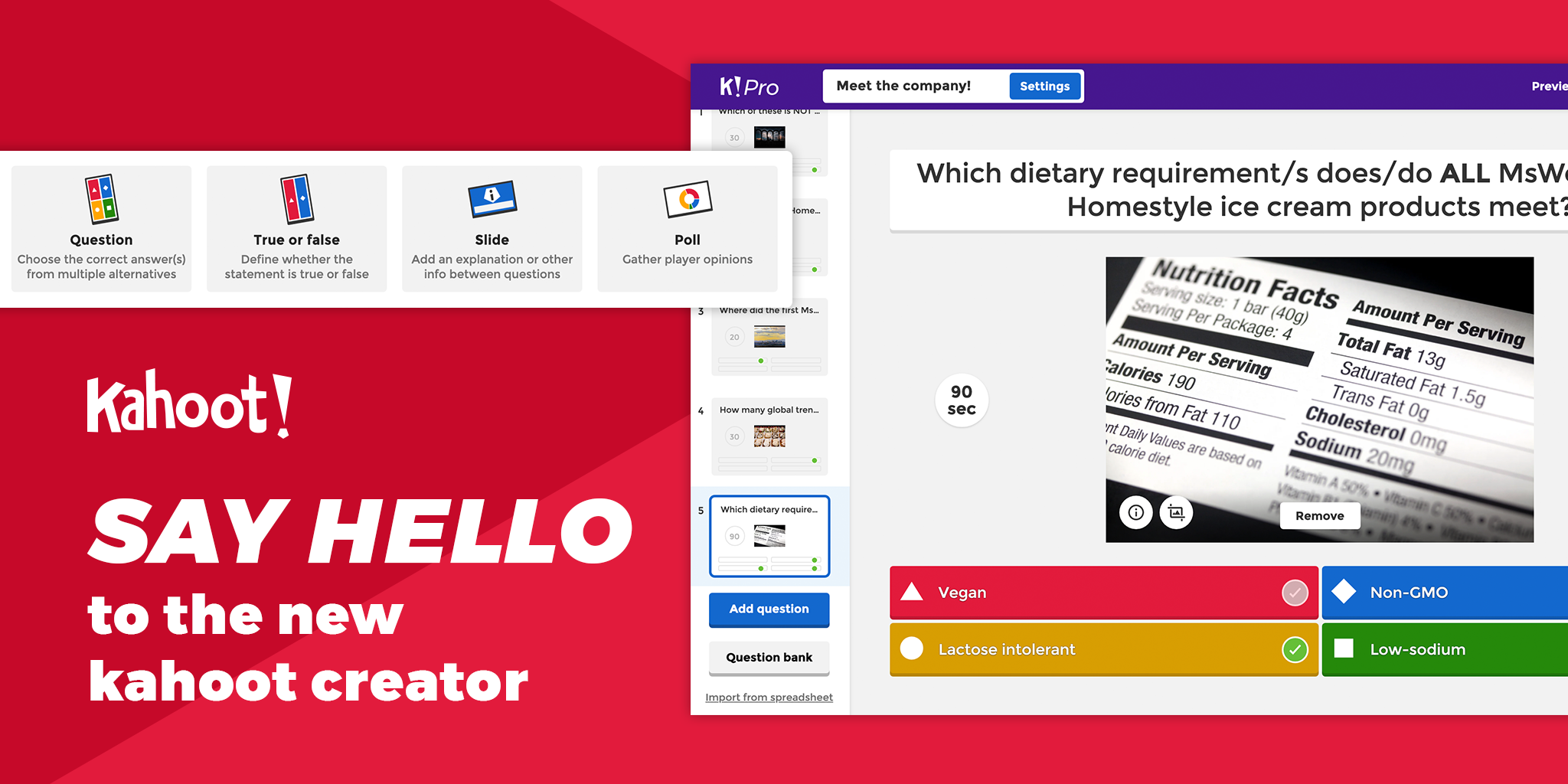 To make it faster, easier and more fun for corporate trainers and other business users to create and host kahoots, the company is completely revamping its game creator with several new innovations, including new ways to play games and more tools to help present and instruct. Corporate users can use Kahoot! beyond what they already use it for which is training, presentations, events and onboarding.
"With the new creator, Kahoot! is now a full-fledged interactive learning tool that is relevant for any business context — be it a training session, presentation or meeting, a discussion or an event," said Åsmund Furuseth, co-founder and CEO, Kahoot!. "Kahoot! can be used with any audience today as it brings the fun and engagement of gamification to learning and presenting. This is especially relevant for Gen Z workers who are the newest entrants to the workforce."
Kahoot! is used by 97% of Fortune 500 companies and business users have hosted more than 2.5 million games with over 20 million participating players in 2019.
Make interactive presentations and quizzes with slides and polls
With the new creator, Kahoot! is introducing slides and polls to let game creators add even more context and interactivity to presentations and reinforcing learning outcomes. This will also save creators the trouble of switching between Kahoot! and other presentation tools . Users with a Kahoot! Pro or Premium subscription will now be able to use slides with text, images or video to add more info to a question, introduce topics, review concepts, or present fun facts.
Moreover, users with a premium subscription will be able to mix and match question types such as multiple choice quiz, true or false, and poll, to best suit the game tempo and further customize the learning experience.
In addition, Kahoot! is responding to one of the most popular feature requests, which is increasing character limits in questions and answers by 25% so creators can say more with their kahoots.
E-learning and remote training just got way better
Through the capability of mixing and matching questions types in the new creator (multiple-choice, true or false, slides and polls), a kahoot quiz can now be used as stand-alone e-learning content in remote training. Learners can now learn and review new materials by themselves at their own pace through kahoots created with the help of slides, polls and quiz questions.
"My trainees are scattered across several offices in multiple time zones, and we can't always do face-to-face instruction," said Todd Grantham, Senior Director, Learning and Development Strategy at Children's Miracle Network Hospitals. "Slides will allow me to add content and context in between quiz questions. This will allow me to do remote training as well as make my kahoots more impactful."
Make kahoots 3X faster with the question bank
With the new question bank feature, business users will be able to quickly re-use questions from their team space that serves as their company's library of kahoot games, or from Kahoot!'s public library of 500 million questions.
In addition to question bank, slides and poll, several community-requested features have been added, including extended timer options and auto-save draft mode. See all the new features of the new creator in this video.
Kahoot! for business is available in four tiers: Kahoot! Plus, Pro and Premium and Basic (free). Learn more about Kahoot! for business or send an email to business@kahoot.com for questions on our plans offered.
About Kahoot!
Kahoot! is a game-based learning platform that makes it easy to create, share and play fun learning games or trivia quizzes in minutes. Kahoot! is used in a variety of settings – in K-12 and university classrooms, corporate offices, social settings, and major sporting and cultural events. Kahoot! is embraced by teachers, loved by students, valued by organizations and harnessed by publishers. In 2018, Kahoot! had over one billion participating players in more than 200 countries. Kahoot! is on a mission to make learning awesome and build the leading learning community in the world that connects its users to premium content. Launched in 2013, the company is headquartered in Norway with offices in the US and the UK. Let's play!