Oslo, Norway (March 25, 2021) – Kahoot!, the global learning platform company, today announced the launch of Kahoot! Academy Connect. This first-of-its-kind community delivers social networking features that will empower educators to connect with each other and with learners across the world, share and build a global learning community.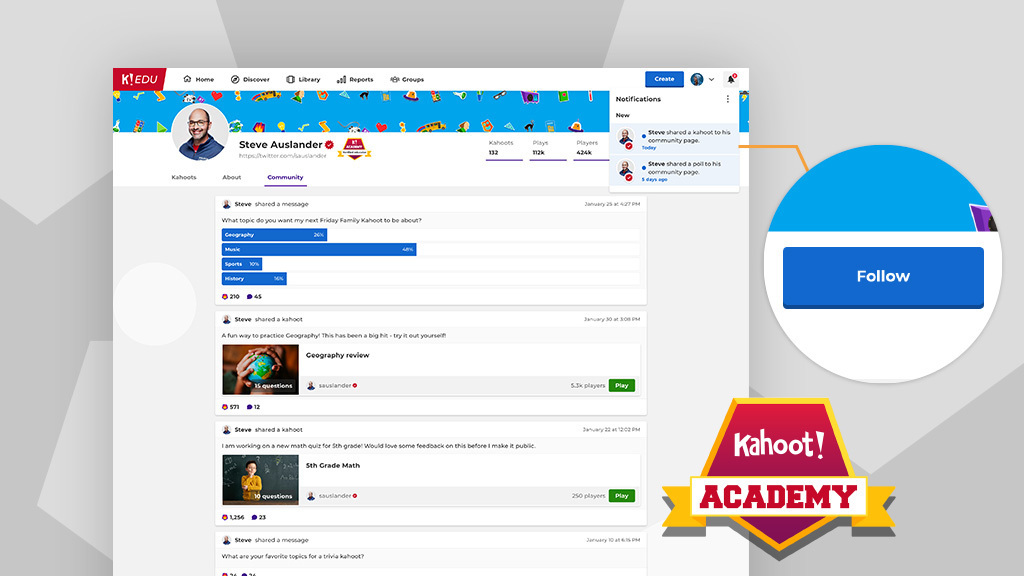 The ultimate learning destination for educators and learners
Kahoot! Academy is a global, multilingual knowledge platform and community, which helps educators and publishers to share and access content that supports engaging and meaningful learning experiences for learners of all ages. Since its early launch in June 2020, more than 100 million participating players from all parts of the world have engaged with the content on Kahoot! Academy, with 7.5 million educators using Kahoot! in the last 12 months.
Now, Kahoot! Academy Connect will offer all users an exciting new way to collaborate and share content, making it easier than ever for educators, parents and learners to discover the content that best suits their needs.
-"Kahoot! Academy Connect provides access to a strong global community, where I can 'follow' educators who create learning content that enhances my teaching, as well as share my own learning content with others and create my own community," said Brendan Timlin, ESL teacher and Kahoot! Academy Verified educator.
Connecting to make learning awesome
With Kahoot! Academy Connect, Verified educators will be able to build a community on their Kahoot! Academy profile, where they can share learning content, knowledge and resources with millions of fellow educators and learners globally. Anyone will be able to follow profiles and receive notifications for new content or updates, helping them stay up-to-date with their favorite Verified educators and content creators.
Coming soon, content partners and publishers will also be able to start communities on Kahoot! Academy, enabling them to interact with educators and learners more directly. This will make it even easier for users to access learning content from the partners and publishers they love such as Disney, National Geographic, Common Sense Education and more—as soon as it's released.
-"Kahoot! Academy Connect offers educators, parents and learners a unique one-stop shop to network, share and discover high quality educational resources in a positive, social way," said Eilert Hanoa, CEO, Kahoot!. "This launch represents a big leap forward toward Kahoot!'s vision of becoming the leading learning platform in the world, and we're excited to see educators and content creators build communities that bring awesome content directly to the users who will benefit."
Kahoot! Academy Connect will first be rolled out to Verified educators and their followers during the early release stage. More functionality and more opportunities for sharing and networking will be released through 2021.
-"Our goal is to build a unique, global social network with Kahoot! Academy Connect", said Agnete T. Pedersen, Director and Head of Kahoot! Academy. "Starting with connecting the world's amazing educators with learners and with each other, we aim to build a positive, collaborative community, with a focus on sharing knowledge and resources, as well as connecting users with content tailored to their needs. We believe this can be a really meaningful contribution to making high-quality learning material accessible for all, irrespective of location, language or background."
Connect is not the only new addition to Kahoot! Academy coming in 2021, as development continues on Marketplace, a further addition due to launch this year. Marketplace will enable verified educators to offer their content for purchase to millions of educators and learners across the globe.
For more information about Kahoot! Academy Connect, read the blog post.
Please visit Kahoot! News to stay up to date on company news and updates.
About Kahoot!
Kahoot! is on a mission to make learning awesome! We want to empower everyone, including children, students, and employees to unlock their full learning potential. Our learning platform makes it easy for any individual or corporation to create, share, and play learning games that drive compelling engagement. Launched in 2013, Kahoot!'s vision is to build the leading learning platform in the world. In the last 12 months, more than 250 million games have been played on the Kahoot! platform with 1.5 billion participating players in 200 countries. The Kahoot! family also includes award-winning DragonBox math learning apps, the Poio learn to read app, the Drops language learning apps, the Actimo employee engagement platform and Whiteboard.fi, the online whiteboard tool for all educators, teachers and classrooms. The Kahoot Group is headquartered in Oslo, Norway with offices in the US, the UK, France, Finland, Estonia, Denmark and Spain. Let's play!