Kahoot! Academy is a one-stop-shop for high-quality learning material. Before you apply, check out this guide to creating engaging content that'll benefit teachers and students around the world!
1. Get started with these free resources
Never made a kahoot before? Not sure how to host kahoots for distance learning or in the classroom? No worries! The Kahoot! library is packed with helpful resources for getting started. From pedagogy advice and professional development resources to a distance learning guide, you can download a big selection of PDF files that will help you get the most out of Kahoot!. And the best part? Every library resource is free!
2. Mix up the question types
Verified educators will have our full suite of question types at their fingertips with their Kahoot! Premium+ subscription! To create the most engaging kahoots, we recommend mixing several (if not all!) question types. Test comprehension by asking players to type the answer, drive greater understanding with puzzles, or collect instant feedback with polls – the choice is yours! Integrating several question types into your kahoots ensures you cater to all your students' learning styles and needs.
3. Give the students time to think
Asking a tricky question? Increase the question timer to up to four minutes so students have time to process information before answering. Providing a longer time to answer the question, otherwise known as think-time, removes the need for speed, puts the emphasis on accuracy, and ensures that all students, especially language learners, have time to respond.
4. Create ready-to-host interactive lessons
Got an awesome PowerPoint, Keynote, Google Slides, or PDF presentation? Upload the slides into a kahoot and add a mix of question types to create an interactive lesson that students (and teachers!) will love. By combining instructional slides with interactive questions, you will not only create a resource that saves time during a lesson, since educators do not have to switch between tools, but also a resource that encourages participation and helps teachers check student understanding.
5. Get creative with multi-select
Everyone loves the classic multiple-choice kahoot questions! But did you know that in multiple-choice questions, you can also drive deeper learning and accuracy with multi-select answers? Multi-select answers are a popular way to reward accuracy as players submit two or more correct answers to a multiple-choice question. Quickly test for understanding, provide students time to process questions before answering, and give students the chance to select more than one correct answer.
6. Use images as answers to engage pre-readers
You can also use images as answers instead of words when creating multiple-choice questions! Early childhood educators and language teachers especially love using images as answers to engage pre-readers and students who struggle with text. It's also perfect for a wide variety of scenarios, including introducing students to equations, musical notes, sentence structures, or new vocabulary.
7. Make your kahoots visually appealing
Hook your learners by adding high-quality images and YouTube videos into your kahoots! Kahoot!'s premium image library is packed with millions of high-quality pictures, so it's never been easier to create visually appealing content! We recommend adding an image to every question, as this helps engage students with your content while also providing additional context. Once you've chosen a picture, use the image reveal feature to add an extra layer of engagement to your question. You can also copy and paste video links from YouTube and choose the start and endpoint, so only relevant content is played.
8. Be original, be unique!
Explore new ways to kahoot, and we promise your content will be highly appreciated by educators and students across the globe. Kahoot! Academy aims to host an extensive library of high-quality content that educators and learners can easily access. Because of this, only original content will be accepted. Please do not duplicate any kahoots and include them in your application to join Kahoot! Academy as a Verified Educator. For inspiration, take a look at how DragonBox turned learning math into a fun series of cartoon kahoots, designed as a mission in several episodes! Can you complete the mission?
9. Write a clear title and description
We know teachers of awesome understand the importance of factually and grammatically correct questions and answers. But to really highlight your content, your kahoot title and description have to be clear, concise, and appealing! Educators or learners should know exactly if your kahoot is for them by simply reading the title and description. Consider adding the target age group and clearly stating the topic in the title or description. You can also use #hashtags to make it even easier to understand the focus of your kahoot.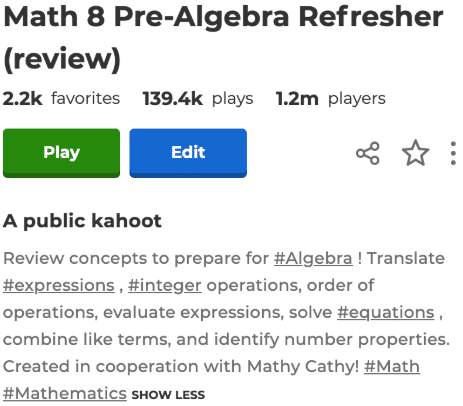 10 . Align your kahoots with curriculum standards
Help teachers reinforce their curriculum by creating kahoots that match certain curriculum standards. Additionally, consider creating a series of kahoots that cover the complete learning journey: from introducing a subject to reinforcing and advancing knowledge to testing understanding for formative assessment. This will save educators heaps of time while planning lessons and helping students ace certain topics.
Interested in joining Kahoot! Academy as a Verified educator? Submit your application today!
Apply today