Aligned with our founding principles of 'Social, Play, Learn', Kahoot!'s brand new Team Mode is an even more collaborative way to play learning games – plus it's great fun, too.
How to play Kahoot! in Team Mode
How you form teams and play is up to you, but here are a few pointers to get you started:
​Step 1:
Ask players to get into small teams, with one device per team.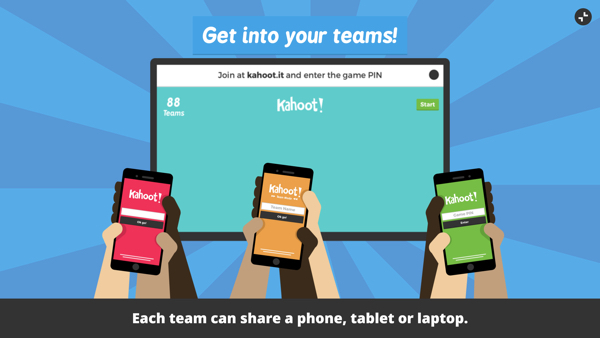 Step 2: ​
When you find a kahoot you want to play (whether it's one of your own, or one of the 7+ million public kahoots), just hit the 'Play' button as usual.
TOP TIP: Need more time for discussion? Click "Edit" on a kahoot you've created or duplicated, then adjust the timer settings for each question before you play.
​Step 3:​
You'll notice a new option to choose between 'Classic' and 'Team Mode'. Select 'Team Mode' to launch the kahoot.
Step 4:​
The team captains (or the people holding their team's device) each enter their team's name, then add their players' nicknames.
Step 5:
Start the game and have fun!
Ready? Go!
We can't wait to hear how you get on! Use hashtag #TeamMode and and mention @GetKahoot – we'll 'like' and retweet our favorites!