This article is contributed by Mickie Mueller, Ed Tech Facilitator for Norfolk Public Schools, presenter, trainer and technology geek. In this guest post, she will take you through a training session she designed for teachers to help them discover new ways to use Kahoot! in their classrooms.
Take the Kahoot! experience to a new level
I first started using Kahoot! in 2013 and could immediately see the value for classroom use. It was simple to use, fun, engaging, and kids loved it. Since then, I discovered many more ways to take the Kahoot! experience to the next level. In this post, I'll share how I trained other teachers to use Kahoot! beyond the basics.
Some backstory: getting inspired at ISTE 2016
A few months ago, I met Kahoot! at ISTE, one of the largest events around technology in education, in Denver, Colorado. I was thrilled to meet Kahoot! Steph in person!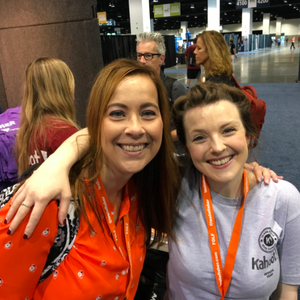 One of the sessions the Kahoot! K!rew organized in their booth was hosted by K-12 Ed-Tech conference presenter & Kahoot! hero Leslie Fisher – Being a Leslie Fisher fan girl, I certainly hightailed over to that session.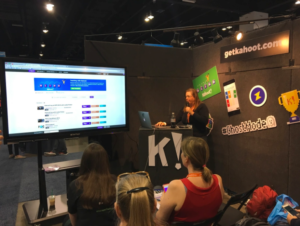 The K!rew created a special game for Leslie to showcase some of the lesser known features of Kahoot! For instance, previewing a game, Ghost Mode, and more.
This 20-minute session got me thinking of all the new ways to use Kahoot! beyond the basic review. This is how I got inspired to do a session for my own teachers.
Kahoot! Beyond the Basics – a session to teach the teachers
Shortly after ISTE, my colleague Becky Miller and I created Kahoot! Beyond the Basics, a program designed to show teachers how Kahoot! can be used beyond a basic review tool. While working on this session, I was also inspired by Kahoot! Masterclass from the founders – thanks for making it available to all!
Here's what we covered in the session and what discussions we had around that.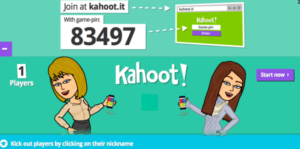 Getting the audience warmed up
We started with this quick 80's Trivia kahoot. In this game we played a YouTube video in the lobby, demoed how you can add images to the questions and also showed that the question length determines the music played. The less time you have to answer, the faster the music gets – cool!
Showcasing Jumble kahoot
Then we showed teachers how they can use Kahoot!'s newest game, Jumble, in a variety of classes. Try out our Jumble intro kahoot where you have to place answers in the correct order.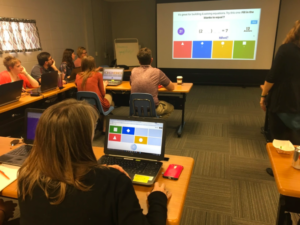 Ghost Mode: motivate competition
We had the teachers compete against their ghosts from the warm up 80's Trivia kahoot. We discussed different ways to use Ghost Mode. For example, playing a kahoot at the beginning of a unit and then playing it in Ghost Mode at the end of a unit, or have the principal play the kahoot and then have students try to beat the principal's score in Ghost Mode.
Heat up interest with Blind Kahoot!'ing and Team Mode
Blind Kahoot!'ing is a great way to introduce new topics to the class. We showed The Story of Blind Kahooting to the teachers and had an interesting discussion around ways of using it.
Another way to heat up your class' interest is Team Mode where groups of students use one device to play as a team. My favorite feature of team mode is the five seconds of "team talk" time given before teams are able to enter an answer on their device. Even if your classroom is 1:1 or BYOD, I would encourage teachers to play Kahoot! in Team Mode to spice things up and increase collaboration amongst students.
Encourage students to create kahoots
I would definitely recommend this. Students really have to understand the content to be able to create questions and answers. What a great way to move students from learners to leaders!
Preview your kahoots on the computer
When we asked how teachers were previewing their kahoots, most of them said they got their phones out. So we demoed the preview mode which splits the screen – the teacher view on one side and a student device on the other side. Perfect way to try out your new kahoot!
The teachers were impressed by how simple it is to use Kahoot! even beyond the basics. Many of them tried some of the games we presented the very next day with their students! Here is a full overview of the session and all of the resources we shared.
If you haven't used Kahoot! in a while, it might be time to dust off your account and give it another look! There are so many creative ways to use Kahoot! in your classroom. Try one of them today!
Photo credit, all photos and screenshots: Mickie Mueller.