Did you know Benjamin Franklin invented swimming fins when he was only 11? He was one of the first known child inventors, and now, on his birthday, January 17th, the world celebrates all young, creative and innovative minds with Kid Inventors' Day!
To celebrate this day together with your students, help them unleash their creativity! Teamwork, research, idea generation and leadership skills – here's an idea for a fun project where you can blend all of these.
The main goal of the project is to get your students collaborating on a fun task. When working together, they'll discover strengths that they might not know they had yet. As an outcome, they'll craft a great kahoot to introduce their classmates to a topic. Maybe they'll turn out to be this generation's kid inventors?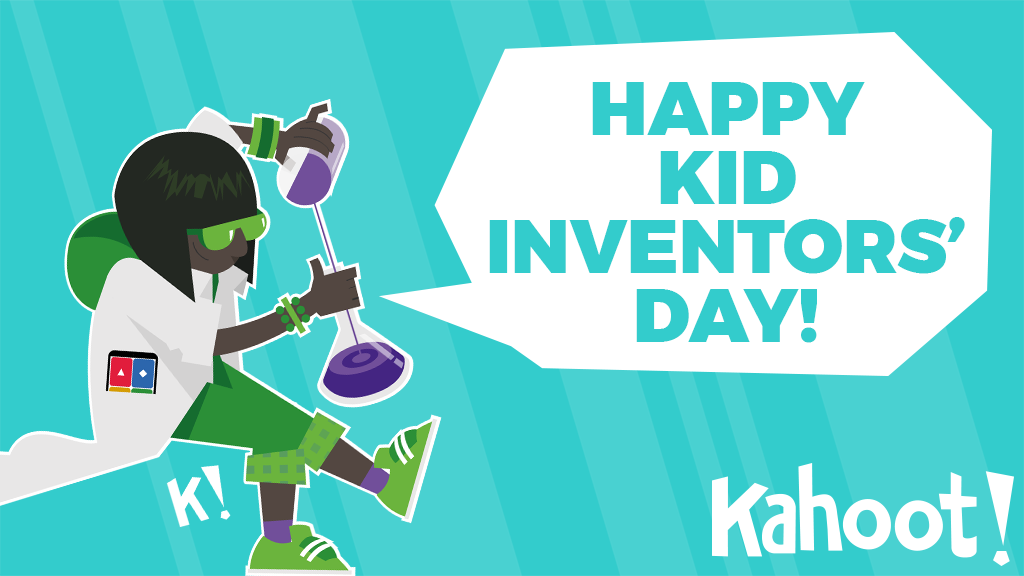 Challenges for individuals or team work
This task can be done individually, as a team project or even as an activity for the entire class. For maximum impact and fun, we recommend teaming up your students in small groups. As everyone has their own strengths, students can take specific roles within that group. Those could include: team leader, researcher, presenter, image guru, quizmaster, and more. The skillset will be unique in each team!
The bigger the team, the more emphasis put on teamwork and communication between learners. When you form groups, consider blending students that haven't worked much together before – a great opportunity to build new bonds and discover strengths!
Step one: students to inventors
When it comes to choosing a topic, there are two different ways to go. Either you can make a list with topics that your students can choose from. That way, the project can be integrated into the lesson you're planning and students will take the lead on the topic. Doing research to prepare for the class will give them a hands-on way to dive into the content and tease their brains to come up with a good solution to present material to their peers.
Alternatively, you can let your students' imagination run wild by letting them choose a topic on their own. Ask your students to talk about their hobbies, favorite musicians, sports – anything they'd want to share with their classmates. Selfie kahoots are also a fun way to present themselves to their classmates. Learners can share facts about themselves and see who knows them best!
Step two: inventors to teachers
Ask your students to research their topics at home; that way they'll be prepared to start working on the kahoot at the start of the lesson. In class, they can share their research with their team and start writing up the questions. This can either be done straight on the Kahoot! platform, or offline on our downloadable and printable kahoot paper template.
When the kahoots are made and ready to play, it's showtime! Students turn into teachers for a brief period of time by teaching their classmates about their chosen topics. If there isn't enough time to play all the kahoots during the lesson, students can even turn their kahoots into challenges and assign challenges as homework.
Ready-to-play kahoots to get you started
Get your students into the invention mode with these awesome kahoots! Our own Kahoot! Studio created three kahoots to get you started – these quizzes are ready to play in a click!