Many of you tell us that you'd definitely play more Kahoot! if you could quickly find high-quality games on any topic of interest. We know how busy teachers are, so indeed, having a ready-to-play kahoot at hand can be a real time-saver!
The good news is that there are millions of public games available on our platform. However, the question is – which of them is that awesome, most relevant one you're looking for?
We crafted something that will help you find the answer to that question much quicker and easier… Meet Kahoot!'s new search engine! We're really excited to tell you everything about it and show how you can refine your search for the best results.

Smart autosuggestions
Bit by bit, we were making our search engine smarter, and now it has learned to predict your needs when you search. Once you start typing a search query, you'll get some suggestions, including a few popular kahoots that could match that. You can discover some awesome games along the way!
If you're looking for kahoots within a particular topic area – like Science – then select the topic suggestions for the best results.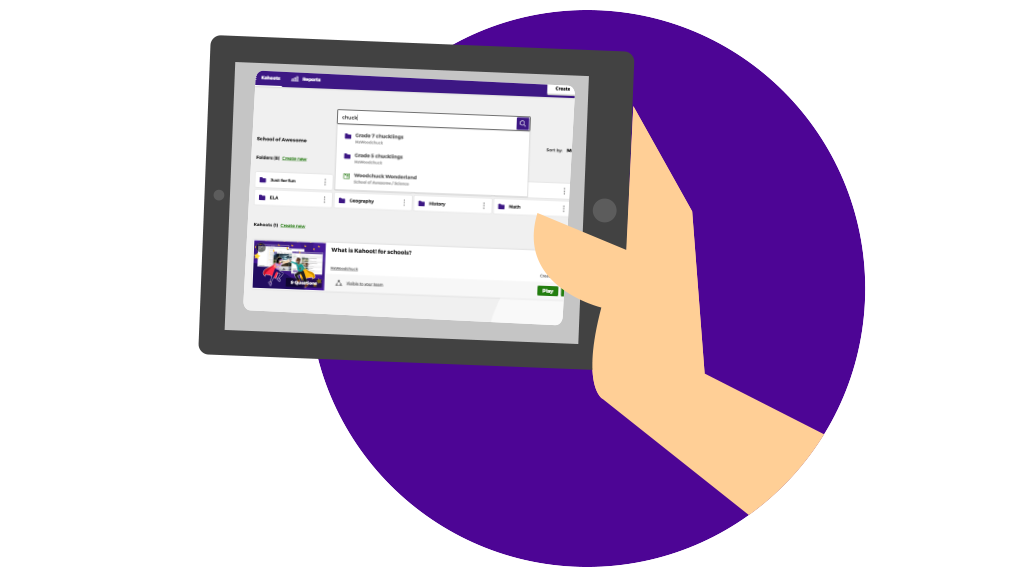 More relevant and visual search results
To find high-quality kahoots and define which of them could be most relevant for you, our search engine checks a bunch of factors. For example, how popular a kahoot has been with other players, how far in the game players get on the average, how many times it was favorited, and more.
You'll also notice a few visual changes to the search result page that will hopefully make it easier for you to scan through kahoots. For example, the cover image of each kahoot is much larger now and you can see an example question.
Save good finds for later as you search
Spotted an interesting kahoot in the search results? Save the good find right away! Just click the star next to the kahoot. It'll be added to My favorites tab under My kahoots and you can play it anytime!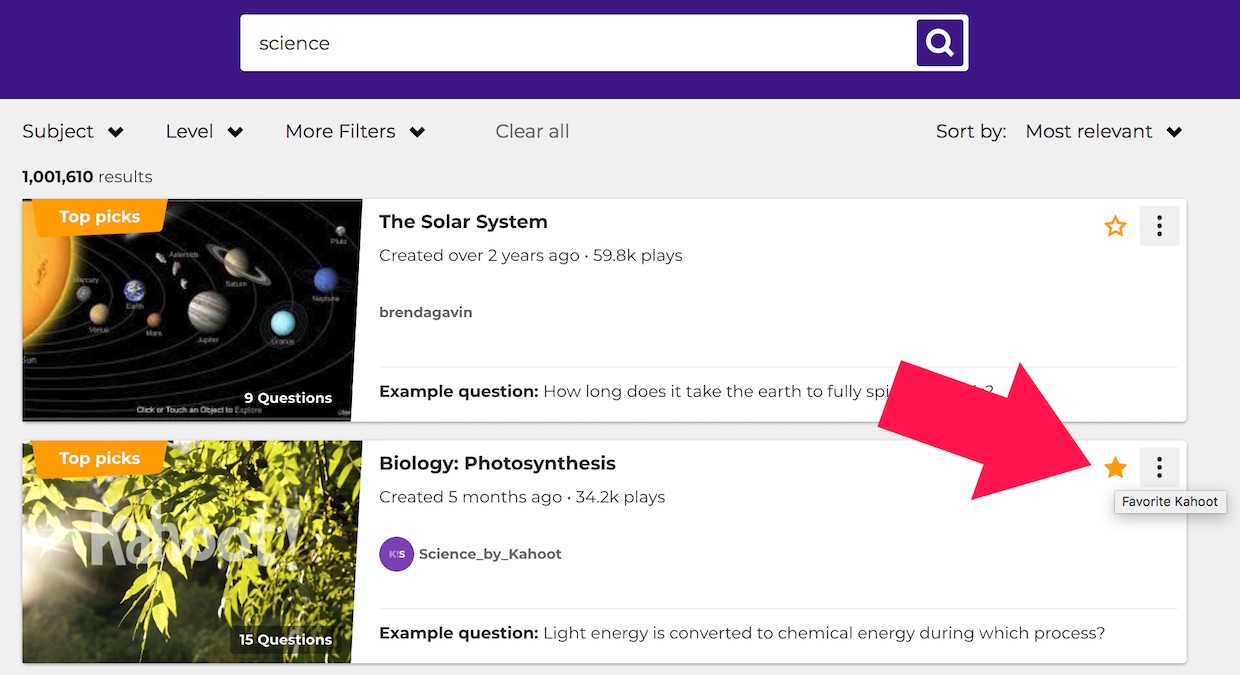 Fine-tune your search with filters
We want to make sure you find the most relevant games in as little time as possible. To help you fine-tune your search, we added several new filters:
Within particular subjects, for example, math or science, choose topics you're interested in. The filters include the top subjects on the curriculum, as well as Trivia.
Refine the level your kahoot should match by selecting grades. You can mark several at a time before hitting Apply.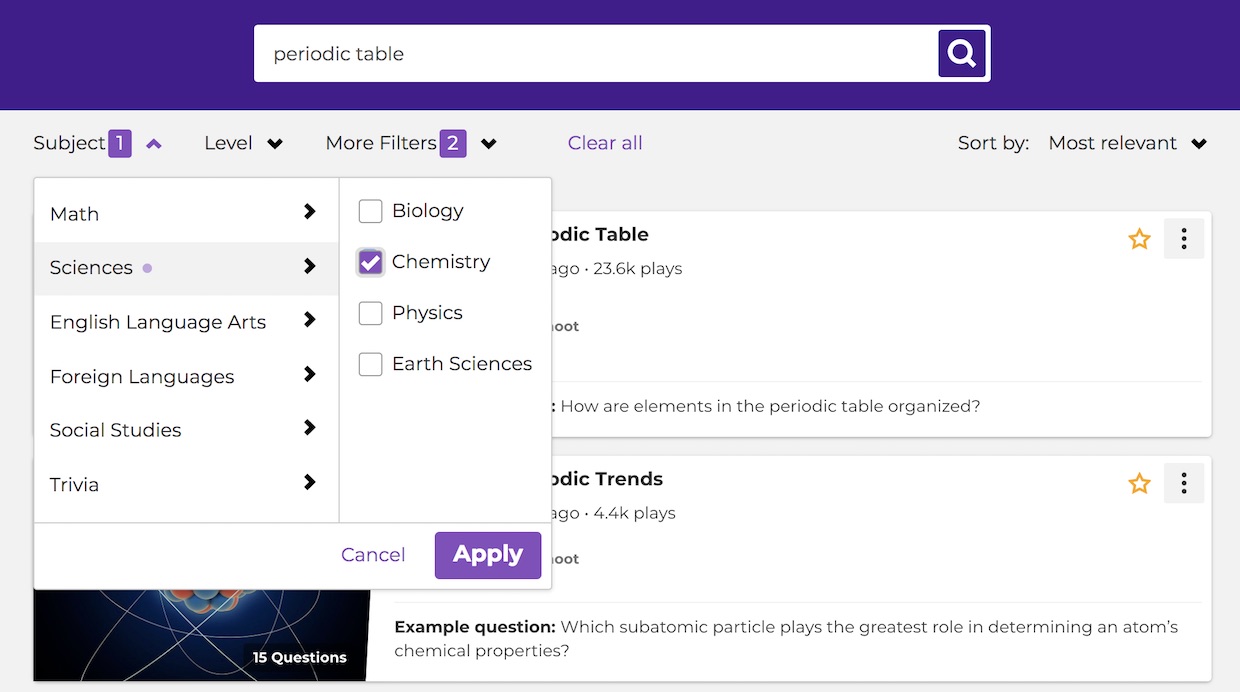 Under More Filters you'll see the ones available from before: who created it (for example, Teacher or a Business user), for what audience, the type of kahoot and its language. Reconsidered your criteria? No problem, you can easily disable all filters by clicking Clear all.
Choose how to sort search results
As we mentioned above, our search engine analyzes a bunch of factors to present you with the most relevant kahoots on a topic. However, it's up to you what criteria you'd like to prioritize when you search. You can change the sorting options to prioritize kahoots:
Most relevant: sorting is determined by our view of the best mixture of factors including the relevance, popularity and quality of the Kahoots
Most popular: the ones with most plays will appear on top of the list.
Highest quality: the factors taken into consideration are, for example, the average play time, how many times this kahoot was favorited, etc.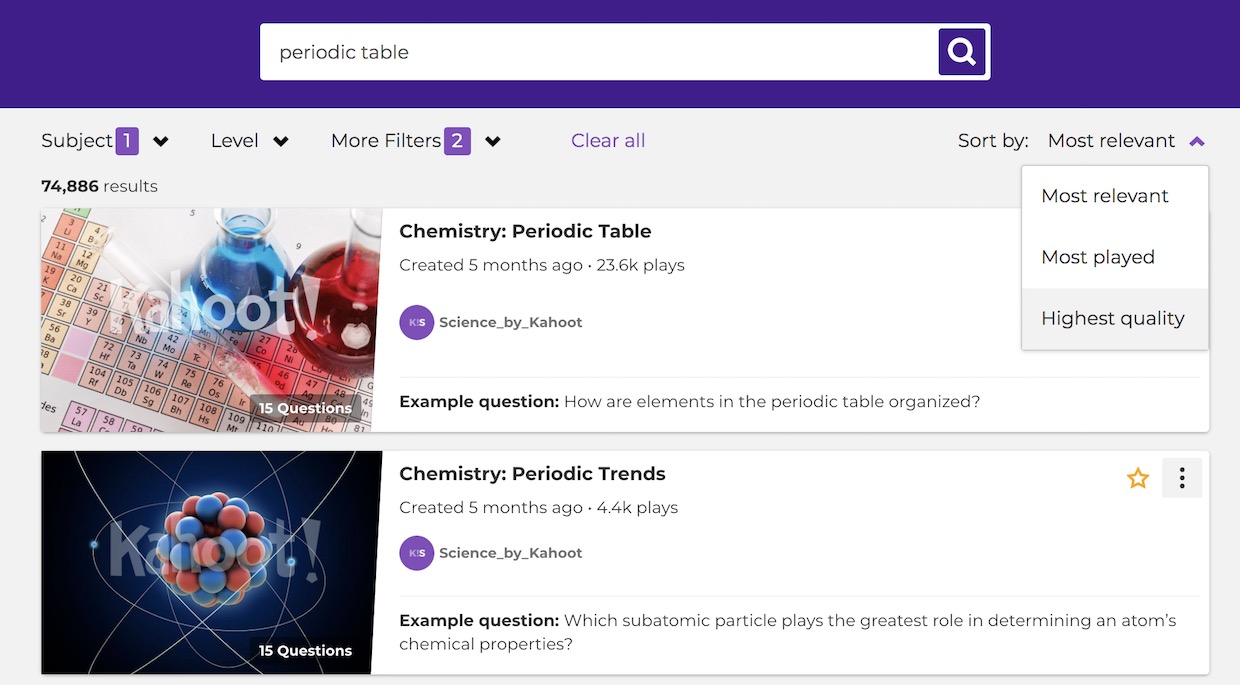 The one who searches will always find! And will hopefully play Kahoot! even more 😉
What do you think, folks? We're really excited to read your feedback once you've tried the new search! Did you get relevant search results? Is there anything you miss in our new search? Share your thoughts in this thread on Twitter or on our Facebook page!