Last week, we launched our new, redesigned reports that represent game analytics in a neat, visual way, and give you more insights for formative assessment and targeted instruction. Among other improvements, we added several features based on popular teacher requests to give you more control over student-paced challenges.
Read on and learn how to manage challenges in progress and interpret results of completed games to fine-tune instruction.
Where to find results of a student-paced challenge
Need a recap on how to assign a student-paced challenge? Check out this blog post. Once it's been assigned and students started playing, go to Reports in the top navigation bar and click Challenges to filter reports by this game mode. Challenges in progress will have a label with their deadline, while the completed games will be labelled as Finished.
Additionally, challenges in progress show up under Challenges in progress on the Home page. You can click on an item in that section to go directly to a report. Here's what a report looks like for a completed student-paced challenge: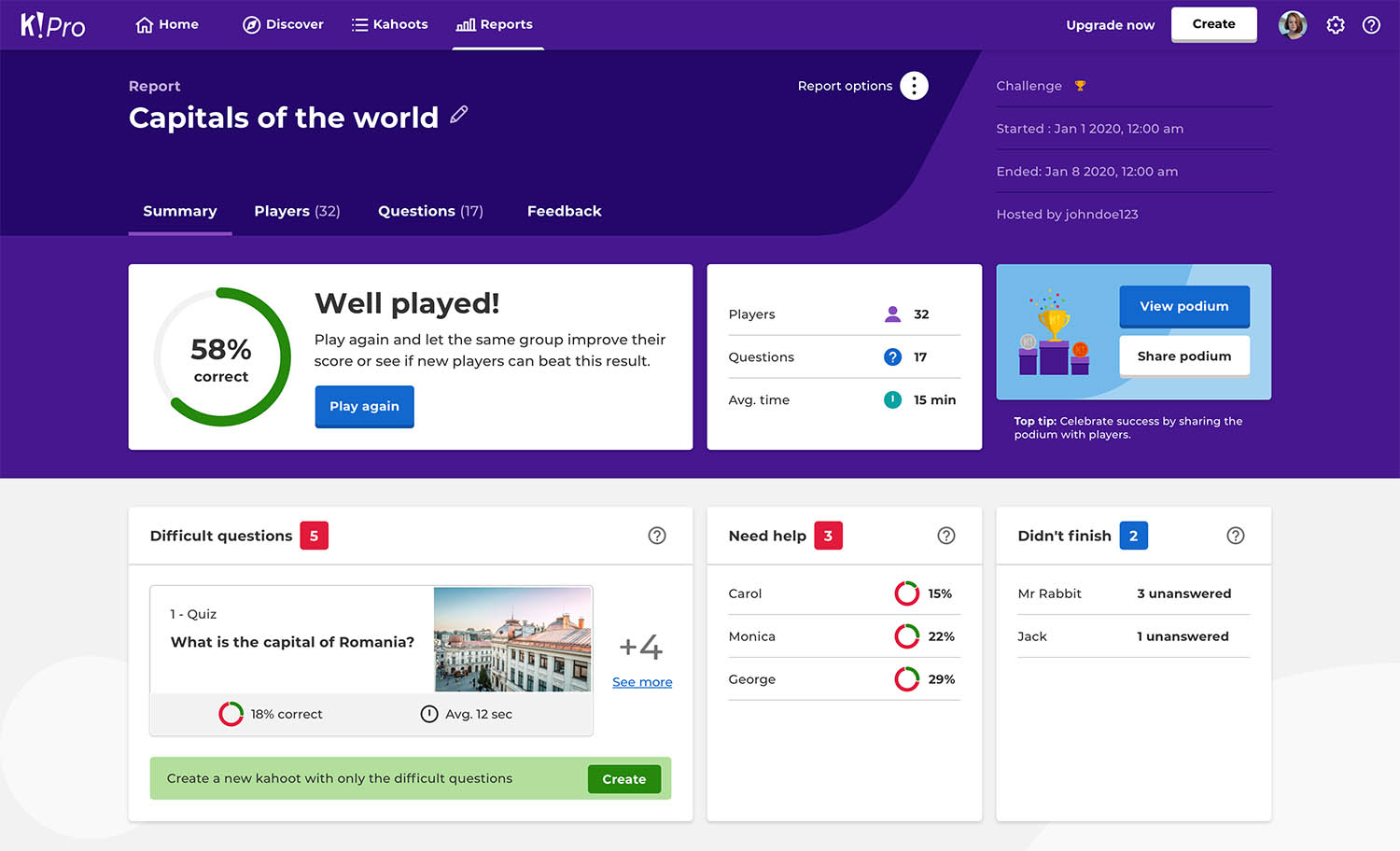 Manage players and deadline of a challenge
When you open a challenge report, here's what you're able to do:
As long as a challenge is in progress, you can always find its link here to share it with more students, or share directly to Microsoft Teams, Google Classroom, Remind or your social media profiles
If you'd like to give students more time to complete this challenge, click Change deadline and follow the instructions
If everyone has completed the challenge already, you can end it before the deadline – just click End now

It's possible to remove a student from a challenge – for example, if someone joined with an inappropriate nickname or you suspect is cheating. To do that, go to Players view, click the three dots on the right-hand side, and then Remove player

Assess results when students have completed the challenge
Just like reports on live kahoots, reports on challenges give you actionable insights to target further instruction:
See which questions were the most difficult and need reteaching
Identify if some learners need follow up or struggled with completing the challenge
Go to Questions tab to get a detailed breakdown of correct and incorrect answers, assess class performance and identify gaps in knowledge
Reinforce learning by generating a kahoot with difficult questions
If there were more than 3 questions where less than 35% of students answered correctly, you'll be able to generate a new kahoot with these difficult questions. This feature is available in reports both from live games and challenges. It'll reinforce learning, support content review and help you prep your students for tests.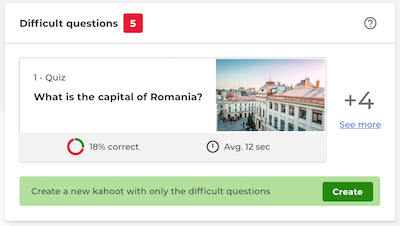 Engage the students after the challenge by sharing the podium
Make room for additional interaction and some celebration by sharing the podium with winners when the challenge is completed. You can show it during a lesson or post a screenshot in your LMS so learners can see.
Read more about our new reports and hurry to try them in action after your next kahoot!