With distance learning as the new format of instruction for schools around the world, educators have been looking for new ways to engage their students and stay connected. Now, more than ever, thousands of teachers and students have been using Microsoft Teams as their go-to platform for running lessons remotely, sharing assignments, and discussing them with each other.
We're happy to announce that we've integrated Kahoot! with Teams to make it even easier for teachers and students to connect across distance via live kahoots and student-paced challenges. With this integration, educators get a time-saving, convenient, and seamless way to share kahoots directly in Teams and follow up on them in one central location that has become the virtual home base for millions of students learning remotely.
Share student-paced challenges in Teams
Many teachers are using student-paced Kahoot! challenges to facilitate content review, help learners prepare for tests, and study at their own pace. Now, you can conveniently assign student-paced challenges to your class using groups within Teams. Everyone in the group will receive reminders, which will help increase the completion rate of the assignment. Even though they're playing asynchronously, students will get a more social experience as the game unfolds by seeing the scoreboard. Finally, when the challenge ends, the final podium will be shared with everyone. You can access a detailed report to assess learning outcomes and identify knowledge gaps.
Follow these steps to share a student-paced challenge:
To set up the integration, log in to your Teams account, and install the Kahoot! app from the Teams apps page. Add Kahoot! as a tab in the relevant team channels
Choose the kahoot you'd like to assign as a student-paced challenge from your list within Microsoft Teams
Select Assign to create a challenge
The class will receive periodic reminders to complete the challenge before the deadline. Once the deadline has passed, the final podium will be shared for all students in the team to see!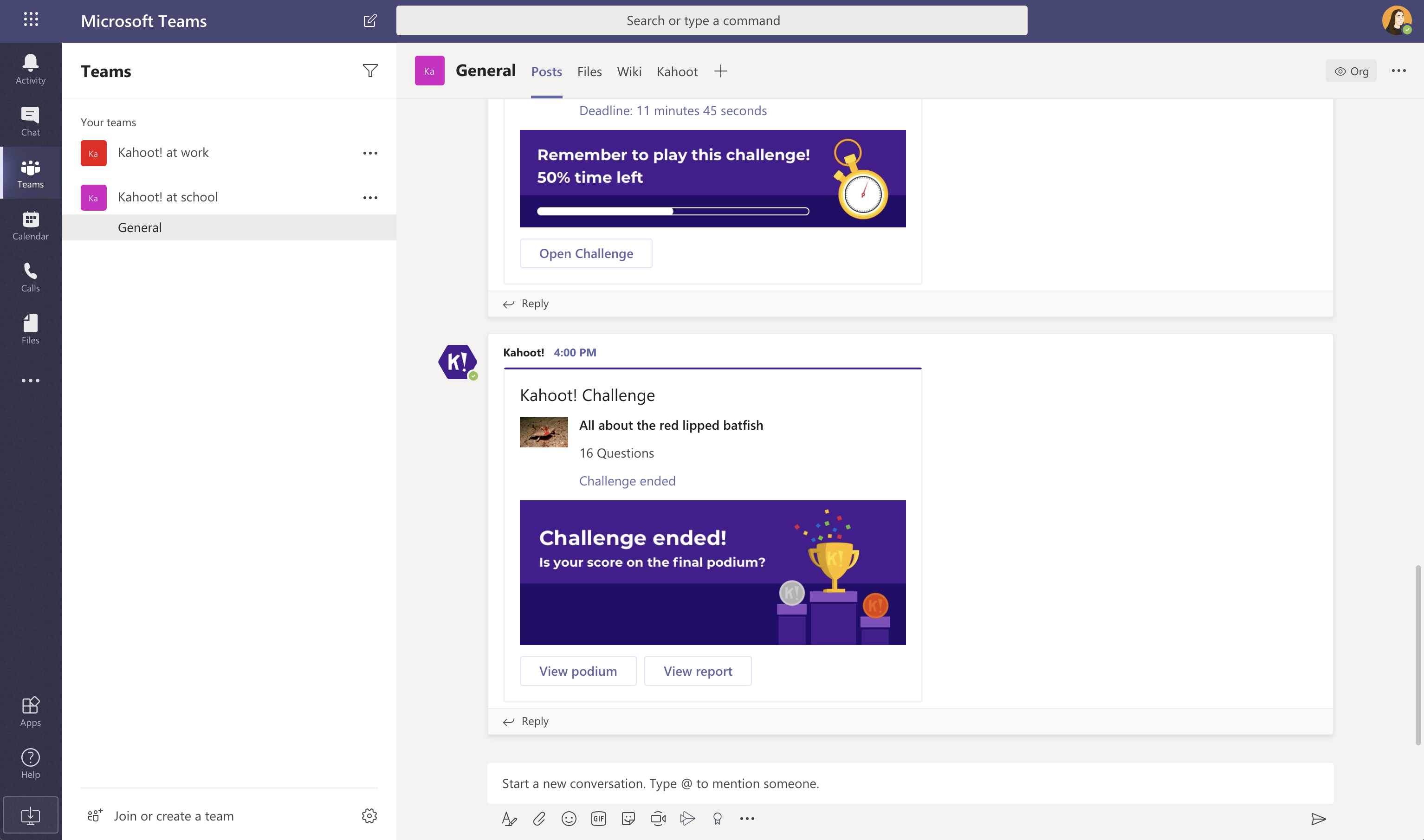 Host a kahoot live for your students directly in Teams
Now you can start a live kahoot as part of your virtual class without leaving the Teams application. Your screen with kahoot questions will be shared with students from a Teams virtual meeting, and they can join and play on their devices. Live kahoots bring teachers and students an engaging, social learning experience even when schools are closed.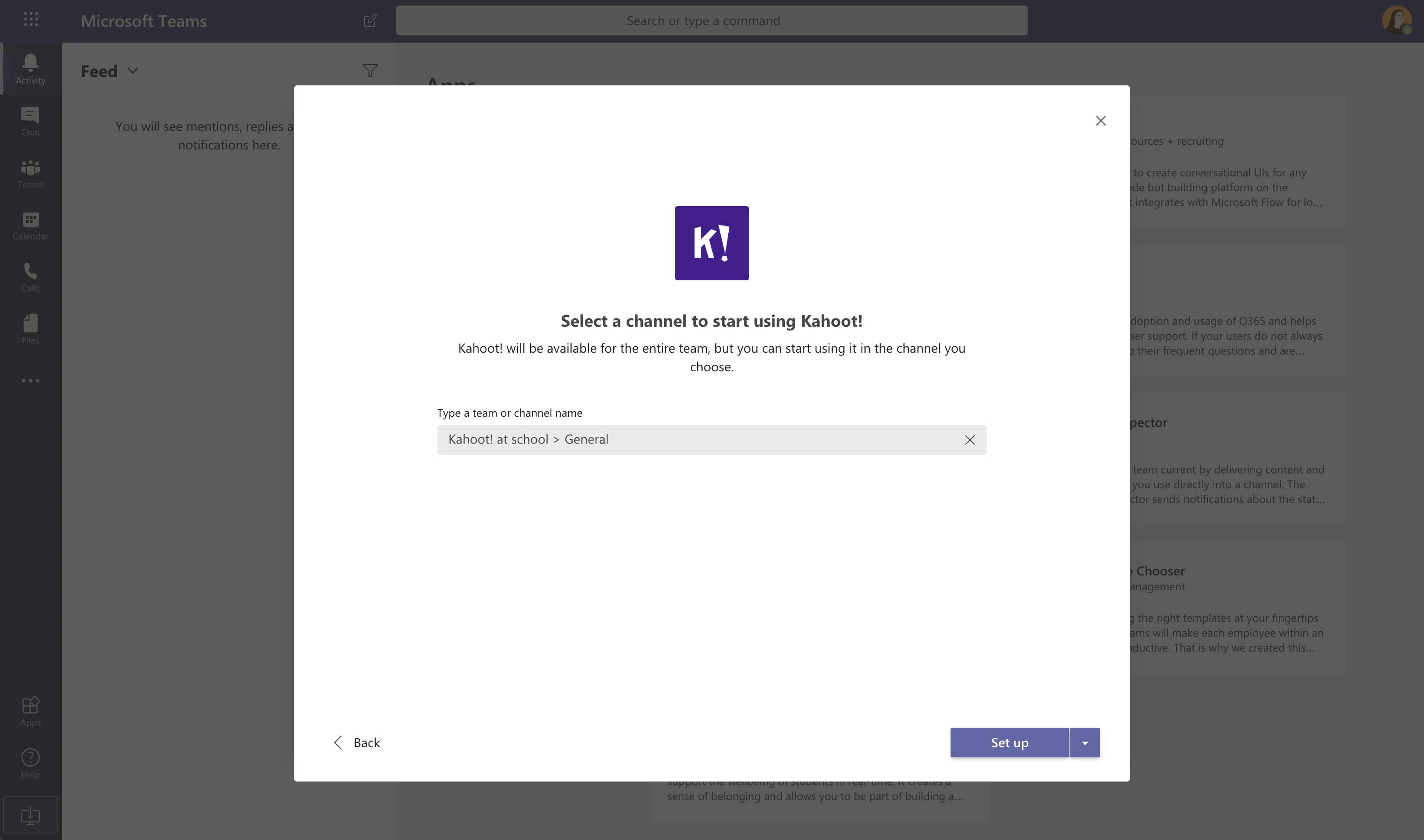 Here's how it works:
If you haven't set up the integration yet, log in to your Teams account, and install the Kahoot! app from the Teams apps page. Add Kahoot! as a tab in the relevant team channels
Start a virtual meeting with your students and share your screen if you want to present remotely
Choose the kahoot you'd like to host from your list within Teams
Select Teach to start a live game
Host the kahoot as you would do in class, but make sure to leave enough time between questions for discussion!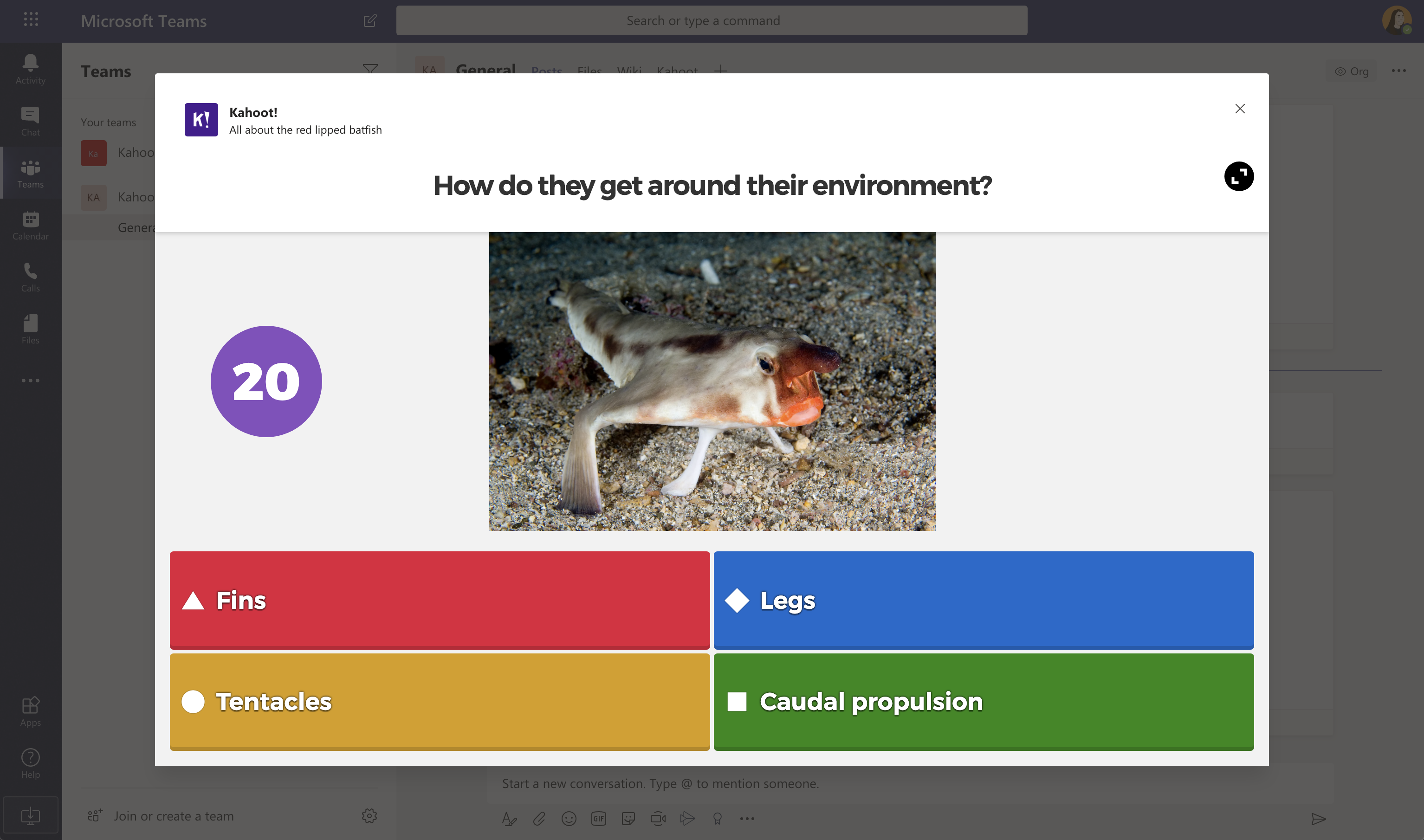 If you'd like to learn more about our new integration and ways to make the most of it with your students, watch this webinar hosted by EdTech guru Leslie Fisher!