As explored in our previous article on tips for effective virtual training, trainers need to adapt their training approach to accommodate for the move to remote working and virtual training. We've long encouraged making the most of self-paced challenges within Kahoot!, a convenient on-the-go learning solution, where kahoots are assigned to be completed at the participants' own pace. Find out how to make the experience engaging and memorable for everyone.
Firstly, let's recap why self-paced challenges are so useful:
Learn on the go, at any time
Ideal for teams in different time zones or schedules
Reinforce content from a live presentation, event or training
Learning in multiple, spread-out sessions, or "spacing", is a research-proven method to boost knowledge retention
Now, learn how to create the perfect challenge experience, in 4 easy steps!
1. Create a challenge and set options
Create your challenge with the relevant content, set the deadline and adjust additional options, such as whether or not you would like the question timer to be turned on, if you would like to use player identifiers and more. This can be done on the Kahoot! platform or via our Microsoft Teams app. To know exactly who participates in your challenge (not just their nickname) and to view their performance, ensure you toggle on the player identifier feature – available in all Kahoot! 360 plans.
Finally, toggle on personalized learning to prompt participants to replay questions they have answered incorrectly, helping them learn and retain this information – with player identifier on, you'll know which participants have repeated incorrect answers.
Top tips: As you won't be able to present questions in person to participants when setting up your challenge, think about how you can make this experience as impactful as a live kahoot.
Incorporate video – embedded in slides – to instruct and deliver key information between questions. The use of imagery in questions and slides will help bring the challenge to life and make it easier to digest. With our built-in premium image library, you have access to millions of high quality, royalty-free images that can be used within your content.
You can even add images as answers rather than text for certain questions. This is perfect for onboarding training and presenting competitor research!
2. Assign your challenge
Share the challenge from the Kahoot! platform to a Microsoft Teams channel (from our Teams app), or share the link directly or via email to participants.
Top tip: Groups are our latest way to make knowledge sharing easy! You can set up a group based on a common interest, topic, department, etc. All group members can then view and host kahoots – as a live game, or create their own challenge – that are shared with the group by you, or other members.
3. Remind participants to complete the challenge
Reminders will be automatically sent to participants if you assigned the challenge from the Teams app.
Check the status of your challenge by clicking Reports in the top navigation bar, and finding your challenge in the list. In the report, you can see participant completion progress as well as the possibility to change the deadline, or end the challenge early. If many participants have not yet completed it and the deadline is near, send a follow up email or message through your company's communication tool.
Top tip: offer a small prize – such as a Starbucks gift card – for challenge winners to boost incentive to participate.
4. Complete the challenge and follow up
Share the final podium to recognize winners and complete the challenge. As with reminders, this is done automatically if you assigned the challenge from the Teams app.
You are also able to share the podium with participants directly from the challenge report page by clicking Share podium.
View the challenge report and perform required actions. Understand the most difficult questions where many participants answered incorrectly, and provide targeted instruction for individual participants where needed.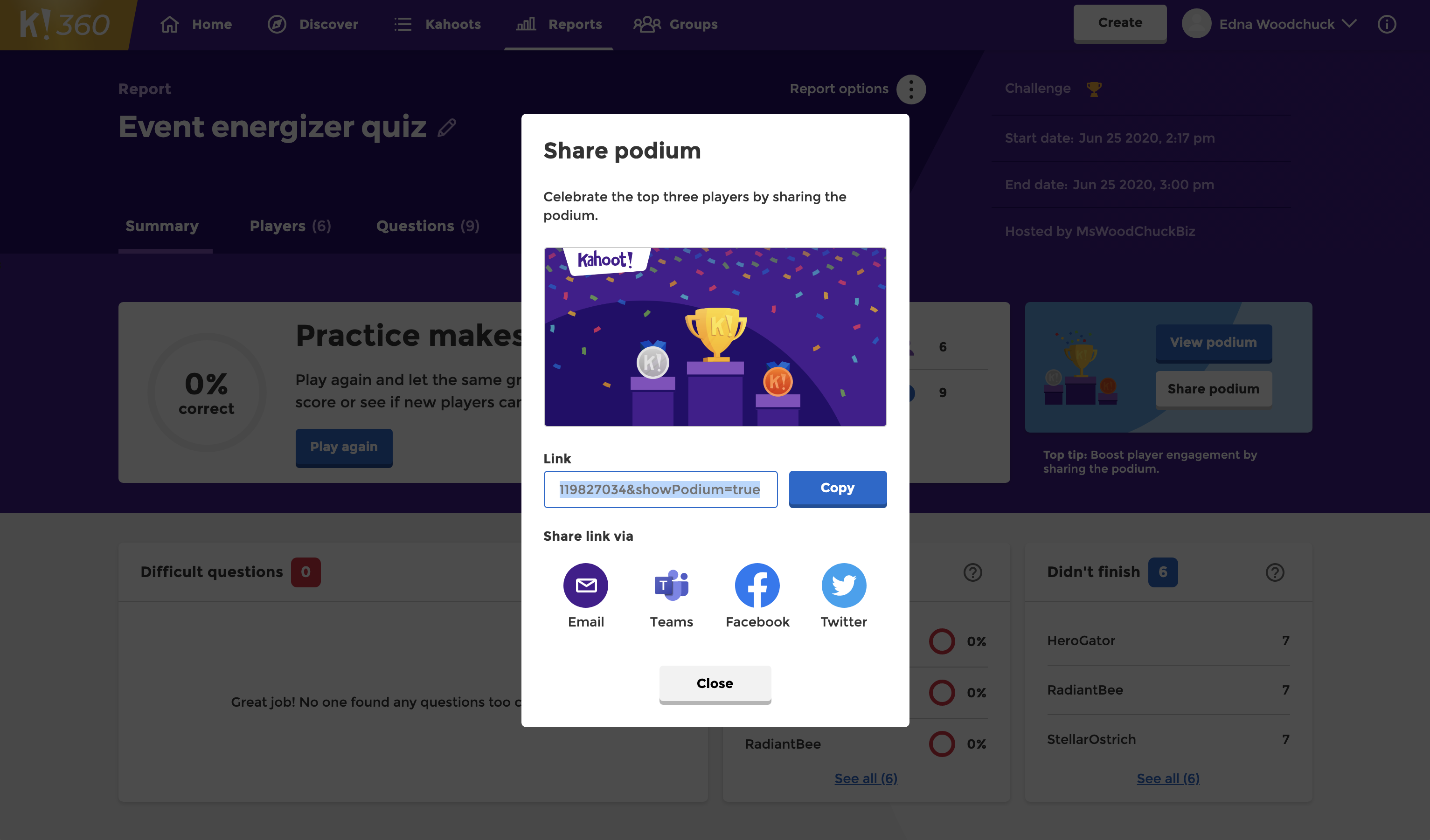 Our best plan for hosting the perfect challenge
Kahoot! 360, is a powerful collaborative learning platform which empowers all trainees to contribute to their own learning, and our best plan for hosting the perfect challenge. Learn more today!
Kahoot! 360 includes:
Player identifier – great for compliance and mandatory training
Personalized learning – great for compliance mandatory training
A branded challenge experience
Overview of all challenges in progress as soon as you log in to your Kahoot! account
Coming soon – bility to assign challenges via email
Coming soon – ability to assign challenges to your Groups, which will enable automated reminders to participants