Halloween will look quite different this year, and some activities, such as trick-or-treating or haunted houses, may not be possible in their traditional setup. However, staying home doesn't mean partying is canceled! Moreover, this year Halloween falls on a Saturday, which means you can have an entire Halloweekend.
We're here to help you plan your best virtual Halloween party! Get your students, friends, or families together for a safe and fun virtual celebration with these Kahoot! tips:
Create a themed kahoot together with your family
Creating a kahoot is simple and fun – and also makes a great family activity. To get started, all you need is to register for a free Kahoot! account. Sit down together to come up with tricky questions and make sure to add images to create a festive mood! To engage even the youngest children, you can add images as answer alternatives. Here are a few topic ideas:
Halloween traditions and history

Horror movie trivia

Ghosts in popular culture

Secrets revealed: facts (maybe even spooky ones?!) about family members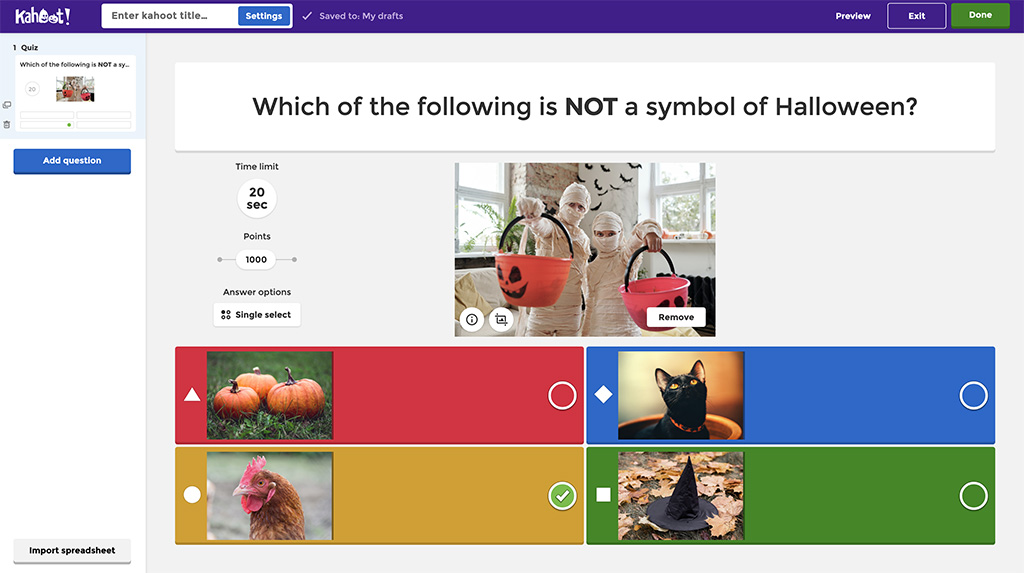 Prepare a kahoot "playlist" for your party
Short on time? We've got you covered! Choose one of these ready-to-use kahoots from our special Halloween collection. Click the star in the kahoot description to save it for later in your Favorites list. We'd recommend selecting several kahoots for your party playlist as time flies when you're playing Kahoot!