Studying at home, even during holidays, can be tons of fun! Especially when students are in control of their own studying, can do it at their own pace, and involve their friends, too. With a bit of creativity and help from Kahoot!, you can ensure your students enjoy productive, meaningful, and fun-filled school holidays, and even get a head start on exam prep. These activities will also come in handy if your school is closed.
Let your students know about study modes in the Kahoot! app
Study modes within the Kahoot! app for iOS and Android make it fun to learn new topics and review previously studied material. Learners can choose one of the following modes:
Flashcards: perfect to memorize facts or quickly revisit a topic to refresh knowledge;
Practice: learners play a kahoot without a timer until they've mastered all questions;
Test yourself: once learners feel comfortable with a topic, they can test themselves by playing against AI players, with a timer on;
Challenge friends: learners can send a kahoot as a challenge to their peers and see if they can beat their score.
Students can choose any public kahoot to play in a study mode – either via your recommendation, or finding a kahoot themselves. To start studying, learners simply need to open a kahoot within the app and hit the Study button:
Students can run a holiday competition in leagues
Leagues are another powerful feature we've built specifically for students within the Kahoot! app. A league is a virtual group where learners can add kahoots, invite their friends to play them and compete, and follow a joint scoreboard as members are making progress.
The competition format increases engagement and motivation, and also helps students connect no matter where they are. Now, they can also add their Bitmoji avatars to put a face to that nickname! Here's how leagues work:
Tell your students about this feature if they haven't tried it yet! Just like with study modes, you can make a recommendation for kahoots, or give your students full control over material they'd like to go through with friends.
Create and share a relevant kahoot collection
Have you tried our newest collections feature yet? Create kahoot collections around specific topics and use them as playlists during lessons, or share with your students. For example, you can create collections focused on different topics for review, or put together a festive collection for some light-hearted fun.
In the Kahoots section, click Collections and then Create collection. Once a collection is created, you can add both your own and community-created kahoots to it. Simply open a relevant kahoot, click the 3 dots dropdown, and hit Add to collection.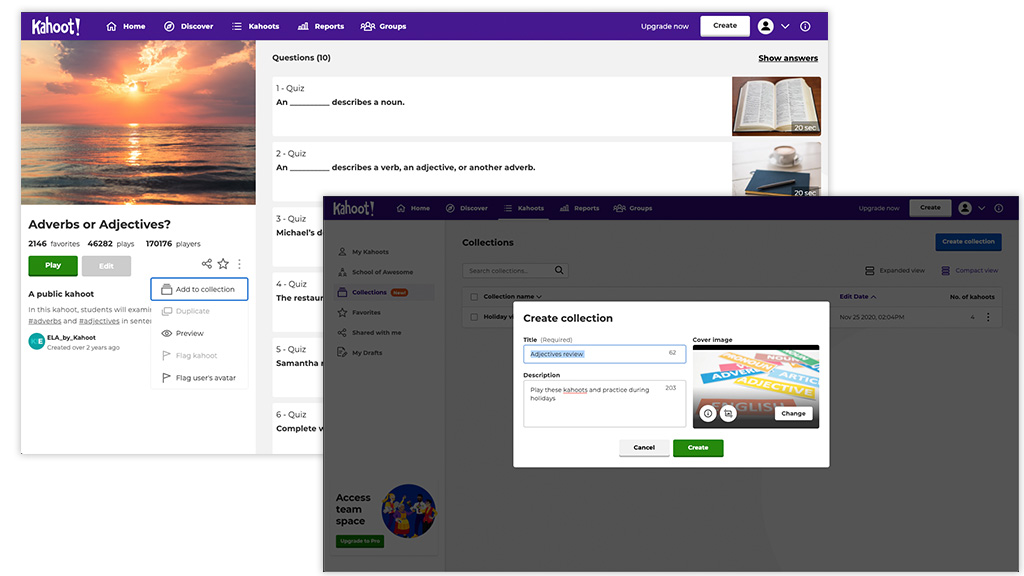 From the sharing dialog within a collection, you can share it to Google Classroom, Microsoft Teams, or copy the link and share it with your students via your LMS.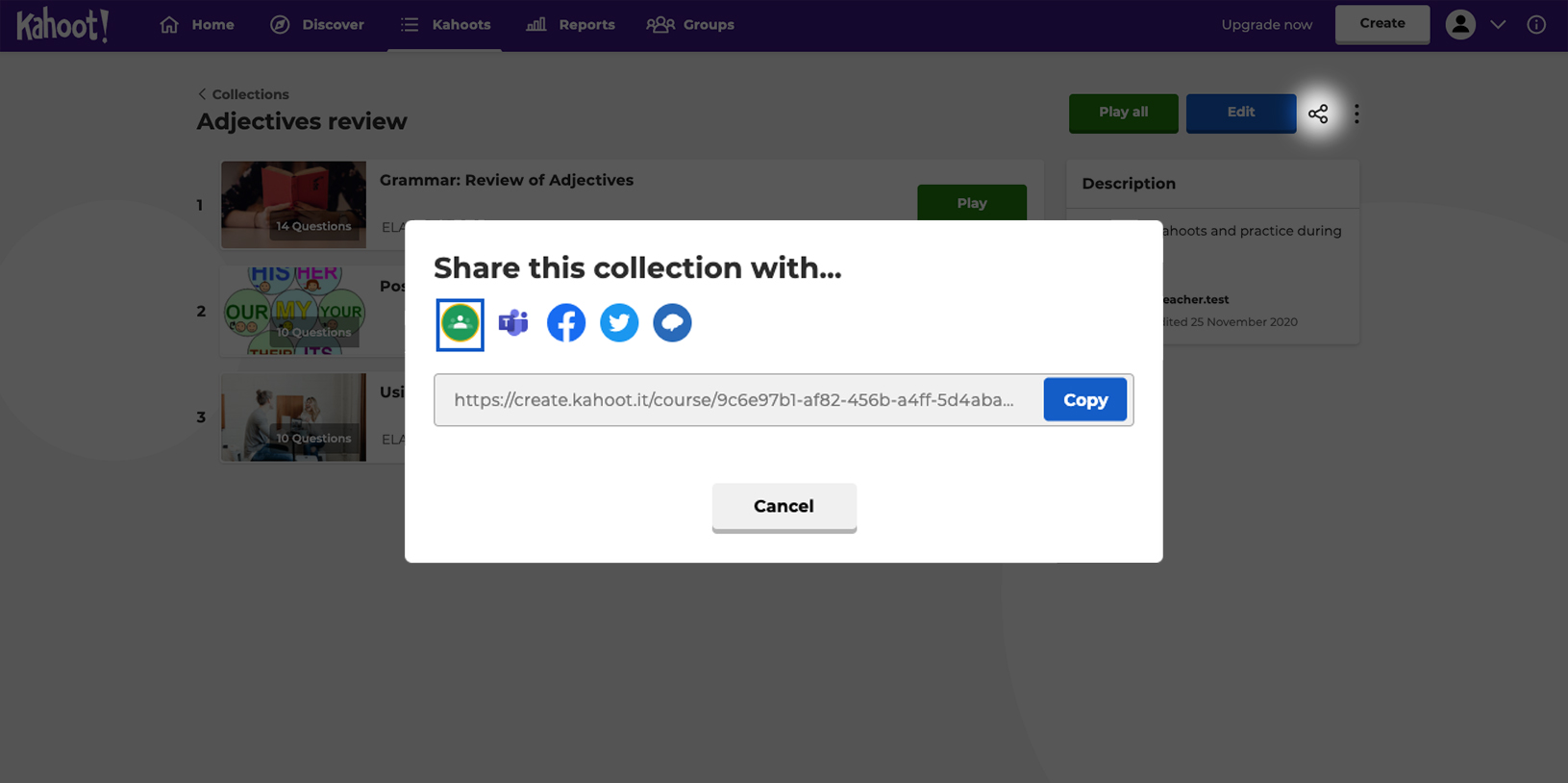 Send student-paced challenges for content review
Exams coming up in January? Here's a great way to help your students prepare – and have fun at the same time! Choose several kahoots covering topics you'd like them to review, and assign them as student-paced challenges. You can use your existing kahoots, or find relevant ones created by other educators. Kahoot! Academy, our educator community and knowledge platform, has created a special collection for review and test prep covering math, science, ELA and history.
Learners will be able to play challenges in their own time, but make sure you set the deadline for after the holidays. For more complex topics that require more focus, you can turn the timer off to remove pressure. If you haven't tried Kahoot! challenges before, this video will walk you through all steps of assigning one:
Read this article where high school teacher Glenn Cake shares how he ran a similar activity over the spring break – it was a success!
Encourage students to create their own kahoots
Putting together their own kahoot can be a fun creative project for the holidays. You can assign topics, or let learners choose themselves. When classes restart after the break, you can play these kahoots together to break the ice and energize everyone!
To create a kahoot, students need to register for a free account in the browser on their computer, or within the Kahoot! app.
How do you motivate your learners to study during holidays? Share your creative ideas by tweeting @getkahoot!