With a new wave of lockdowns and restrictions affecting many parts of the world, the upcoming holiday season will likely involve more time spent at home. As school activities are wrapping up, many parents are looking for new, creative ways to engage, entertain and support their kids through this difficult time when social activities are limited.
We've put together a list of Kahoot! tips and activities that will help you bring more fun, learning and meaningful screen time to the holiday season for your kids.
A game show in your living room
According to our recent Kahoot! Holiday Family Survey, more than half of 6,000+ families who participated in the survey are planning to celebrate holidays by playing online games. With Kahoot!, you can play and learn together! Put up a live kahoot on your TV screen so the rest of the family can join from mobile phones. Let every family member choose a kahoot on their favorite topic.
Time flies when you're playing Kahoot! We'd recommend preparing a festive collection with several kahoots so you can keep playing without interruption. In the Kahoots section, click Collections and then Create collection. Once a collection is created, you can add both your own kahoots and community-created ones to it. If you hit Play all, the collection will serve as a playlist, with a new kahoot automatically starting after another.
The Discover section on Kahoot! is a great starting point to find ready-to-play kahoots. Open a relevant kahoot, click the 3 dots dropdown, and hit Add to collection.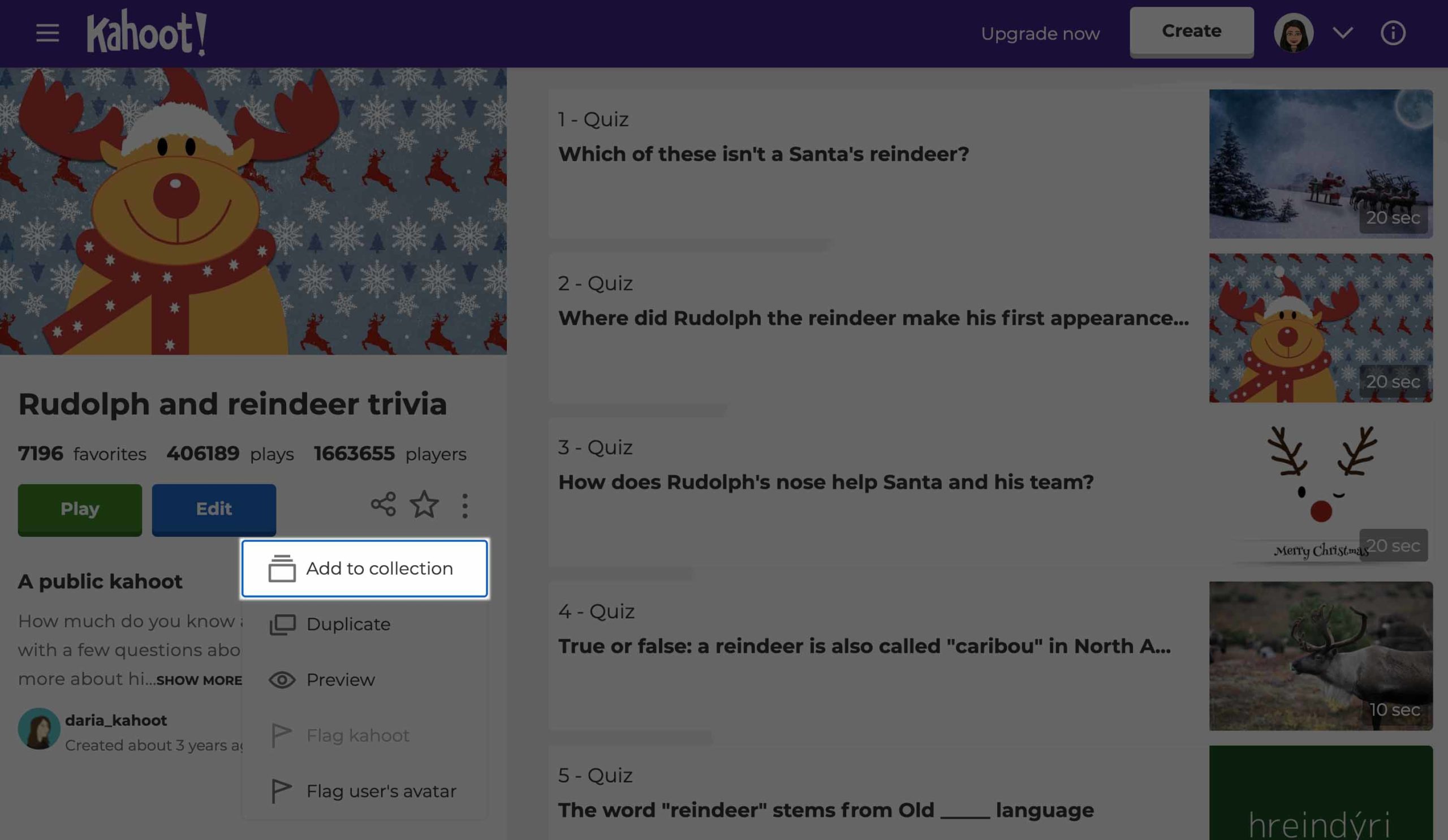 Study modes in the Kahoot! app
Study modes within the Kahoot! app for iOS and Android make it fun to study new topics and review previously studied material, as well as learn trivia facts. Kids can choose one of the following modes:
Flashcards: perfect to memorize facts or efresh knowledge;
Practice: kids play a kahoot without a timer until they've mastered all questions;
Test yourself: once kids feel comfortable with a topic, they can test themselves by playing against AI players, with a timer on;
Challenge friends: kids can send a kahoot as a challenge to their friends and see if they can beat their score.
Kids can choose any public kahoot to play in a study mode. To start, they simply need to open a kahoot within the app and hit the Study button:
Competition with friends in leagues
Leagues are another powerful feature we've built specifically for learners within the Kahoot! app. A league is a virtual group where learners can add kahoots, invite their friends to play them and compete, and follow a joint scoreboard.
Competition increases engagement and motivation, and also helps kids connect with each other no matter where they are. Now, they can also add their Bitmoji avatars to put a face to that nickname!
Make math awesome for kids with Kahoot! DragonBox apps
Captivate your kids with a unique, interactive experience to learn math at home! With a Kahoot!+ subscription, you get unlimited access to two award-winning math apps: Kahoot! DragonBox Numbers (recommended for ages 4-8) and Big Numbers (recommended for ages 6-9). Get kids engaged with math basics and help them master additions and subtractions. You can start a free trial of Kahoot!+ Family to try these apps.
Help kids learn to read with Kahoot! Poio
Parent of a preschooler? Help them learn to read through play! Kahoot! Poio Read app, part of a Kahoot!+ subscription, will entice kids' curiosity and motivate them along the journey, while adapting to the individual pace. You can play and learn together with your kid, or let them explore on their own!
Unleash creativity together
Creating a kahoot is simple and fun – and also makes a great family activity when everyone can contribute a few questions. With a Kahoot!+ subscription, you can unlock more question types in addition to the renowned Kahoot! quiz, for example, polls and word clouds, and game options to level up the fun, such as images as answer alternatives – perfect for playing with younger kids later!
What activities are you using to engage kids with learning at home? Share your creative ideas by tweeting @getkahoot!