We'd like Kahoot! to feel as a friendly and easy-to-use learning space for all. On our mission to make learning awesome, we aim to make our product experience as inclusive and accessible as possible for learners of all ages, backgrounds and abilities.
To enhance the self-study experience in study modes and challenges within the Kahoot! app, we've added a new read aloud game option that learners can turn on as they're playing at their own pace. Once the option is on, the app will read aloud the question and answer alternatives one by one, highlighting which part is being read, so players can choose the answer if they can't read the text on screen. Watch this short video with examples in several languages (make sure your sound is on!)
This new game option will assist younger learners who aren't proficient at reading yet, provide a friendly and stress-free experience for learners with reading and visual impairments, and serve as a useful tool for practicing pronunciation and reading comprehension.
Learners can choose kahoots themselves, or you can select and share specific games or collections with them to support learning goals.
Inclusive learning in the world's most spoken languages
Based on Microsoft Azure's Text to Speech service that converts text to lifelike speech, our read aloud game option auto-recognizes and supports 37 languages! In addition to English, here are the supported languages:
Arabic, Bulgarian, Catalan, Chinese, Croatian, Czech, Danish, Dutch, Estonian, Filipino, Finnish, French, German, Greek, Hebrew, Hindi, Hungarian, Indonesian, Italian, Japanese, Korean, Malay, Norwegian, Polish, Portuguese, Romanian, Russian, Slovak, Slovenian, Spanish, Swedish, Tamil, Telugu, Thai, Turkish, and Vietnamese.
How to enable the read aloud game option
Open a kahoot in our mobile app, tap Study and choose one of our study modes. Or accept a Kahoot! challenge that was shared with you by a friend or a teacher.
Once you've started playing, tap the read aloud icon in the top right corner of the screen.
The app will first read aloud the question and then switch to the screen with answer alternatives and read them aloud. Answer alternatives will be visually highlighted as they're being read out.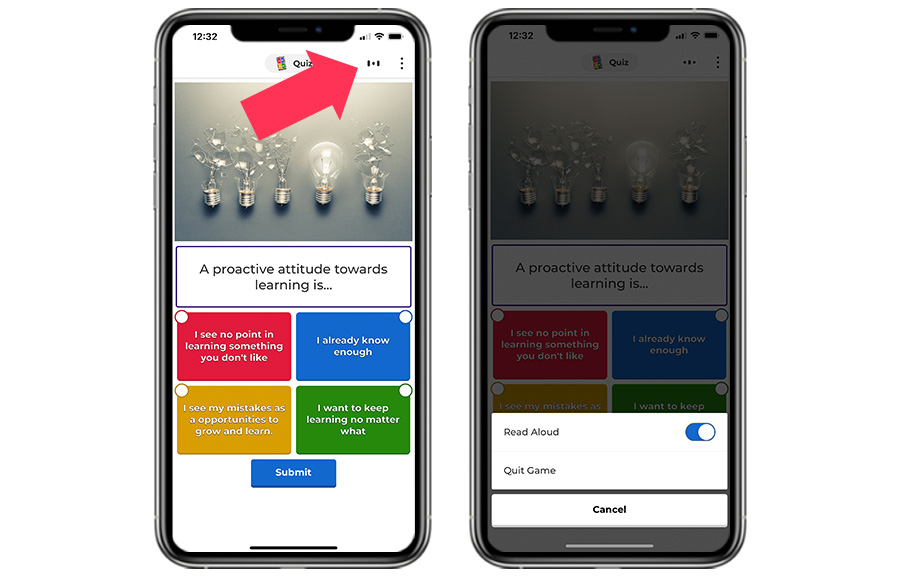 Try this new feature in action and let learners know about it! It's available for free for all account types. Download the latest version of the Kahoot! app from the App Store or Google Play.