How will you communicate and engage with your entire workforce with more employees than ever regularly working from home as well as in the office? It's a hot topic and one that our guest speakers will provide plenty of insight to at the Kahoot! WorkMeetup on June 10 at 5 PM CEST/10 AM CDT/8 AM PDT.
Save your seat for free, and attend eight inspiring bite-size talks from industry experts – and play plenty of kahoots!
Our virtual event is essential viewing for anyone whose company is transitioning to a "hybrid workplace," where employees divide their time between working at home and from the office. After all, simply firing off a company-wide email or posting an article on your intranet just won't cut it with workers spread across various locations! Our expert speakers will provide all the insight required to transform your internal communications.
You'll discover top tips from Joanne Bradford, a renowned Silicon Valley communication executive, and learn how to reach every employee with the latest products from the Kahoot! Group. Plus, each session ends with a Q&A, so you can get first-hand responses to any burning questions that you may have.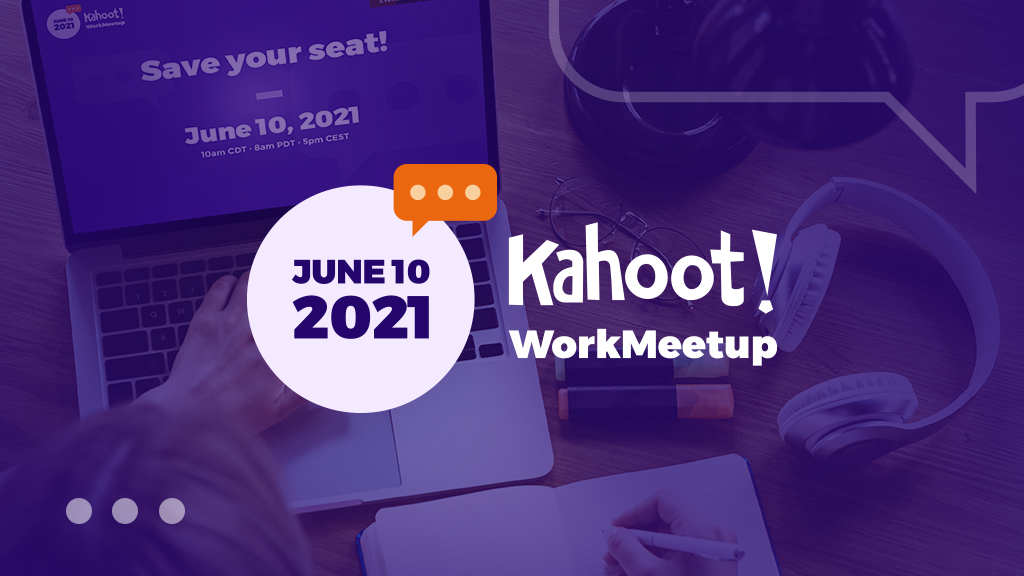 Join Joanne Bradford's keynote speech and uncover communication secrets of Silicon Valley
We're excited to welcome keynote speaker Joanne Bradford to the Kahoot! WorkMeetup. Joanne leads a distinguished career in Silicon Valley, where she's served as an executive for several high-profile tech companies, including Honey (acquired by PayPal), Yahoo, Pinterest, and SoFi. She was featured on the Forbes Top 50 CMO list, and Ad Age 100 Most Influential Women in Advertising and received the Bill Gates Chairman's Award at Microsoft. Joanne will no doubt provide expert insight into what makes a successful internal communication strategy in the modern workplace. We can't wait for her session!
Discover how Kahoot! 360 Spirit is transforming employee engagement and communication
How do you make every employee feel heard, involved, and valued when working from home or the office? It's a challenge most companies face and one that Kahoot! 360 Spirit aims to fix. We recently launched Kahoot! 360 Spirit, an employee-powered engagement platform that connects everyone in an enterprise. We're excited to demo the platform, including Wave (our new solution for high-impact internal communications) at the Kahoot! WorkMeetup.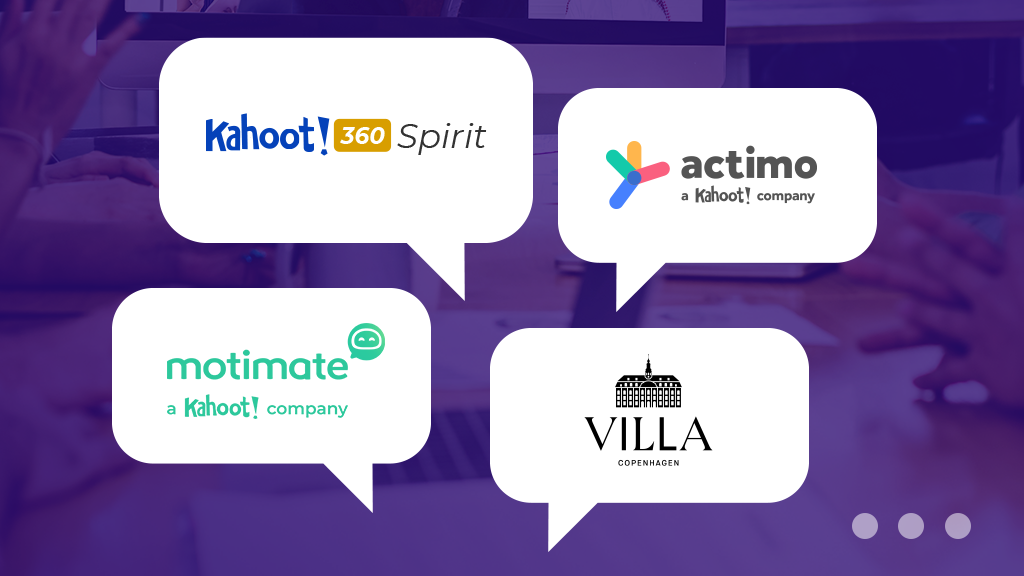 Get expert insight from internal communication changemakers
Lars-Petter Windelstad Kjos, co-founder and CPO of Motimate, is back by popular demand! Lars-Petter delivered an awesome talk at our previous Kahoot! WorkMeetup (which you can stream here), and he's back to show you how to use the award-winning Motimate app to create and share "unboring" content with your entire workforce.
We're also very excited for Agnete Tøien Pedersen to give you a sneak peek of Kahoot! Academy for Work, which is coming soon. Kahoot! Academy is a knowledge platform, global online community, and marketplace that's already used by millions of teachers and students. Soon, professionals will also be able to find high-quality, ready-to-use content from premium partners, such as Angry Birds' anger management kahoots, to make any meeting or training session fun and engaging.
What's more, Peter Høgh Pedersen, Managing Director at luxury hotel Villa Copenhagen, will join Actimo's very own Andrew Tiscoe to present a session on internal Communication in times of crisis. Together, they'll reveal how Villa Copenhagen successfully communicates with their non-desk workers via Actimo's mobile-first solutions. It's packed with actionable tips!
Tune into an unmissable fireside chat with our guest speakers
The Kahoot! WorkMeetup concludes with an unmissable fireside chat! Joanne Bradford, Andrew Tiscoe (Actimo), and Lars-Petter Windelstad Kjos (Motimate) will all join host James Micklethwait, VP of Kahoot! at work, to discuss the key internal communication issues that companies face in a post-pandemic workplace. You'll hear top tips on how to keep every employee engaged and informed with corporate updates – and why doing so is of vital importance if companies are to succeed in the new world of work.
Save your seat today, and get 25% off Kahoot! 360 Presenter
Kahoot! 360 Presenter has all the tools you need to communicate like a workplace hero! Take advantage of this special offer, and start making awesome presentations that everyone loves. Import slides, gather opinions with polls, spark discussions with brainstorms, and more! Plus, you'll unlock a brand-new integration where you can host a kahoot session directly within PowerPoint. Offer ends June 30. Save your seat for free to redeem the offer!
Watch live and on-demand
Can't make the live event? No problem! Make sure to register for the Kahoot! WorkMeetup anyway, and you'll be able to watch every session on-demand after June 10.
We're looking forward to sharing all this great content with you at the Kahoot! WorkMeetup. Hurry and save your seat for free!