The second Kahoot! WorkMeetup of the year took place on June 10, with professionals from around the world attending the virtual event. They heard how to ace internal communication from industry experts, including Joanne Bradford, and guest speakers from Villa Copenhagen, TV 2 Norway, Actimo, Motimate, Drops, and the Kahoot! team.
If you couldn't make the live event, missed a session, or simply want to rewatch your favorite talk, you can now stream the Kahoot! WorkMeetup on-demand. Here's a recap of the main highlights!
Discover internal communication secrets from Silicon Valley
Joanne Bradford kicked off the Kahoot! WorkMeetup with a fascinating keynote speech. Joanne has over 25 years of experience as an executive for some of Silicon Valley's most successful tech companies, including Microsoft, Yahoo, SoFi, and Pinterest. She's also featured on the Forbes Top 50 CMO list and Ad Age 100 Most Influential Women in Advertising and received the Bill Gates Chairman's Award at Microsoft.
In her session, Joanne discussed her vast experience with internal communications, including why it's pivotal to success, how it's a never-ending iterative process, why you need to repeat, repeat, repeat every message, and why the need for better communication should not be confused with more communication. Watch her session on-demand for actionable tips that you can implement today.
Transform internal communications by involving every employee
We heard from Kahoot!'s very own James Micklethwait, who detailed how to create engaging, inclusive communication for a hybrid workforce. James showcased how to gamify internal communication (such as newsletters) and how to deliver impactful communication 'waves' with Kahoot! 360 Spirit. Building on Kahoot!'s expertise in events, a 'wave' achieves impact as it enables an organization to deliver engaging, live kahoot sessions for every employee around a communications message, such as organizational change or company strategy.
A 'wave' is also a powerful way to stimulate discussion and gather feedback at scale, giving every employee a voice and creating team-building moments. As James said: "Imagine an enterprise-wide conversation about company culture where you can collect hundreds of thousands of ideas from all employees across your organization with our brainstorm feature." For more information, visit kahoot.com/spirit.
Content is king: Use premium content to engage your workforce
At the heart of any impactful internal communications is great content. That's why we were delighted to highlight premium, ready-to-play kahoots by big brands and learning experts at the Kahoot! WorkMeetup. Agnete Tøien Pedersen from Kahoot! Academy showcased Angry Birds' collection of anger management kahoots and business vocabulary kahoots by Drops. She also gave attendees a sneak peek of Kahoot! Academy for Work. Soon, trainers and consultants can become verified trainers on Kahoot! Academy, meaning they'll receive a verified profile where they can share training material. They'll also be able to build a community as Kahoot! users will be able to follow their page.
As well as high-quality content on Kahoot!, we also heard how a TV station in Norway uses Motimate to make "boring" internal training and communication topics fun and engaging. Kari Mette Solheim from TV 2 joined Motimate's CPO Lars-Petter Windelstad Kjos to detail how they transform items like Excel training into something that's actually fun to do. Kari also had some top tips for spotting creative talent among your employees and empowering them to create awesome content.
For more information, visit motimateapp.com
Learn how to master internal communication in times of crisis
It was fascinating to hear from Peter Høgh Pedersen, Managing Director of luxury hotel Villa Copenhagen, on how he communicates with employees during the COVID-19 pandemic. Peter uses Actimo's communication solutions to keep every employee motivated and connected during months of lockdown. His talk with Actimo's Andrew Tiscoe was filled with best practices that you can use to communicate with a dispersed workforce successfully.
For more information, visit actimo.com
Strengthen team culture with language learning
Joanne mentioned in her keynote speech how important it is to be creative with your internal communication. That's why it was great to hear from Drops on how language learning can bring teams together. Alexandra Burton from Drops gave us a glimpse of 'Workplace Talk', a new feature designed to break down language barriers among teams. Teams can learn simple words and phrases in another language – perhaps a colleague's native language – and develop knowledge of what to say in emails, meetings, presentations, and even coffee breaks. It was great to see how learning a language for just five minutes a day can connect colleagues – no matter their location or native language.
For more information, visit languagedrops.com/business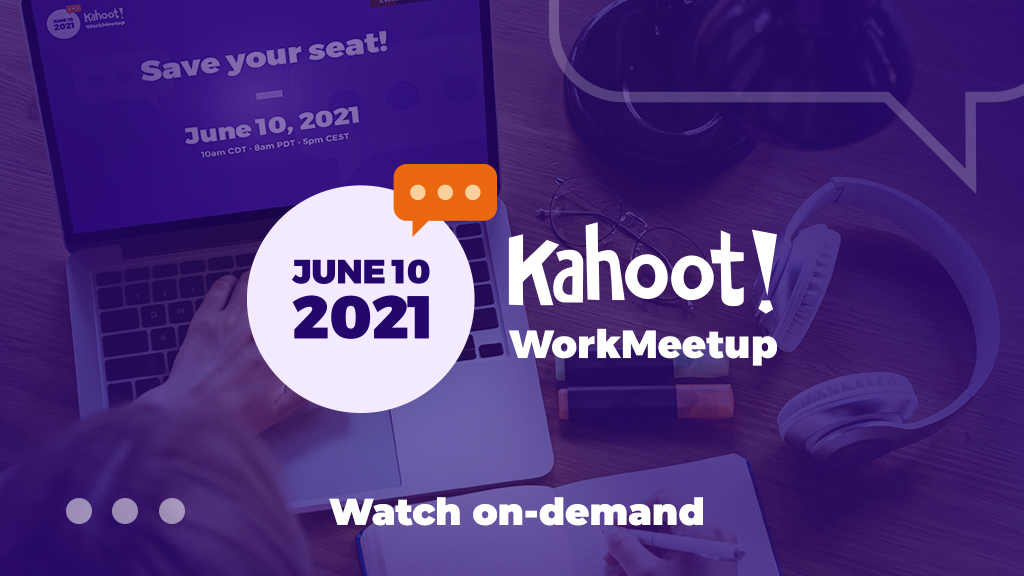 The Kahoot! WorkMeetup closed with a truly insightful panel discussion with Joanne Bradford, Peter Høgh Pedersen, Lars-Petter Windelstad Kjos, and host James Micklethwait. They dived into the present and future of internal communication in a 40-minute session. Be sure to check it out for lots of actionable tips and best practices.
We really enjoyed hosting the Kahoot! WorkMeetup, and we look forward to welcoming you to the next one! In the meantime, you can stream every session on-demand!