With schools going in and out of closures, last year was challenging for teachers, parents, and kids. As a result, kids' academic progress may not have ended up where it needed to be at the end of the school year.
At Kahoot! we believe that learning never stops and summer holiday is a great time to learn, review and catch up on knowledge to prepare for the next school year – all while having fun! This summer why not make learning awesome for your kids, learn together as a family, and make screen time more impactful with these Kahoot! tips?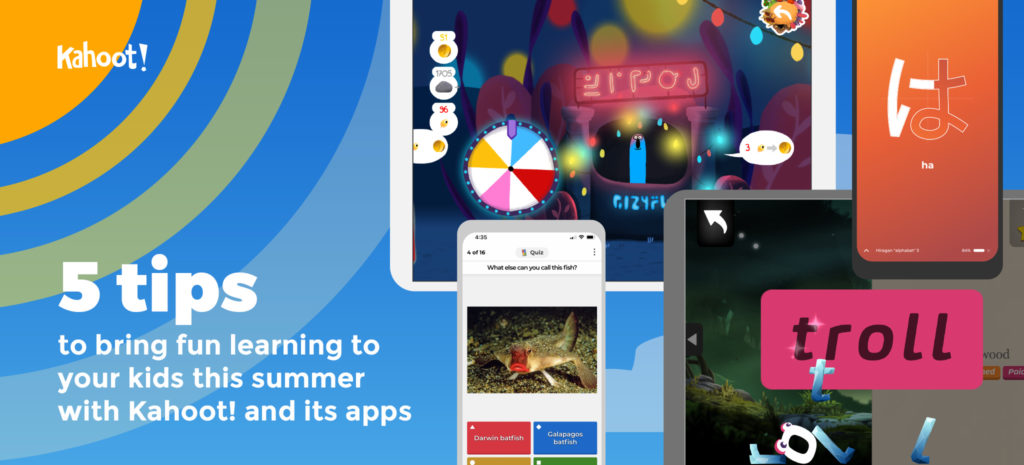 Start a learning journey with ready-to-play content from renowned publishers
Together with Verified educators and Premium partners, Kahoot! Academy, our knowledge platform and global community, provides high-quality, ready-to-use learning content across a variety of subjects and languages. Log in to your Kahoot! account and browse featured collections, including fun and educational kahoots from publishers such as Disney, Marvel, National Geographic, Time for Kids, and more.
Focus on social and emotional skills
Developing and strengthening social and emotional skills is more important than ever after so many months of uncertainty. Last year, we started an ongoing collaboration with several educators and Premium partners, including Peekapak, Peppy Pals and Empatico, to create social and emotional content for all ages. Explore our partners' collections and these curated ready-to-play kahoots during summer to help kids prepare for a stress-free school start, or check out the SEL collection from Pixar's OSCAR® Winner for Best Animated Feature 2021 "Soul", or from the brand new Pixar movie "Luca".
Stay in touch with school friends during summer
To make studying on their own or together with friends more fun for students, we've introduced several new modes in the Kahoot! app:
Leagues within the Kahoot! app make studying more fun through friendly competition. Learners can choose from millions of ready-to-play kahoots to add to leagues, invite up to 100 peers, compete and follow leaderboards in real-time. By adding their Bitmoji.
With the study modes in our app for iOS and Android, learners can study at home using flashcards, practice, test games, and peer-to-peer challenges. Students can choose kahoots themselves, or play through kahoots recommended by their teachers or parents.
Give kids a head start in math with Kahoot! DragonBox
From basic numbers to advanced algebra and geometry, learning apps from Kahoot! DragonBox make math awesome! Whether your kids need to refresh existing knowledge or get a head start on new concepts and topics, these apps will turn it into an immersive adventure:
Introduce your kids to math with Kahoot! Dragonbox Numbers;
Help your kids understand long additions and subtractions Kahoot! Dragonbox Big Numbers;
Walk through processes needed to solve basic linear equations with Kahoot! DragonBox Algebra 5+;
Level up algebra knowledge with Kahoot! DragonBox Algebra 12+;
Take an exciting adventure to the world of shapes with Kahoot! DragonBox Geometry;
Learn to play chess or improve your skills with Kahoot! DragonBox Learn Chess.
Make summer reading magical with Kahoot! Poio Read
Have younger kids in the family? Encourage exploration, entice their curiosity and motivate them to learn to read with Kahoot! Poio Read! The game continuously adapts to the individual learner's level. This provides a steady sense of mastery and keeps learners engaged.
With a Kahoot!+ Family subscription, you get access to a set of learning apps: Kahoot! Poio Read, Kahoot! DragonBox Numbers, Big Numbers, Algebra 5+, Algebra 12+, Geometry and Learn Chess, as well as advanced Kahoot! features to level up the fun. With our special summer offer, you can get a subscription for just $5/month and save 33%! Upgrade before August 30 to redeem this offer.
Play, learn and have fun together with your family this summer with Kahoot!