Back-to-school season is upon us, and many educators and students are excited to be heading back to the classroom. However, after a year and a half of school closures, adventures in virtual and hybrid learning and social distancing, this school year promises to be unlike any other. 
To understand the challenges that educators are facing in the upcoming academic year, Kahoot! surveyed more than 10,000 K-12 and higher ed educators across the U.S. this August, asking them to share their expectations and concerns for this back-to-school season. The results offered key insights into educators' priorities and needs for the 2021-2022 school year. Read on to explore the survey's findings, or see the survey findings in infographic format here.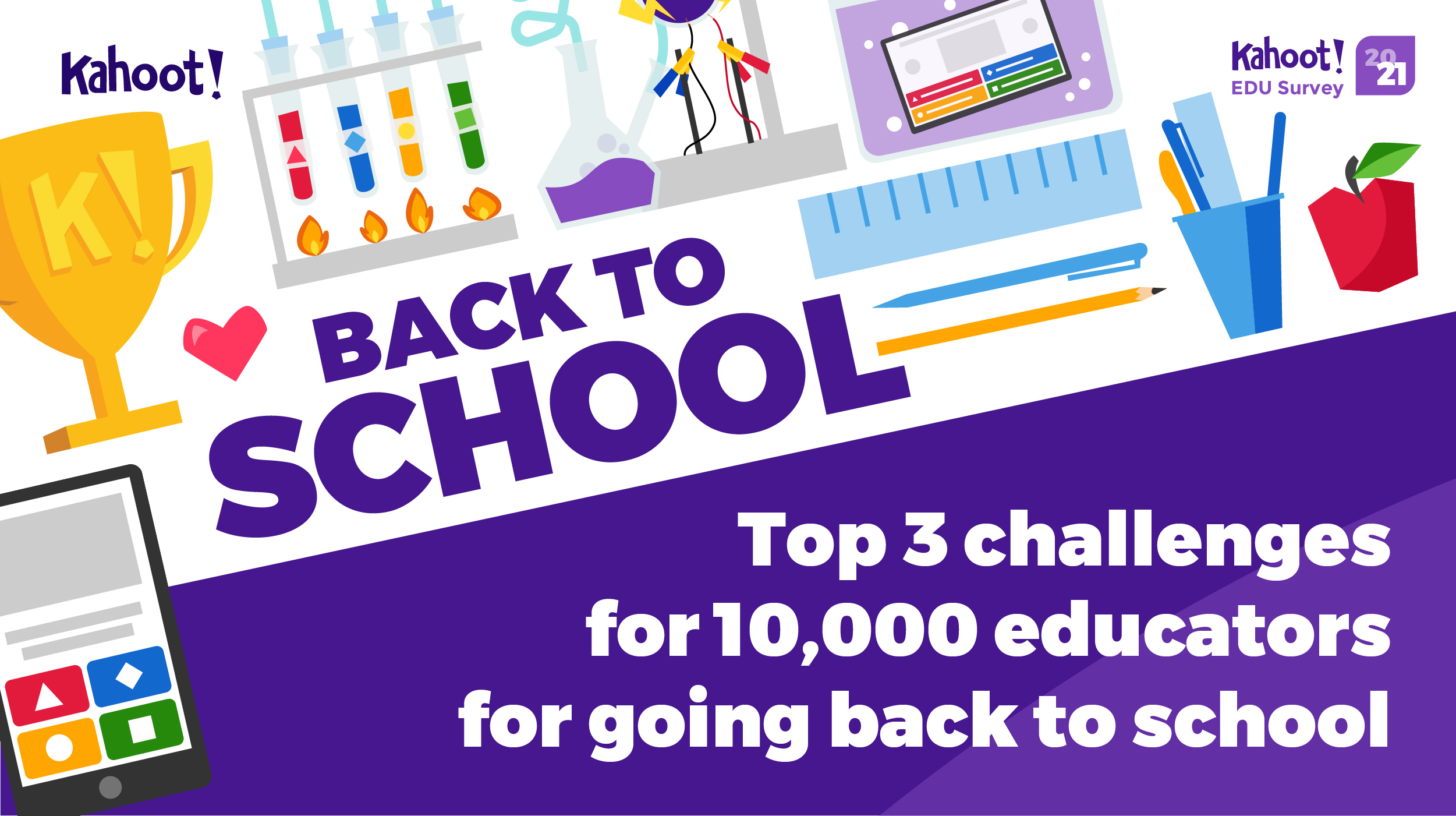 Classrooms across the U.S. will be full of students this fall
Many educators, students and families are celebrating that they will be able to get back to the classroom and reconnect face-to-face this school year. Nearly 8 in 10 teachers we surveyed expect classes to resume in-person learning for this school year, with the remaining 2 in 10 expecting either hybrid, HyFlex or fully remote learning models.
While nearly half of educators offered their students some classroom time last year with hybrid and HyFlex models, this will be the largest number of students to be back in the classroom full-time since before the pandemic.
Health and safety, learning loss and engagement are the top 3 concerns for educators
For educators and students across the country, being able to all gather together in the classroom again is a milestone they have long been waiting for. However, returning to the classroom full-time will be a big adjustment for many students and a challenge for teachers.
According to the survey, educators are first and foremost concerned about keeping their students safe from COVID-19. Nearly 1 in 2 respondents reporting this as a top challenge for the new school year, followed closely by the issue of "pandemic learning loss." More than 1 in 3 respondents also answered that helping their students stay engaged and focused on learning is a top concern. Educators' responses highlight that while being able to return to the classroom is cause for celebration, the effects of the pandemic on learning will continue to be a challenge this school year.
Most educators and students ended the last school year in a non-traditional classroom model
During the 2020-2021 school year, educators continued to innovate new ways of teaching and connecting with students as many schools could not safely open back up to full in-person instruction. Hybrid models enabled students to split their time between in-person and online learning, while HyFlex models gave students and families options of in-person and online learning as needed.
While the largest segment of educators surveyed—nearly 4 in 10—said that they used an in-person learning model at the end of the 2020-2021 school year, more than 6 in 10 reported using hybrid, HyFlex or fully remote learning models.
EdTech tools like Kahoot! help teachers and students reconnect in the classroom
In this unique back-to-school season, educators are going back to their classrooms more tech savvy than ever before. Many are planning on integrating digital learning more deeply into their in-person teaching routine, including to address issues caused or intensified by the pandemic.
For students who haven't been able to be with all their classmates face-to-face in a long time, tools like Kahoot! can help educators bring their whole class together in a meaningful, shared learning experience, while also enabling students to socially distance if necessary. With over 8 million educators globally already using Kahoot!, it's also familiar to many students, which can make reconnecting with peers easier and smooth the transition back to the classroom.
Kahoot! also provides a flexible way to engage and connect students both in the classroom and at home, making it easier to build class community in hybrid, Hyflex and remote models.
Closing knowledge gaps and accelerating learning by making learning awesome
Helping students catch up and readjust to school routines after summer break can be difficult enough, but this year, pandemic learning loss is challenging educators like never before. Many students need a refresher for content taught last year or the year before, which they may have missed due to lack of access to technology or educational support, difficulty focusing outside of school and other issues. These issues have also disproportionately impacted students of color and students from lower-income families, widening educational inequality and gaps to success.
While remedial learning is often de-motivating for students, Kahoot! turns review into a game that engages and energizes the whole class. With Kahoot!, educators can assess students' learning, identify knowledge gaps and reinforce content, all through harnessing students' natural curiosity, friendly competition and play.
Kahoot!'s learners to leaders pedagogy also encourages students to engage even more deeply by creating their own learning content to share their knowledge with their peers. Through this process, students take ownership of their learning, which can open up a whole new level of engagement.
Discover the resources you need for back-to-school success on Kahoot!
If you're heading back to the classroom with your students this year, Kahoot! is offering a wide range of resources to support you and your students. Explore our latest features, tools, integrations and more announced at the Kahoot! EDU Summit in June, including engaging learning content and new ways to collaborate on Kahoot! Academy. 
How are you prepping for back-to-school? What are you most looking forward to? Tweet us at @GetKahoot to share your thoughts on making learning awesome this year!