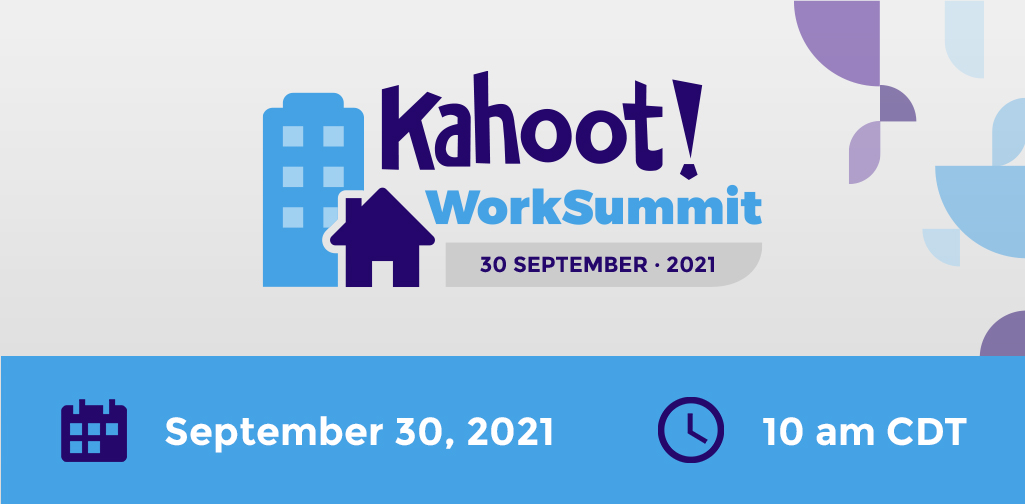 How can your organization transition to a hybrid work setup and achieve better business results? It's a question that every business is currently pondering – and one that we'll provide plenty of insight to at the Kahoot! WorkSummit on September 30 at 5 PM CEST/11 AM EDT/10 AM CDT/8 AM PDT.
COVID-19 has changed the workplace forever: According to a recent EY survey, 90% of professionals want flexibility in where they work, and 54% will consider resigning if they're not provided with opportunities to work remotely and from the office.
But, as we'll reveal in the findings of the Kahoot! 2021 Workplace Culture Report, creating a strong hybrid culture requires significant cultural change. This is why designing an inclusive, future-proof workplace culture has become mission-critical for so many organizations in 2021.
Through a series of insightful talks, attendees of the Kahoot! WorkSummit will discover how to make every employee feel valued, heard, and involved – no matter if they work from home, the office, or a non-desk location. Attendees will also discover how to improve business results and overcome common organizational challenges posed by a hybrid workplace via talks from thought leaders and guest speakers from Scotiabank, Cognite, and Lagkagehuset.
Further reading: Learn how to ace hybrid meetings, training sessions, onboarding, and more with Kahoot! 360. Read more.
Discover how to create an inclusive hybrid workplace culture that boosts business results
The Kahoot! WorkSummit is an annual virtual event that engages our global community with industry-leading insight into a key topic that will shape the working world over the next 12 months and beyond.
This year's edition on September 30 takes a deep dive into the hybrid workplace and explores how to build an inclusive culture that drives better business outcomes. Here's what to expect at the upcoming Kahoot! WorkSummit: Workplace culture:
Gain unrivaled insight into the future of the workplace from Jill Duffy, journalist and author of The Everything Guide to Remote Work
Get the lowdown on the trends that will define the hybrid workplace as we reveal the results from Kahoot!'s 2021 Workplace Culture Report, which surveyed over 1,000 HR leaders and employees
Hear from Audrey Camp, Cognite's Director of Internal Comms & Culture, and discover how the SaaS unicorn implements an inclusive workplace culture
Attend a talk on how Kahoot! 360 helps companies improve learning and development in a global hybrid workplace
Join guest speakers from bakery chain Lagkagehuset and learn how they use Actimo to strengthen company culture among non-desk workers
Who should attend the Kahoot! WorkSummit?
The virtual event is essential viewing for anyone interested in company culture, hybrid and remote work setups, and corporate learning.
HR leaders and Learning and development (L&D) professionals will benefit from valuable discussions around hybrid and remote work trends and strategies. Team leads will discover best practices for engaging teams that are split across several locations.
Both L&D professionals and team leads will also see how to strengthen team spirit and company culture and empower colleagues to keep striving to progress their skill set. What's more, IT professionals will learn how to support L&D teams in implementing Kahoot! at scale effectively.
Save your seat for free!
There are a limited number of virtual tickets, so be sure to save your seat for free today! We'll send registrants every session to watch on-demand after the event.