For many participants, picking an on-screen nickname helps them to get into the spirit of participating in a kahoot session. It's a simple, informal way for team members to express part of their personality or share inside team jokes. And for hosts, it can be super helpful in establishing the right tone, tone and get groups engaged and engaged from the very start of a new kahoot.
However, for trainers and admins using Kahoot! at work, understanding who the actual person is behind the on-screen nickname can be critical for several critical reasons:
Delivering mandatory training, where you're required to store documented proof of individual employee participation or knowledge.
For operating secure enterprise user management and data integrity workflows.

The ability to track the progress of individual learners over time.
Being able to easily identify participants helps ensure that individuals are actually who they're supposed to be. This is hugely important for secure user management and for documenting and controlling who can access and participate in training materials, particularly if it is sensitive content.
Being able to identify individuals via their enterprise email instead of an anonymous nickname helps to support data integrity for reporting and personnel records.

Self-paced challenges with remote participants completing the kahoot session in their own time. If participants only used their on-screen nickname when completing a self-paced challenge, it would be impossible for trainers to track individual learners as they wouldn't just have a list of anonymous on-screen nicknames appearing in their reporting.
As a result, Player identifier has been a hugely popular feature for our Kahoot! 360 customers and one of most requested features from larger customers. It's incredibly easy for session hosts to turn it on as a required option for joining participants, so that participants are required to enter their email address in addition to their on-screen nickname when joining a new kahoot session.
If it's just the office party kahoot, and there's nothing more at stake than personal or team glory, then sure, you don't need Player identifier turned on. But if you need to deliver mandatory training to your whole company? Then just flip the switch and turn on Player identifier and hey presto, you're tracking and logging individual learners.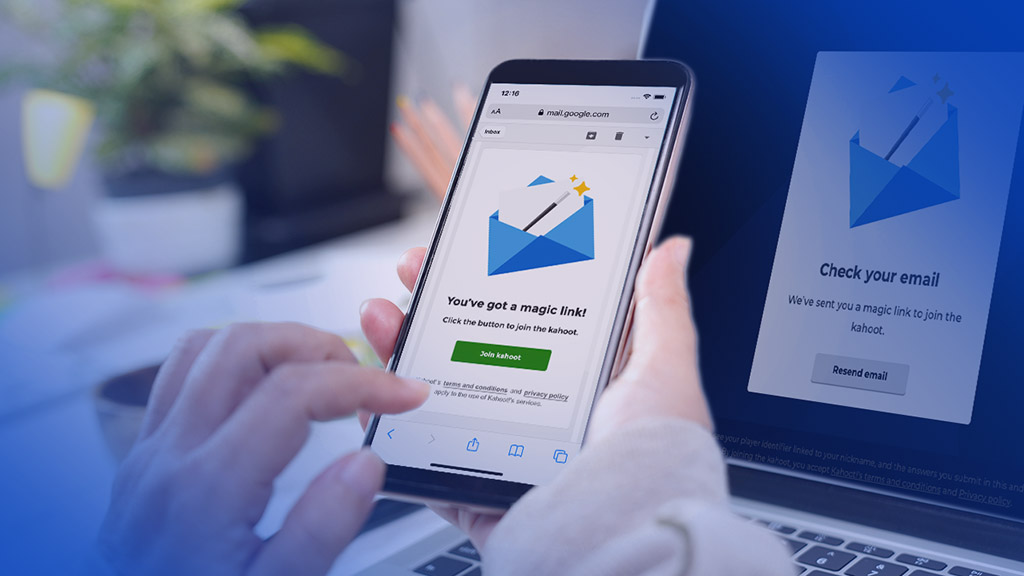 Player identifier: now with added magic
In this new update, we've added an additional layer of security to Player identifier, whilst maintaining a fast, intuitive joining experience for participants. In addition to asking for an email address, Player identifier has a new email verification workflow. This helps to improve data integrity, since users must enter their email address correctly in order to join the session and be recognised in the reporting system as having successfully participated.
How to use the updated Player identifier:
Choose the kahoot you want to host and click Present
Turn on Player identifier in the game option dropdown before starting the games.

Admins can also set this to ON as the default setting for all kahoots in your organization, with hosts able to disable it for individual sessions

Participants enter their email address as their personal identifier.
Once their email address is submitted, participants are shown a verification message asking them to verify their email address via the new magic link.

An email containing the magic is automatically sent to the submitted email address.
Participants can click on the verification message to jump straight to their email inbox.
From the verification email, they simply click on the Join kahoot button link to join the game instantaneously.

Admins and hosts can then use reporting to track individuals, as on-screen nicknames are automatically matched to the email identifier used by the participant.

I don't see the verification email – what should I do?
Very occasionally a user may not receive the email with the magic link in order to verify their Player identifier. In this case there a couple of easy steps the user can try:
Check all your inboxes, the email may not always end up in your main inbox, depending what type of spam filters your company email has set up.
Click the Resend email button on the add Player identifier screen.

If this doesn't help, you can click to click to proceed without the magic link in order to join the game without needing to enter your Player identifier. This means users are not prevented from joining the session even if they don't get the link right away.

When a trainer or admin generates a session report afterwards, it will indicate which participants have verified their email versus unverified (unidentified) users.
Engaging user onboarding with secure user management.
And that's not the only spell you can cast with the magic link. Need to onboard a large group of users onto your Kahoot! account? Use Player identifier to make onboarding fast, safe and fun! Here's how:
Turn Player identifier on as a default setting for your organization
Start a kahoot session with your new users

Want to make this session a part of your structured onboarding process for new employees? Use Kahoot! 360 Courses to create your employee onboarding program.

Once they've completed the kahoot session, users will see a sign up/log in message.
Users can simply sign up with their company email and use the magic link to join your organization in a single click
Player identifier is available for Kahoot! 360 Pro, 360 Pro for Teams, and Kahoot! 360 Spirit and is out now. See all plans