Over the past two years, teachers everywhere have had to get creative with ways to manage physical and virtual classroom engagement. That's why for our first virtual PD event of the year we're passing the mic to amplify awesome teacher stories! Learning is better together and at the Kahoot! EDU Meetup: Spring edition you'll have the opportunity to celebrate the challenges and triumphs faced by other teachers all over the world and learn about how Kahoot! can help make learning accessible from anywhere. 
Join us on March 17th from 10:00am PDT to 2:00pm PDT for our FREE virtual PD event!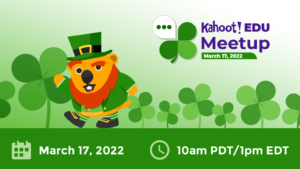 Here's a sneak peek of what you can expect at the Kahoot! EDU Meetup with more details coming soon!
Hear from teachers around the world on how they use Kahoot! to make learning awesome
Learn new ways to engage and celebrate students and transform learners into leaders 
Get the latest product updates from Kahoot! at School, and Kahoot! Academy 
How to differentiate learning for students of all ages
Play lots of kahoots (of course!) and win fun Kahoot! Swag. Good luck!
Register early for a chance to win awesome Kahoot! swag and make sure to keep an eye on our event page for more updates on all the amazing speakers, sessions, and events that we have planned!