Student-centered learning at the Kahoot! EDU Fall Meetup 2022
Back to school is now in full swing! The introductions are all done and daily routines are setting in. As you start to dive into the bulk of your class curriculum, you might be discovering what is working for this new group of students and what isn't. Sometimes the best way to find out is to simply ask them. Student-centered learning has always been at the heart of our learning platform and we couldn't be more excited to tell you about all the new developments that empower you to dig even deeper into putting your students first.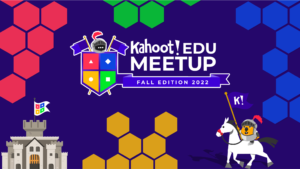 Join us on September 21 from 12pm to 4:30pm PDT for our FREE virtual PD event where you will hear all about our latest announcements and new feature releases designed to give your students the tools to take control of their learning!
We'll be hosting interactive sessions led by Kahoot! Ambassadors and Verified educators, leaders from our product development teams, and even a school administrator to share their perspectives on student-centered with Kahoot!. 
Here's a sneak peek at some of the sessions planned for the Kahoot! EDU Fall Meetup:
Demos of

all the new ways to play Kahoot!

including new question types and game modes

An introduction to our

new student passes

and its impact on student-centered learning

How to

become a creator with Kahoot! Marketplace 

A tutorial on best practices for

creating engaging kahoots

Updates on

what's new with our partners

at Whiteboard.fi and Clever

A school administrator's perspective on

student-centered learning with Kahoot!
Register early for a chance to win awesome Kahoot! swag and stay tuned on our event page for more session and speaker updates!