How can reimagining corporate learning help companies take employee performance to the next level? This was the question we dug into together at the spring edition of the 2023 Kahoot! WorkMeetup, a virtual event connecting business professionals and leaders from around the world. 
It was a day of fascinating and insightful conversations with experts in corporate learning & development, EdTech, and more. We explored what impactful corporate learning can look like today, and how Kahoot! can enable companies to deliver training that keeps employees engaged, connected, and motivated to reach their performance goals. 
Read on for three key insights to power up your company's corporate learning:
Multiply your impact with interactivity  
As Learning and Development Strategist Lori Niles Hoffman highlighted, more than 1 billion people will need to reskill by 2030, according to the World Economic Forum. The pace of tech development continues to grow and change how we work, and businesses globally are recognizing the need to prioritize training and development to prepare employees to be successful in the future of work. However, the status quo of one-directional instruction and passive participation isn't working, especially when employees are working from home where distractions abound.
For corporate teams who want to make their training more engaging and impactful, actively involving participants can be game-changing, especially in live, instructor-led training, whether in-person, virtual, or hybrid.  Edward DesRosiers, Senior Consultant, Learning & Development at Avanade, shared how his team increased learner engagement and doubled exam pass rates by transitioning from regular remote, instructor-led training to Kahoot! training with interactive presentations. To transform their existing content, they uploaded any PowerPoint presentation into Kahoot! and broke up the content with quiz questions, poll questions, and fill-in-the-blanks to take engagement up a notch. 
He added, "We saw in the reporting that people were answering the questions, so we had some really great feedback, but we were actually able to import the current material, customize it, tweak it, and add all of the great Kahoot! features."
Content can also be shared and studied asynchronously, such as with our new content format Story, allowing trainers to focus on what live, instructor-led training is really great at: creating a human, social experience, with discussion and interaction. This can enable trainers to create deeper learning experiences that even go beyond the content to spark new ideas, inspire collaboration, and more. 
Be ready to experiment, but back it up with data 
One of the biggest challenges for corporate learning today is simply breaking out of old habits in how we approach a training experience. However, as Ed shared, thinking outside the box and innovating in a data-driven way by using Kahoot! was key to his organization boosting engagement in training and doubling exam pass rates. 
As Ed advised, "Experiment and try new things. We want to make it exciting. We want to make it worthwhile, so experiment. Try it out. I always use 'pivot' if things don't work, but you would be shocked to see what things really do pop, where you get those responses from the employees, and that engagement really takes off. So always experiment, try new things, and just make sure you have the analytics to back up the changes, because that's where you're going to really see great results."
Design for the experience, not just content 
When a trainer designs a learning experience, it's natural to focus on the key concepts they want to teach. However, in a panel discussion moderated by Siobhan Fagan, Editor in Chief at Reworked, Lori underscored that it's not just about what you present, but how you present it. This is especially important now in the age of hybrid and virtual training, which our latest Workplace Culture Report shows as the top place where employees say they disengage. 
Throughout the WorkMeetup, we explored how Kahoot! makes it easy for anyone to transform a dry presentation into a dynamic, interactive learning experience that keeps participants actively engaged from beginning to end. One of the ways we do this at Kahoot! is by looking at behavioral psychology to understand what drives us and keeps us motivated and engaged in a learning experience, and then building solutions based on those principles. 
Designed to spark learning through friendly competition and collaboration, Kahoot! taps into core human motivators in every game element and mechanic. Emotion propels us forward through the game, from the frustration of getting a question wrong to the thrill of answering correctly and rising on the leaderboard. This dovetails into anticipation, another core human motivator. Will I win this or end up on the podium? Kahoot! also brings people together in a social experience, creating a sense of belonging and connection that many employees have been missing, especially in remote contexts. 
As we saw in our latest Workplace Culture Report, there is now a high demand for friendly competition and collaboration throughout the flow of work. 59% of Gen Z workers pointed to friendly competition as their top choice to feel more engaged in online training, presentations, and meetings, with older employees wanting to brainstorm more with their co-workers. Amplifying engagement and motivation in this way is key to driving the behavior change that creates real results for employee performance.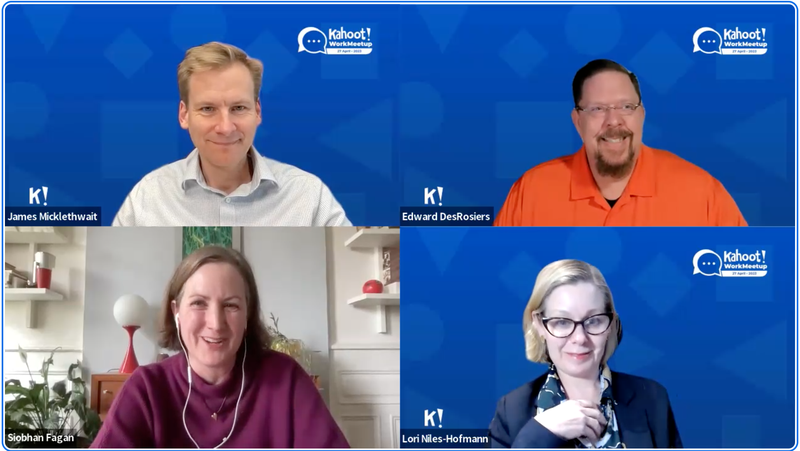 Want to keep the learning going? Re-watch the WorkMeetup presentations, recap the key insights, and see our new Story content format in action! And don't forget to share this with your colleagues to spread the knowledge and inspiration!
If you're ready to deliver impactful corporate learning at your organization—including creating engaging courses like this one with our new content format Story—get started with our Kahoot! 360 Spirit enterprise plan today.