Introducing the Kahoot! AI question generator!
As educational technology in schools and hybrid learning environments has rapidly increased, the thought of integrating AI in your classroom may seem like another steep learning curve for you and your students. However, with the introduction of our Kahoot! AI question generator, using AI in the classroom is as simple as creating a kahoot and as safe as searching for content on our discover page. This powerful tool takes the familiar Kahoot! experience and leverages the capabilities of AI to innovate the process of creating kahoots to make it even easier and more engaging. Early access is now available for teachers on a Kahoot!+ Max plan, and is also available for all Kahoot! EDU plans.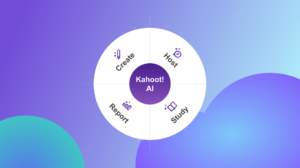 How does it work? 
You and your students can search any topic in the Kahoot! creator and our generative AI will automatically create kahoot questions matching your chosen topic. Simply click create and select the question generator to start creating your kahoot, or choose the question generator when adding a question in an existing kahoot. Search your topic, choose the questions that best suit your lesson, edit the questions, if necessary to match your unique classroom lingo, and you have a kahoot ready to host live or assign to your students in seconds! In our latest update, our generative AI will produce a variety of question types based on what's best for the format of the question. For example, it might suggest a slider question for math or a type answer question for naming locations or famous people. With support for quiz, true or false, slider, and type answer question types, and more still to come, our generative AI keeps getting smarter!
Log in to your Kahoot! Account

Select "Create" and then "Kahoot" from the home screen of your user dashboard

Select "Question generator" to start creating a kahoot with AI (

OR

start creating a kahoot as normal, click "Add question", and select "Question generator" from the top menu beside "Question bank")

Enter your topic, click continue, and watch Kahoot! AI automatically generate the most relevant questions related to your chosen topic

You can now preview the questions by clicking on the down arrow to view the answers

When you have found the questions you want to add to your kahoot, simply select "Add" and the question will automatically be included in your kahoot

Make sure to review and edit the AI-generated questions if necessary, as it is possible for the AI service to "hallucinate" producing factually incorrect results (ultimately, the creator takes responsibility for the content and should always verify the content generated by the Question generator)
Click here for more detailed instructions on how to use the Kahoot! AI question generator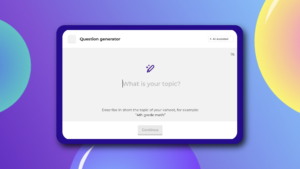 Promote student engagement and boost learning outcomes
By harnessing the power of AI, Kahoot!'s question generator tool revolutionizes the way students interact with educational content. Having students create their own kahoots with dynamically generated questions sparks their curiosity, critical thinking, and makes them active participants in the learning process. The result? Enhanced student engagement, improved knowledge retention, and ultimately, better learning outcomes. 
Save valuable lesson planning time
One of the key benefits of this new tool is its ability to save precious time and effort in crafting engaging lesson content. Instead of spending hours coming up with questions, our question generator searches through popular, high-quality kahoots that match your topic to create thought-provoking questions tailored to your specific teaching goals. You can also search our human-generated question bank with over 250 million kahoots and 1.9 billion user-generated questions already available on our platform. This leaves you with more time to focus on individualized instruction and connecting with your students on a deeper level.
Automate student-centered learning
The Kahoot! AI question generator makes it even easier to encourage students to create their own kahoots! Let your students discover more about a lesson by assigning them a topic to create a kahoot about. Without pre-existing knowledge, the AI question generator allows your students to learn as they create and share their new-found knowledge with the class by hosting their kahoot.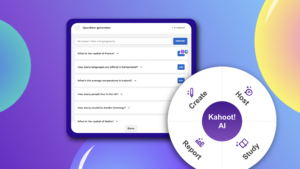 A safe and supportive learning environment
As you introduce the AI question generator tool into your classroom, rest assured that Kahoot! prioritizes data privacy and security. In Kahoot!, we hold our users' privacy and data protection in high regard. We are not using personal data as part of the AI algorithms. The platform adheres to strict guidelines and ensures that student data remains protected at all times. Your students can participate in interactive quizzes with confidence, knowing their privacy is respected.
Try the Kahoot! AI question generator today!
All teachers with a Kahoot!+ Max plan or access to a Kahoot! EDU plan through their educational institution will get early access to the AI question generator starting today with more AI-assisted advanced features coming in time for back to school. Not a Kahoot!+ subscriber? Save over 20% on Kahoot!+ Max when you upgrade now for a limited time!

Stay tuned for more updates on Kahoot! AI and share your thoughts with us on Twitter, Instagram, Facebook, and TikTok!