This week, we were thrilled to be joined by so many all-star educators to learn about the latest in education, edtech tools, and learning content! We heard from celebrity educators and Kahoot! ambassadors alike, discussing what it means to empower students daily, manage the stresses of the classroom, and efficiently leverage digital tools to create effective student-centered learning.
Read below for a brief recap of each session or watch on-demand on the Kahoot! EDU Summit event page!
Don't forget to take advantage of our EDU Summit offer to access all the amazing new features discussed during the Summit! Save 35% on Kahoot!+ Max for individual educators and 40% off Kahoot! EDU Pro for schools and institutions!
Superhero students require superhero tools, and that's exactly what Sean D'arcy and K!rew delivered in their session at the Kahoot! EDU Summit! Save time and boost student engagement with the new AI-enhanced Kahoot! Creator, premium game packs, and slide reactions to make your learning content even more engaging and interactive! With even more AI-assisted tools and student-led features like study goals and solo game modes for individual learning, this back-to-school season is going to be packed with amazing new tools that you won't want to miss out on! Watch the video below to learn more! Want to try it out for yourself? Unlock early access to all these features and more with our EDU Summit special offer on Kahoot!+ Max and Kahoot! EDU.
As student engagement continues to be considered one of the biggest hurdles for teachers, we have made it our number 1 job to ensure that students are empowered to take control of their own learning. In this session, Louisa Rosenheck, Director of Pedagogy at Kahoot!, discussed what student-centered learning is, why it's important, and how teachers can move from the sage on the stage to the guide on the side. She also introduced our new K!urious collection curriculum module that empowers learners to explore questions that matter through them!
Amazon Future Engineer Career Tours
Garrett Dorfman, Product Manager Career Tours for Amazon Future Engineers, helped us demystify Amazon's technology while exposing students to various careers that make the technology happen! We heard about all the amazing Career Tours that your students can take with Kahoot! to learn about Robotics Fulfillment Centres and Callisto: A Space Innovation tour. We even got a sneak peek at the upcoming AWS Data Centres Career Tours coming soon! 
Get Schooled is a national non-profit organization dedicated to helping young people get to college and find their first jobs. Executive Director, John Branam, shared how they are working with Kahoot! to create content that gives youth access to the information and support that they need to make informed choices about their future. With kahoots that teach young people how to start applying for college, find scholarships, prepare for job interviews, and more, Get Schooled is Kahoot!'s college and career content provider! Try out their free amazing content and share their resources with your students!
One game of Kahoot! posted to TikTok changed grade 7 science teacher, Gabe Dannenbring's life! Now the internet's favorite science teacher, Gabe is using his platform to communicate with teachers directly from his own classroom daily! We heard so many inspirational perspectives and stories touching on topics like learning loss, teacher burnout, and student pressure. Now, Gabe believes that teachers have an opportunity now more than ever to build relationships with their students, create classroom communities, and support student growth.
Did you know that you can quickly and easily add kahoots to Google Classroom directly from your kahoot library? Dave Messner from Google for Education took us through how you can create engaging assignments in Google Classroom with Kahoot!'s add-on. He also showed off other available Google Classroom add-ons that allow you to integrate even more classroom tools! Check out this session to explore Google for Education's new Google Classroom add-ons, and learn how to use Kahoot!'s add-on in your classroom.
Matt Jensen is a Kahoot! ambassador and the Learning and Teaching Leader at St. Mary's College in Queensland, Australia. Matt teaches digital technologies and design with his middle-year students and empowers his fellow teachers as well as his students by introducing them to new tools in the classroom like open-ended questions on Kahoot! Matt covered the importance of student autonomy and ownership in the learning process and showed us how question types like poll, drop-pin, word cloud, open-ended, and brainstorm can not only nurture student autonomy and foster collaboration but also elevate classroom discussion and encourage critical thinking.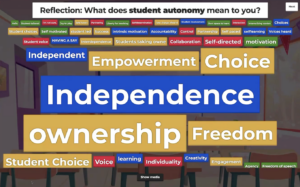 We were joined by our partners at Clever to explore how they are helping students stay on track with fun logins and easy classroom management tools. Customer Solutions Representative, Jennifer Pluma, took us through all the ways Clever can help you spend more time teaching and less time troubleshooting with Clever's seamless digital classroom experience!
Financial Literacy Education with Intuit
With financial literacy being a hot topic in education, Teymour Akshan from Intuit, maker of TurboTax, Credit Karma, Quickbooks, and Mailchimp, showed off their free financial literacy tools that engage students with real-world scenarios. Discussing how young people approach money and tackling the current issues around financial literacy education, Intuit has helped 2 million students learn financial literacy basics! You can even sign up to be one of the first educators to get a sneak peek at Intuit for Education's financial literacy learning app.
Disney Imagination Campus empowers students with imagination-powered learning. In this presentation, the Disney team provides an overview of their offerings and the value of immersive learning, using the 'living laboratory' of Disney theme parks as an example. Viewers are then provided a sample lesson from the Arts & Humanities workshop: Immersive Storytelling. Learn more about Disney Imagination Campus by visiting their website.
K!offee kahoots with our Kahoot! Ambassadors!
We love our K!offee Kahoot! breaks during the Summit to give our ambassadors the stage to show off how they are using Kahoot! in their classrooms! Check out these kahoots to learn about creative ways of engaging with your students and play them with your fellow teachers to share the knowledge!
Actor and author Emily Hampshire joined us for an inspiring Q&A about her own student experience of learning about her identity and learning how to be proud of herself through each stage of her journey. Beginning with the support that she received from her own teachers, Emily felt that she was given the encouragement to pursue her own career goals. From a dyslexic student who could barely get through a book to becoming an author of her very own graphic novel, intentionally more accessible through visual storytelling, Emily learned that being her authentic self was the key to success!
Kahoot in Powerpoint, Kahoot in TEAMS, and Kahoot with Feeling Monsters!
Mark Sparvell, Director of Marketing Education at Microsoft, knows that schools are emotional rollercoasters for students and teachers, and believes that emotions are the gatekeepers of motivation, attention, and cognition. With that in mind, finding ways of teaching emotions, feelings, and things that you can't see can be pretty difficult. That's why Mark demonstrated all the different methods of using Kahoot! and Feeling Monsters to help students identify and name their emotions. Using tools like PowerPoint and TEAMS to deliver kahoots about these furry characters in real-world scenarios empowers students to actively create solutions. Try out Microsoft's powerful SEL collection here!
Thank you for making this event awesome!
Thank you to everyone who participated in this year's Kahoot! EDU Summit! You made this event truly awesome with so many incredible classroom stories and shared experiences! Don't forget to re-watch your favorite sessions and take advantage of our EDU Summit offer to get access to all the new great features that were introduced with 35% off Kahoot!+ Max for individual educators and 40% off Kahoot! EDU Pro for schools and institutions!
If you have any content from the event or your own classrooms that you would like to share, please reach out or tag us on Twitter, Instagram, Facebook, and TikTok! We hope you have a great summer and we look forward to sharing more updates soon for back to school!