A tool for instructors and students alike
As the new school year kicks off many instructors are looking for tools that will assist them in their instruction. Likewise, students are also looking for new tools that will improve their learning and assist them with staying on track for their midterms and finals. We at Kahoot! are excited to tell you that Kahoot! is that tool, allowing instructors to share Kahoot! access with their students, who can then unlock valuable study tools.
Enhanced study tools for your students
With Kahoot's student pass feature, available in Kahoot!+ Max, EDU Standard, and EDU Pro instructors can now provide access to the Kahoot! creator and advanced study modes via a link or QR code. This allows students to create smart review sessions by turning their notes into flashcards and study games to study on their own or challenge their classmates by adding them to a shared study group where they can compete for the top spot on the leaderboard. They can also unlock premium question types like puzzle, image reveal, and multi-select, letting them create and deliver outstanding course presentations to their peers. By granting access to Kahoot! via student passes, institutions can provide a powerful study tool for student-led learning.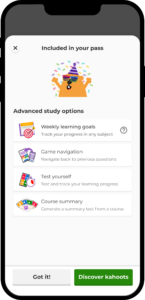 Try it out with your teaching or graduate assistant 
Instructors on the free Kahoot! Basic plan are able to provide the student pass functionality with access for one student. This can be useful for Teaching Assistants who may be responsible for exam preparation and review. In this way, they can access any instructor-made kahoot, create content to play with students in a live review session, or assign self-paced challenges for students to complete on their own.

NEW! Student set learning goals 
Throughout the semester students can now accelerate their learning, set personalized study objectives, and track their progress on any topic with the latest weekly learning goals. They simply schedule a time and learning duration for each subject and they are ready to start. To deepen their knowledge in multiple subject areas, they can easily find material with access to millions of ready-made kahoots. For students preparing for licensure exams in subjects such as Nursing or Accountancy, they can also explore ready-made content targeted towards these standardized exams.
Double the impact today 
Kahoot! not only provides a powerful assessment and engagement tool that can be used across campus by faculty, staff and university leaders, but it provides valuable study and engagement tools to students. Give your students access to student passes for the whole school year with Kahoot!+ Max for higher education or talk to your university leaders about a Kahoot! EDU site license for your entire department, college or university!