Motivate your students to take charge of their own learning with solo game modes
We are excited to announce that solo game modes are the newest addition to Kahoot!+, making independent learning even more engaging and motivating both in class and at home with our all-in-one teaching platform! Since its launch, over 1.5 million students have engaged in independent learning experiences with Kahoot!. Students can challenge themselves to build the tallest tower, collect the most treasure, and even find their zen while learning at their own pace with access to solo versions of Tallest tower, Treasure trove, and Chill art. Give your students a new way to engage with kahoots with solo game modes. Now available on our web platform and coming soon to the Kahoot! app!
Try solo game modes now to make independent play a part of your all-in-one engagement, teaching, assessment, and review toolkit with 20% off Kahoot!+ Max, now only $9.99/month until September 30.
New ways to engage with personalized learning
Solo game modes empower your students to tailor their independent learning experience to their unique learning styles. Simply share kahoots with your students and let them replay the lesson in different game modes to suit their mood! Here are a few ways you can use solo game modes with your students:
Encourage independent study

by sharing kahoots as homework or self-study activities with solo games that your students will be excited to play independently in and out of the classroom.

Reinforce knowledge

and understanding

by reviewing course material independently with solo game modes that students will want to replay.

Make assessment fun

with solo games that can be used as self-assessments to gauge progress with specific topics and identify areas where additional support or study is needed.

Differentiate learning

by creating games tailored to varying skill levels or learning objectives, providing personalized education for your students.

Take the flipped classroom approach

with a bit of fun by preparing your students for tomorrow's lesson with solo game modes.
How to play a kahoot in solo mode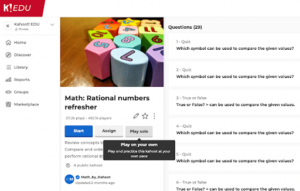 Log in or sign up for a Kahoot! account.

Choose a kahoot from your library or the Discover page.

Click the new "Play solo" button.

Choose one of the solo game mode options.

Play your kahoot independently just like you would in a group.
Coming soon: in-game rewards to supercharge solo game play!
Keep your students motivated and coming back for more with in-game class rewards that unlock unique character collections, accessories and game packs for the entire class. The more games your students play, the more rewards they earn, and the more they learn! In-game rewards are coming soon for live games and solo game modes so that students can earn even more rewards on their own with the Kahoot! app.
Try solo game modes today with 20% off Kahoot!+ Max, now only $9.99/month until September 30. 
We hope your students enjoy independent learning through play with our new solo game modes! If you or your students have any feedback or fun classroom moments to share with us, please reach out to us on Twitter, Instagram, Facebook, and TikTok!