We are happy to announce that Kahoot! Kids has been named a "Seal of Approval winner" by the National Parenting Center, citing its "outstanding educational content and engaging features" and highlighting Kahoot! Kids as one of this year's standout learning apps for kids.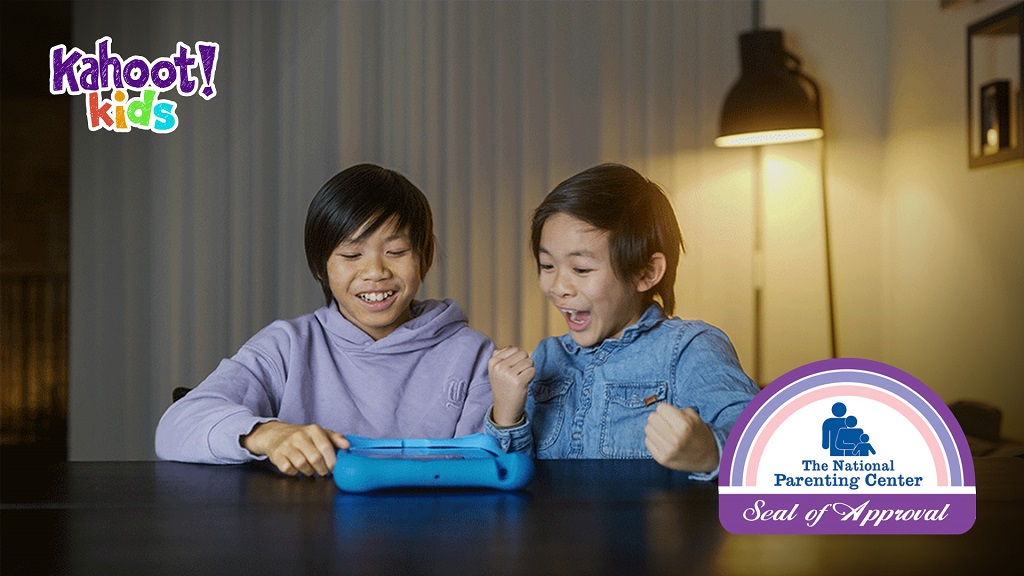 This recognition, announced in the National Parenting Center's Spring 2023 Report, is based on independent testing by parents, educators, and children to select the best products and services available for parents to support their kids' learning and development. 
The report showcases Kahoot! Kids as a valuable learning resource, designed by pedagogy experts to foster curiosity, exploration, and learning through play:
"From the moment we began exploring the Kahoot! Kids app, it was evident that this platform was built with children's learning needs in mind…One of the standout features of the Kahoot! Kids App is its interactive nature. Children can actively participate in quizzes, challenges, and trivia games, fostering a sense of excitement and engagement in the learning process."
Likewise, the review points to Kahoot!'s unique benefits for supporting teamwork, collaboration, and important social skills for kids: 
"What truly sets Kahoot! Kids app apart is its ability to promote collaboration and social interaction. Children can challenge their friends or classmates to multiplayer games, encouraging healthy competition and fostering teamwork. This interactive element not only makes learning enjoyable but also helps develop critical social skills in children."
This announcement comes on the heels of another recent accolade, when Kahoot! Kids won the award for The Best Products for Elementary Kids 2023 in the Parents' Picks Awards.
Kahoot! first earned the Seal of Approval in 2022, with the National Parenting Center highlighting Kahoot! as a "fantastic way to bond and connect with your child" as well as a "must for learning at any age and any level."
Now, Kahoot! Kids offers a tailored experience for children and their families to discover the joy of learning. Kahoot! Kids brings together 10 award-winning learning apps and educational games created by teachers, pedagogy experts, and top brands. Through each learning adventure, kids are invited to explore the playful and child-friendly environment, having fun while building key skills in math, reading, chess, and social-emotional learning.
Learn more about Kahoot! Kids and download the app for iOS and Android to unleash kids' learning power through play!