The COVID-19 lockdown has made Kahoot! and other supplemental education apps mainstream, especially pushing Kahoot! into the top 5 education apps in the U.S. and U.K, and that trend is here to stay according to Qustodio's 2020 annual report on children's digital habits.
In their report, Qustodio, an independent digital safety and wellbeing company, finds that as schools around the world closed due to the coronavirus pandemic and shifted to distance learning, both classroom apps and supplemental education apps surged in popularity, with Kahoot! seeing a particularly noteworthy leap up the ranks.
From February 2020, before school closures began globally, to April 2020, Kahoot! rocketed 29 positions up the ranks to become the 5th most popular education app in the U.S. and U.K. In Spain, Kahoot! jumped 104 positions to rank #16.
Among education apps kids used most, Kahoot! sat comfortably in the top 5 most popular education apps in each market, ranking at #5 in the US, #4 in Spain, and #3 in the UK. Kahoot! is also among the top 10 most downloaded education apps worldwide, according to data from SensorTower, an app store marketing intelligence company.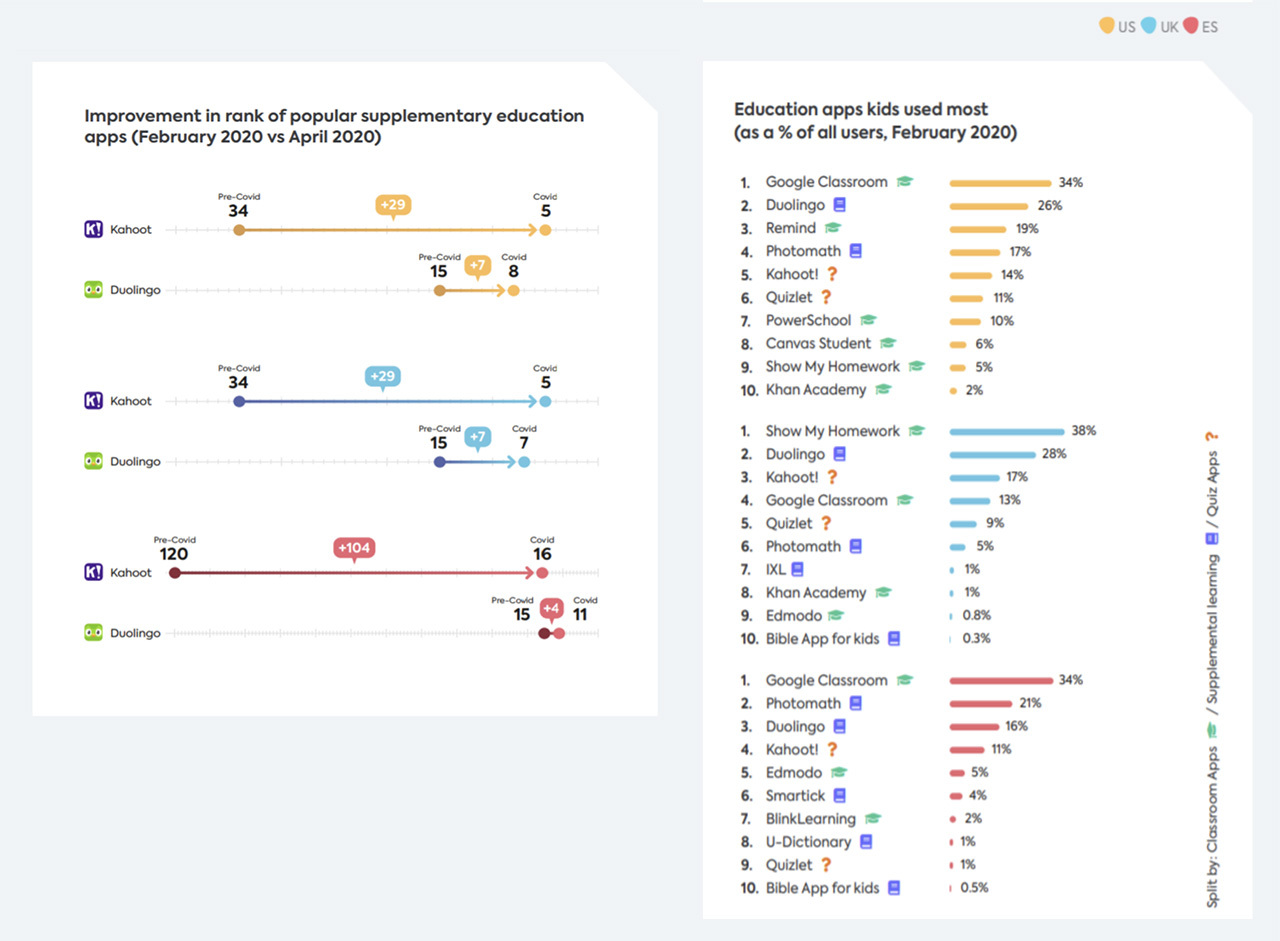 (Qustodio's research was based on anonymous data provided by 60,000 families in the US, UK, and Spain, with children aged 4–15 years old.)
Teachers across the globe have turned to education apps to support and enhance virtual learning, with quarterly downloads in the Education category of the App Store and Play Store up 30% year over year in Q1 2020. Many teachers are now using Kahoot! to keep students engaged and motivated in online classes, track progress, review content, and conduct assessments.
To help educators transition to distance learning, Kahoot! offered free access to Kahoot! Premium for schools and higher education institutions, which has received an overwhelming response. Between March and May 2020, remote use of Kahoot! grew 5X, as teachers and parents used the platform to encourage participation and engagement in learning at home and signups for Kahoot! topped 100,000 a day during peak days of the COVID-19 outbreak.
According to Qustodio's research, use of these digital platforms is expected to be here to stay, even when schools reopen, with the use of quiz apps and game-based learning expected to continue to grow.