Oslo, Norway (June 15, 2021) – Kahoot!, the global learning platform company, today announced that the Kahoot! mobile app is now available in eleven languages. The app now supports English, Spanish, French, Brazilian Portuguese, Norwegian, German, Italian, and today adds Dutch, Turkish, Polish and Japanese, making Kahoot! more accessible for its global user community.
"At Kahoot!, we are passionate about empowering learners of all ages to unleash their potential, no matter where they're learning or what language they're learning in," said Eilert Hanoa, CEO, Kahoot!. "Today, we are taking the next step in our mission to make learning awesome for our users around the world. We are excited to be launching support for Dutch, Turkish, Polish and Japanese to make the Kahoot! experience more relevant and intuitive for learners globally."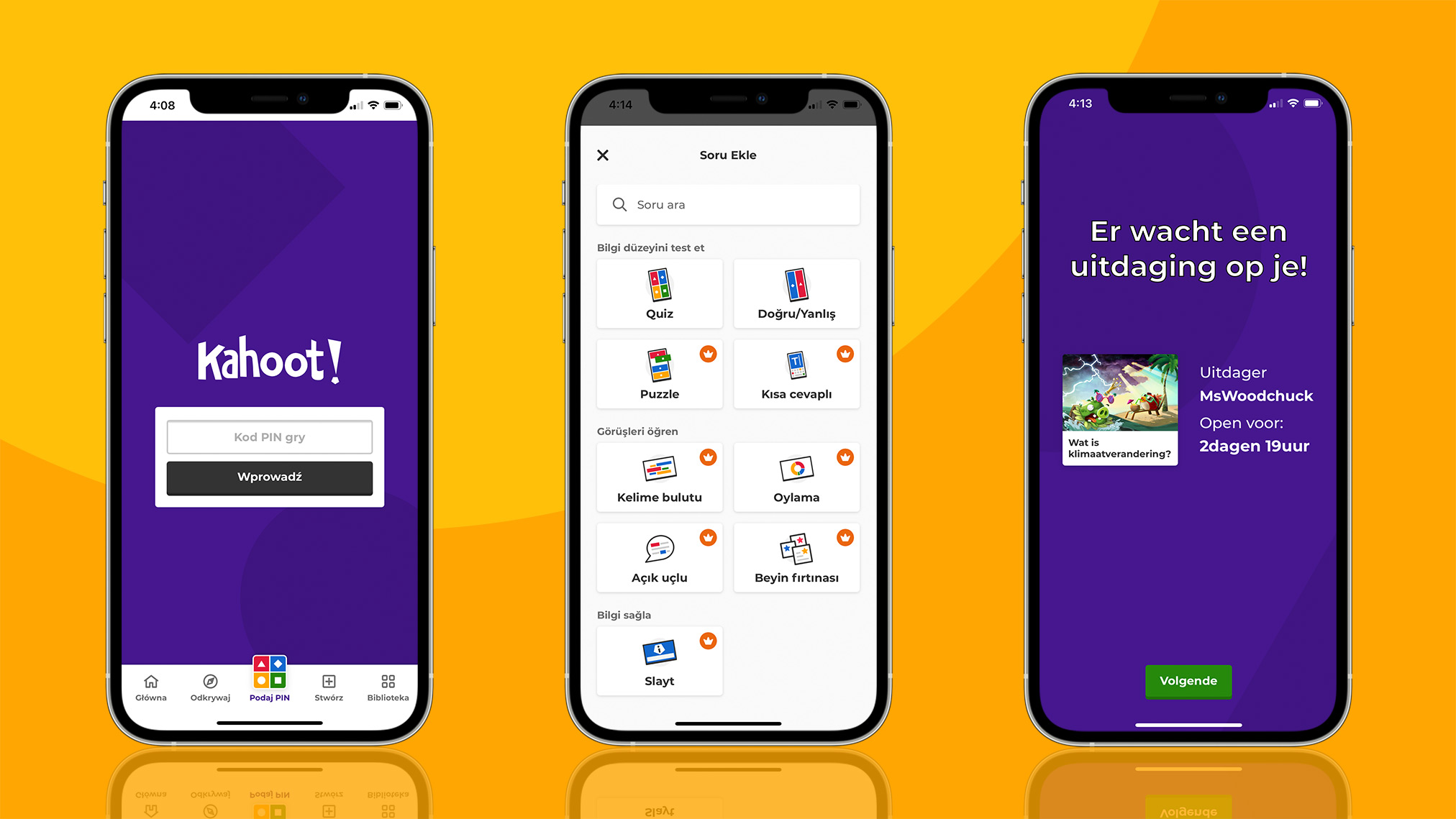 Engaging learners worldwide with Kahoot!
Kahoot! makes it easy for educators to add engagement and fun to any lesson, review or assessment, whether in a physical classroom or virtually. Students and learners of all ages can also complete games at their own pace with Kahoot! challenges, stay motivated with their peers in study leagues, and use flashcards and study modes to boost their learning at home. Friends and families can connect from anywhere by discovering, creating and playing Kahoot! games on any topic and for any age. In organizations, work teams can use Kahoot! to engage employees in learning, create interactive presentations, power collaboration with the brainstorm feature and more.
Since launching in 2013, Kahoot! has grown from a classroom quiz tool to a global learning platform that connects and empowers learners of all ages—in the classroom, in virtual learning, at work and at home. Now, users will be able to navigate the Kahoot! app, host live Kahoot! games, assign self-paced challenges, share and play Kahoot! learning content in eleven languages.
Selcuk Yusuf Arslan, a computer science teacher at Ataturk Vocational and Technical High School in Ankara, Turkey, shared his thoughts on using Kahoot! to support learning: "Kahoot is the perfect tool to give students feedback on their progress. Contributing to the learning processes of students, having fun with them and sharing their excitement while doing this is really priceless. Let's kahoot together in Turkish!"
Making learning even more awesome globally
With schools and businesses around the world preparing to reopen full-time while socially distanced or with a hybrid model—combining in-person and virtual experiences—digital learning platforms that connect and engage us anywhere are more important than ever. As education, work and socializing adapts to a new normal, Kahoot! has continued to see strong growth in usage around the world, with more than 1.6 billion players in over 200 countries in the last 12 months.
Expanding language support for millions of Kahoot! players
In the Netherlands, Turkey and Poland, use of Kahoot! is well-established, with 73.8 million participating players across the three countries in the last 12 months, including over 440,000 teachers. Dutch is the fifth most commonly used language on the Kahoot! platform, with Turkish in the top 10 most used languages. While Kahoot! plans to expand its presence in Asia, Kahoot! has already seen significant growth in Japan, with over 3.7 million participating players in the last 12 months, representing 117.5% growth from the same time last year. Thousands of companies in each of these countries are also engaging their teams with the Kahoot! experience.
The Kahoot! app is available to download now on the App Store for iOS, Google Play for Android. Kids and students can explore math learning with Kahoot! DragonBox Algebra 5+, Kahoot! DragonBox Algebra 12+, Kahoot! DragonBox Chess and Kahoot! DragonBox Geometry now available in all eleven languages. The Kahoot! Poio Read app, which helps kids learn to read through play, is now available in English, Spanish, Brazilian Portuguese, German, Italian and Norwegian, and will be available in French soon. Families can get access to all of these apps and more with a Kahoot!+ subscription. To learn a new language through immersive visuals and play, users can download the Drops suite of language learning apps, part of the Kahoot! family of learning apps, for iOS or Android.
To learn more about the new language support in the Kahoot! mobile app, read our blog post.
Visit Kahoot! News to stay up to date on company news and updates.
About Kahoot!
Kahoot! is on a mission to make learning awesome! We want to empower everyone, including children, students, and employees to unlock their full learning potential. Our learning platform makes it easy for any individual or corporation to create, share, and play learning games that drive compelling engagement. Launched in 2013, Kahoot!'s vision is to build the leading learning platform in the world. In the last 12 months, over 275 million games have been played on the Kahoot! platform with 1.6 billion participating players in more than 200 countries. The Kahoot! family also includes award-winning DragonBox math learning apps, the Poio learn to read app, the Drops language learning apps, the Actimo and Motimate employee engagement and corporate platforms and Whiteboard.fi, the online whiteboard tool for all educators, teachers and classrooms. The Kahoot! Group is headquartered in Oslo, Norway with offices in the US, the UK, France, Finland, Estonia, Denmark and Spain. Kahoot! is currently listed on the Oslo Stock Exchange under the ticker KAHOT.OL. Let's play!