Oslo, Norway (May 26, 2022) – Kahoot!, the global learning and engagement platform company, announced today that Kahoot! Kids, the digital learning app experience designed for children 3 years and older, is now available in eight languages, including English, Spanish, German, Dutch, Norwegian, Ukrainian and Simplified and Traditional Chinese, for iOS and Android within the Kahoot! app.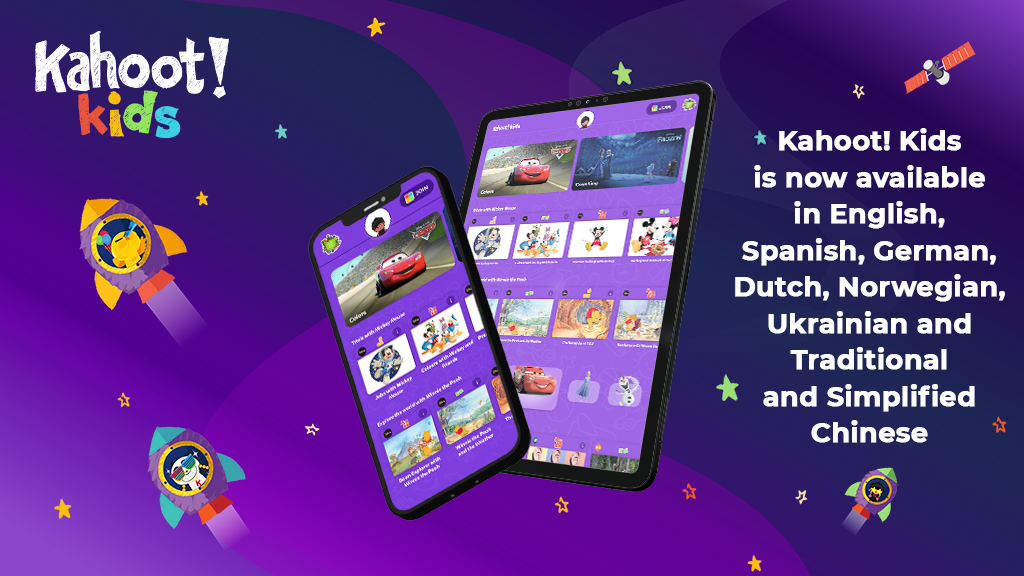 Kahoot! Kids offers a series of kahoots where children can learn and develop key early childhood skills like literacy, numeracy, social emotional learning, and cognitive skills through exploration and play. On Kahoot! Kids, parents, educators and children can discover interactive learning content curated by childhood learning experts, including content created by Kahoot! Academy educators and trusted partners.
"At Kahoot!, we believe that playful learning should be available for everyone, no matter your age, where you live or what language you speak," said Eilert Hanoa, CEO at Kahoot! "Now, millions of families and educators globally will be able to access Kahoot! Kids in their own language, making it easier to discover learning experiences that spark curiosity, help build foundational skills and bring families and friends together."
Discover a new language playing with Kahoot! Kids 
The addition of new languages in Kahoot! Kids also enables parents and children to discover new languages through play. 
The littlest learners at home can discover words in a new language, or begin to formulate simple sentences based on the games and content available in Kahoot! Kids. Children who are non-native English speakers can practice their English skills as well as learn in their home language of Spanish, German, Dutch, Norwegian, Ukrainian or Simplified or Traditional Chinese. Children who are already learning a new language at school can also test their knowledge and skills by playing with Kahoot! Kids. 
Making early childhood learning awesome worldwide
With Kahoot! Kids, families can spend quality time with their children or let them explore, play and learn independently at their own pace, whether at home, in a classroom or on the go. Users can explore a wide variety of learning content—including content in the seven newly supported languages—designed to help kids develop important skills, such as literacy, numeracy, cognitive and social emotional skills.
Kahoot! Kids is now available by downloading the Kahoot! app in the App Store or Google Play Store. Users can also access the app, as well as premium Kahoot! features and 8 other award-winning learning apps, by upgrading to a Kahoot!+ Family, Premier or Max subscription. For more information about prices, please visit our pricing page.
To learn more about the new language support in Kahoot! Kids, read our blog post.
Visit Kahoot! News to stay up to date on company news and updates.
About Kahoot! 
Kahoot! is on a mission to make learning awesome! We want to empower everyone, including children, students, and employees to unlock their full learning potential. Our learning platform makes it easy for any individual or corporation to create, share, and host learning sessions that drive compelling engagement. Launched in 2013, Kahoot!'s vision is to build the leading learning platform in the world. Since launch, Kahoot! has hosted hundreds of millions of learning sessions with over 7 billion participants (non-unique) in more than 200 countries and regions. The Kahoot! Group includes Clever, the leading US K-12 EdTech learning platform, together with the learning apps DragonBox, Poio, Drops, Actimo, Motimate, and Whiteboard.fi. The Kahoot! Group is headquartered in Oslo, Norway with offices in the US, the UK, France, Finland, Estonia, Denmark, Spain and Poland. Kahoot! is listed on the Oslo Stock Exchange under the ticker KAHOT. To learn more, visit us at kahoot.com. Let's play!