Oslo, Norway (September 6, 2023): Kahoot!, the global learning and engagement platform company, today announced the launch of the Uniting Minds collection of learning games and teacher resources, designed by pedagogy experts to raise awareness about neurodiversity and creating inclusive learning environments where all learners can thrive. 
The Uniting Minds collection, now available for free on Kahoot!, represents the official launch of the "Kahoot! for All" initiative. This new initiative was funded by the LEGO Foundation with a grant awarded in 2022 in their first-ever Play for All Accelerator, a program to spark innovation for more inclusive playful learning.
Through the Kahoot! for All initiative, Kahoot! is striving to inspire educators, students, parents, and EdTech developers to build an understanding for neurodiversity and how we can practice inclusion in the classroom, at home, and beyond.
"We want to help all learners unleash their learning potential, which starts with recognizing the unique strengths, needs, and perspectives of each individual and all kinds of minds," said Louisa Rosenheck, Director of Learning Design at Kahoot!. "Through these resources, we hope to start more conversations in the classroom, helping neurodivergent students to feel seen, and creating an inclusive space where all learners can grow and flourish."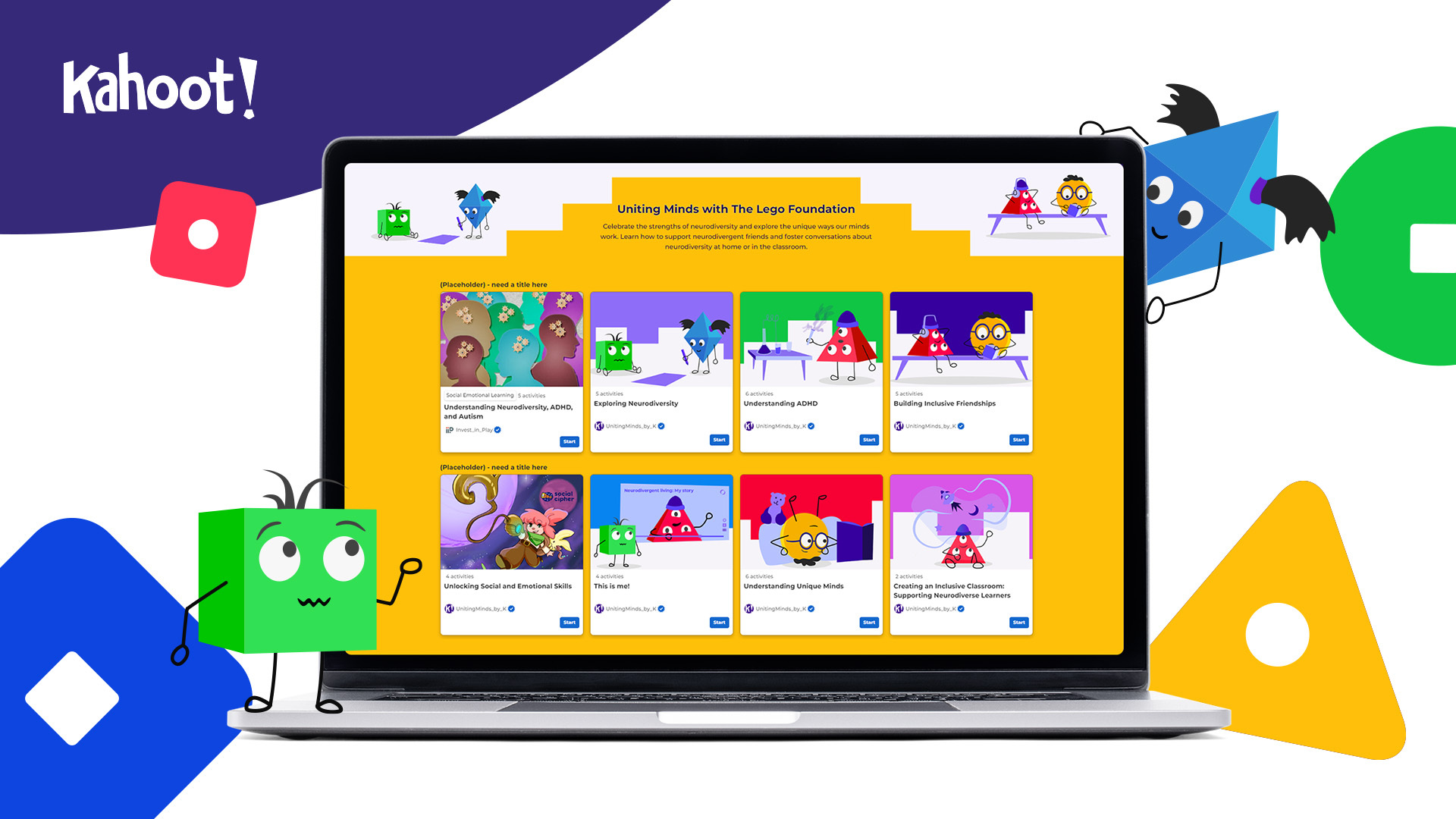 The future of learning is playful, and inclusive
Created by learning design experts, the Uniting Minds collection brings together engaging learning content from Kahoot! and fellow Play for All Accelerator participants Social Cipher and Invest in Play. These organizations work around the world to foster inclusion, powerful learning through play, and more. Educators and learners can also look forward to more content added to the collection, including from additional partners.
Through this collection of ready-to-use learning games, educators can elevate their social-emotional learning lessons on empathy and perspective taking. Learners can explore topics including autism and ADHD, recognizing similarities and differences, and how students can practice supportive friendship. The collection also includes a group of kahoots called "This is me," uplifting the voices of neurodivergent students as they share their stories and insights.
To spark conversations and deeper learning, Kahoot! is offering lesson plans for select learning games in the collection, including prompts for reflection and discussion, and additional activities. These free teacher resources can also help educators expand their understanding of neurodiversity and guide them through introducing these topics in the classroom.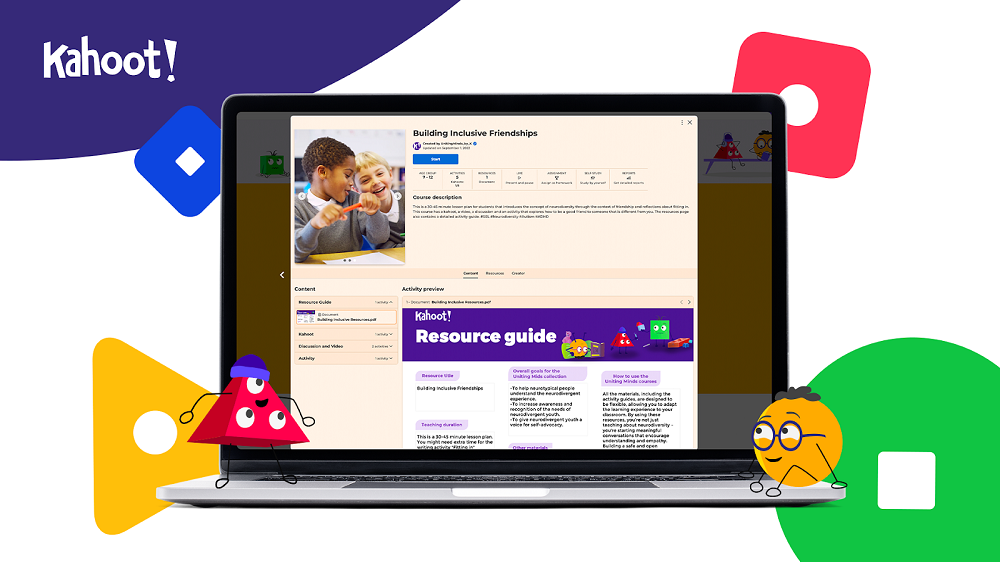 "Participating in the LEGO Foundation's first Play for All Accelerator alongside such inspiring organizations has been an incredible experience," said Louisa Rosenheck. "We're so excited to be launching the Uniting Minds collection to help educators and students better understand how to support everyone in a neurodiverse classroom."
Learn more about the Kahoot! for All initiative and get started exploring the Uniting Minds collection today! 
Please visit Kahoot! News to stay up to date on company news and updates.
About Kahoot! 
Kahoot! is on a mission to make learning awesome! We want to empower everyone, including children, students, and employees to unlock their full learning potential. Our learning platform makes it easy for any individual or corporation to create, share, and host learning sessions that drive compelling engagement. Launched in 2013, Kahoot!'s vision is to build the leading learning platform in the world. Since launch, Kahoot! has hosted hundreds of millions of learning sessions with over 9 billion participants (non-unique) in more than 200 countries and regions. The Kahoot! Group includes Clever, the leading US K-12 EdTech learning platform, together with the learning apps DragonBox, Poio, Drops, Actimo, Motimate, and Whiteboard.fi. The Kahoot! Group is headquartered in Oslo, Norway with offices in the US, the UK, France, Finland, Estonia, Denmark, Spain and Poland. Kahoot! is listed on the Oslo Stock Exchange under the ticker KAHOT. Let's play!