Many of you told us that your students often ask for more Kahoot! when they leave the classroom. Some of you also suggested that sending after-class kahoots to learners would be great for revision and reinforcement.
Kahoot!'ers, rejoice! We've built something that will unlock game-based learning after the bell rings… Aaaaand, meet our new mobile app for iOS and Android! We're not taking the wraps off completely just yet, but we're inviting you to preview it before the final launch.
For teachers, we hope the app will be something that redefines the entire concept of homework. For classroom superheroes, it's an opportunity to train their superpowers whenever they're up for it, outside the classroom.
Make homework awesome!
We are on a mission to make learning awesome – and homework, too! We want it to be playful, enjoyable and fun. Now, you can send after-class Kahoot! challenges to your students. Accepting them in the app, they can play anytime and anywhere! Maybe the homework will be done before your students even get home – let's find out! 🙂
Continuous learning loop
At home, on the school bus, during lunch break, in different places and different settings – learning continues outside the classroom. In line with this, our app lets students get back in the game after class for revision, reinforcement and, of course, fun!
Sneak peek into the app's features
Here's a quick overview of the app's features we wrapped it all into:
Challenge accepted! Challenges are the cornerstone of the new app. You can send Kahoot! challenges to students both from the platform and the app. On top of that, players can also challenge their peers. Who can hit that one out of the park?!
Home screen – your gaming hub. There, you can see an overview of challenges in progress, previously played games and featured kahoots. You can also search for kahoots among 20 million public games.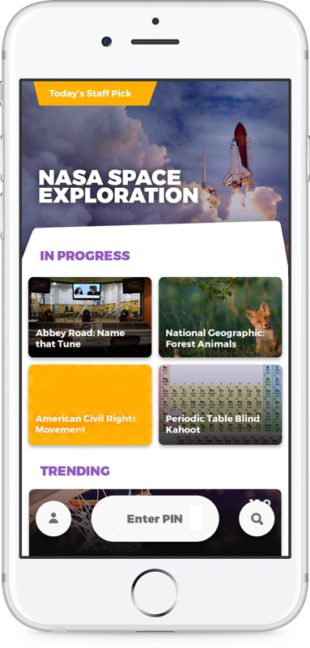 No need for a second screen. When you play a challenge or another kahoot outside the class, the questions and the answers will appear on the phone screen.
Play in short rounds. Challenges are split into quick, "snack size" rounds that bring in competition dynamics.
There's an "Enter PIN" button, too! With the app, players can also join games hosted in the classroom and use the phone as a classic game controller.
Intrigued? Here's how you can get the app
Our beta testing program is now open for registration! Go to the mobile app page and sign up for a preview. We'll email you the instructions for downloading the app on iOS or Android. Hurry up – the number of invitations is limited, so first come, first served. Give it a go and let us know what you think – your feedback will help us improve the app before the school year starts!
Come see the app at ISTE
Are you at ISTE this week? A bunch of K!rew members are! Drop by for a chat – we'll be happy to show you the app! You can find us at booth 326.