A huge thank you to everyone who attended the first Kahoot! WorkMeetup of the year on April 22. The event explored a challenge that we're all facing: how to boost employee engagement in a hybrid workplace.
Thousands of members from our community heard from insightful thought leaders, including New York Times best-selling author Dan Schawbel and guest speakers from Microsoft, Actimo, and Motimate.
We also gave attendees a sneak peek of Kahoot! 360 Spirit, a powerful employee engagement platform for enterprises that's launching in May 2021. With Kahoot! 360 Spirit, organizations can connect with every employee – no matter their location.
If you missed a session or couldn't make the live event, you can watch every session on-demand. Here's a recap of the main highlights!
Discover how to make workplace learning fun with Motimate
The Kahoot! family welcomed another member this month with the addition of Motimate, an award-winning employee engagement and learning app.
Lars-Petter Windelstad Kjos, co-founder of Motimate, held an insightful session at the Kahoot! WorkMeetup on why content is king – especially if you want to make workplace learning "unboring." He detailed how to leverage various content formats in your employee engagement strategy and why you should always be brave enough to try new things.
Learn how to better communicate with non-desk workers 
We also heard from Actimo' Jimmie Villadsen, who shared his expertise on how to engage non-desk workers.
Almost three billion people work in non-desk roles within health care, retail, and construction, for example. Despite that, they continue to be overlooked by technology solutions, becoming "the forgotten workforce," according to Jimmie. Watch his talk and discover how to change the way you communicate with, train, and lead your non-desk employees.
Get inspired by employee engagement success stories 
Attendees really enjoyed hearing two employee engagement success stories from Teleflex, a leading medical technology company, and the Compass Group, a global provider of catering services.
Marisa Doria from Teleflex presented key takeaways from how to effectively engage employees in a digital-first workplace. She provided expert insight into how Teleflex transitioned from in-person to virtual events and how Kahoot! helped to keep everyone engaged and energized.
We were also joined by Compass Group's Rickard Antblad, who detailed how Actimo transformed Compass Group's communications with non-desk workers. Before using a personalized Actimo engagement app, Compass Group sent emails and letters to their restaurants, which were often printed out and pinned on a notice board. Such one-way communication was slow and ineffective, but Actimo's mobile-first solutions have helped flip this 180°, ensuring Compass Group has continuous two-way communication with every employee.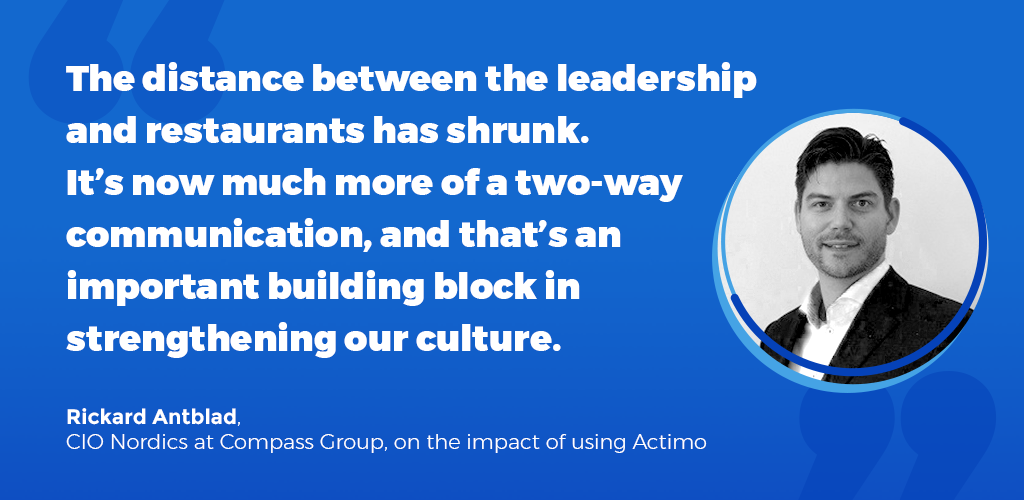 Hear Microsoft's take on the future of employee engagement in the everyday flow of work
Stephen Abrahams, Partnerships for Teams at Microsoft, explored key employee engagement trends and tools to use in a post-pandemic workplace at the Kahoot! WorkMeetup. He explained the emergence and importance of employee experience platforms and how Microsoft Teams and Kahoot! can be used to drive employee engagement. Stephen highlighted the importance of learning and upskilling, building relationships, promoting wellness, and boosting teamwork as key considerations for organizations moving forward.
Get expert insight into creating a hybrid workplace that's fair for all with Dan Schawbel
Dan Schawbel, New York Times best-selling author and Managing Partner at Workplace Intelligence, delivered a fascinating talk on why hybrid workplaces are here to stay, how they benefit everyone, and how companies can design one that's fair for all.
In his session, Dan details recent studies that showcase how employees want to split their time between working in a physical space and working at home and the benefits that a hybrid workplace brings to organizations.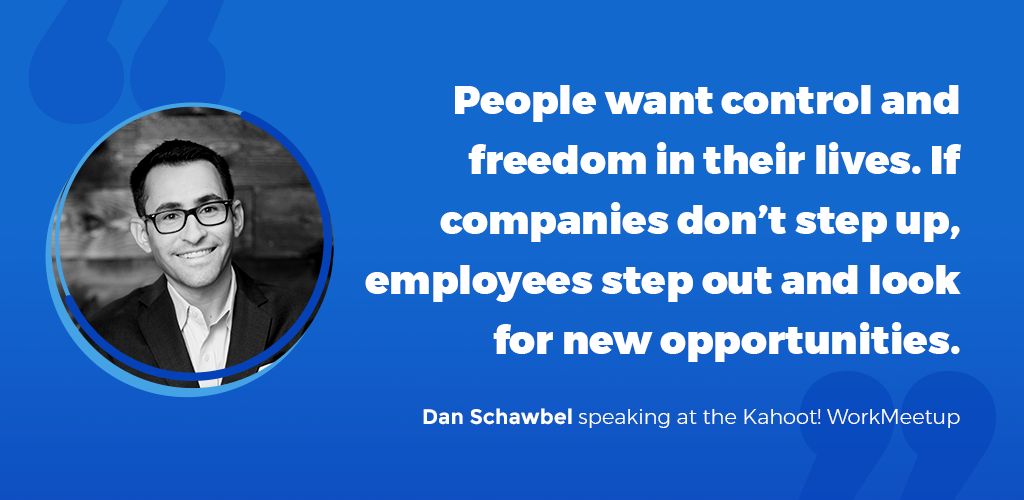 Watch Dan's talk on-demand, and discover why companies need to prioritize promoting their purpose, mission, and values, the importance of reskilling and retraining your workforce, the benefits of frequent and transparent communication, and more!
Industry experts discuss the future of employee engagement in a fireside chat
The Kahoot! WorkMeetup closed with a fireside chat that explored the future of employee engagement. Dan Schawbel, Jimmie Villadsen (Actimo), Steven Abrahams (Microsoft), Marisa Doria (Teleflex), Rickard Antblad (Compass Group) and Lars-Petter Kjos (Motimate) joined the panel to discuss key topics such as:
The biggest challenges of moving to a hybrid workplace and how to mitigate them
How to make employee engagement a source of competitive advantage
The importance of managers in employee engagement, and how to empower them to successfully engage their teams.
Best practices for measuring employee engagement
We had a great time at the Kahoot! WorkMeetup, and we look forward to welcoming you all to the next one! In the meantime, you can stream all nine sessions on-demand!